Did you know that...
Microsoft Booking one of the many useful applications in Office 365 is? If you already have an Enterprise subscription, all you have to do is activate Bookings to manage your appointments in no time.
Working by appointment...
in times of social distancing comfort to many companies. The measures against the spread of CoViD-19, oblige traders and entrepreneurs to creative solutions to come up with. After all, the case must continue to run - as far as possible. Working by appointment is then a good idea. That way you avoid having too many customers together in your business.
In addition, you also have a better control over your work. You avoid rush hour peaks and fill in lewd moments. Scheduling an appointment does not require any interaction on your part. You don't have to pick up the phone and enter the appointment in your calendar. So you can pay more attention to the customer. This will undoubtedly take your service to a higher level and increase the satisfaction of your customer.
Just benefits. And perhaps a stayer - once the CoViD-19 ghost will be sworn out. But how do you get started with Microsoft Bookings?
ANYWAYdoors...
saw the benefits quickly. When the ANYWAYdoors flagship store in Massenhoven was reopened on 11 May - provided the necessary precautions were taken - they had finished their homework. Via a reservation page on their website customers can easily make a quick appointment.
As soon as the customer chooses a date, he sees which employees he can contact on that day and the available time slots. He also adds his contact details and possibly a comment.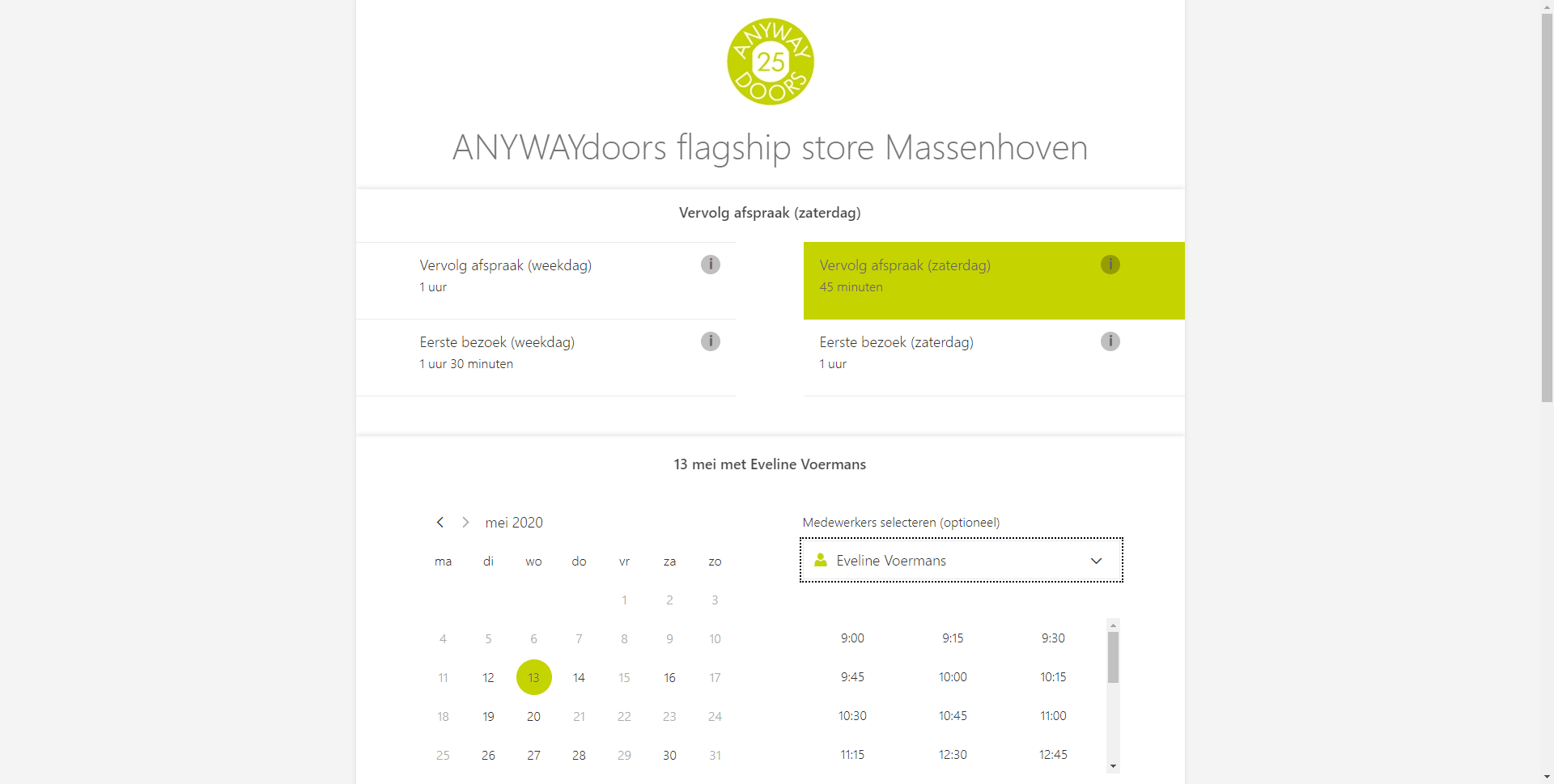 The appointment will automatically appear in the agenda and the customer will receive a confirmation email.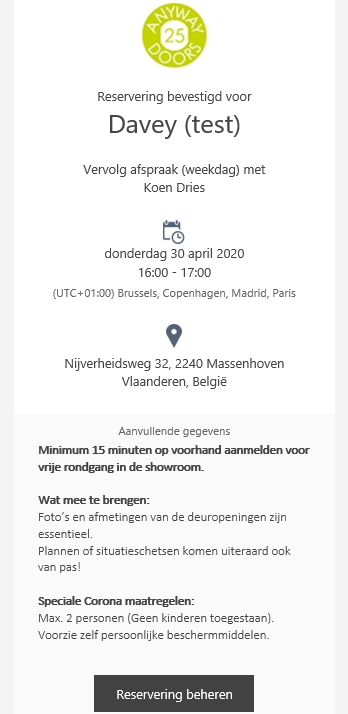 A clear dashboard allows you to manage the agenda, reservation page, customers, employees, services and company data: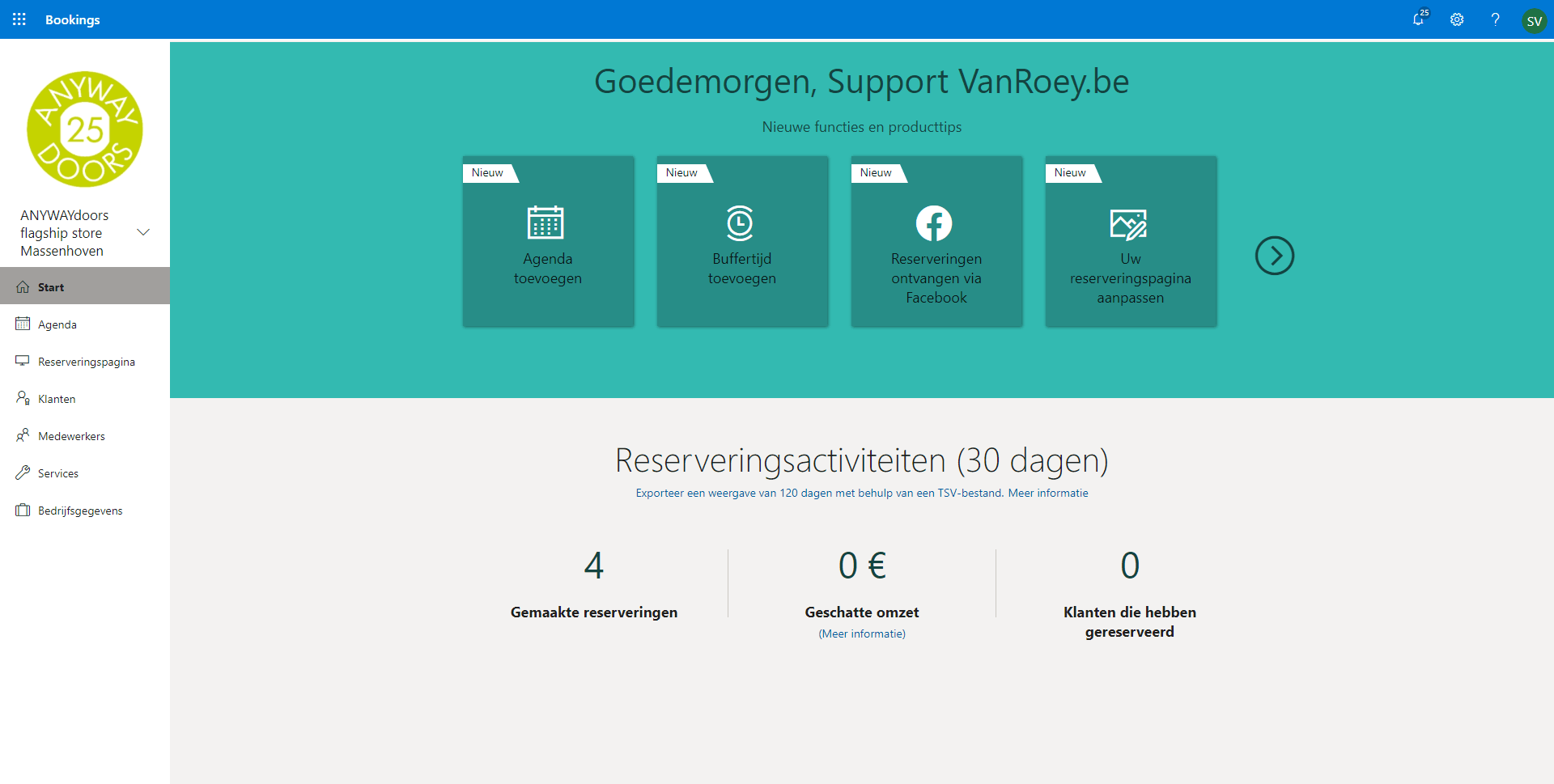 Vanroey.be...
only needed one day to bring everything up and running, according to the specific wishes of ANYWAYdoors. Microsoft Bookings integrates - of course - seamlessly with the others. Office 365 applications. The input we still needed from ANYWAYdoors was limited. Among other things, the different types of appointments had to be determined (an initial contact and a follow-up appointment), the duration of the time slots and which employees could receive customers. Once these types of choices were made, the wishes of the business could be translated to IT. With single clicks Microsoft Bookings was configured for ANYWAYdoors.
Microsoft Bookings...
all in all easy to use to take. It gives you more audit about your appointments and make the customer experience better. Typical traders who already make frequent use of Microsoft Bookings are for example hairdressers, dieticians, doctors and physiotherapists. However, this handy application can be useful for many more companies and organizations. Any organization that has a physical sales channel can benefit from working with Microsoft Bookings by appointment. As an innovative company, ANYWAYdoors is a good example of this.
ANYWAYdoors, founded in 1995, is a Belgian brand that today has become a reference in the door sector - both in terms of design and technology.
From the modern company building in Massenhoven, a team of 30 people takes on all activities: from design and product engineering to custom production and quality control, to marketing and after-sales service. ANYWAYdoors is constantly looking for innovative ideas to update and practically improve doors. The result is unique door concepts that combine technical expertise with practical comfort and a contemporary look.
With their minimalist design, ANYWAY interior doors now stand out in more than 20,000 residential projects.
"Vanroey.be only needed one day to bring everything up and running, according to the specific wishes of ANYWAYdoors. Microsoft Bookings integrates seamlessly with the other Office 365 applications".
Functional Consultant Office 365