7 Paradoxes for the Modern Leader by Paul Van Den Bosch
Connection is the key to everything, but what if you lose the connection?
After bestsellers such as 'Coach for Life', 'Act Like a Coach' and 'Egopreneur', Paul Van Den Bosch is launching a new book: 'ConneXion'. We were able to catch Paul to unravel the seven paradoxes that characterize our business today.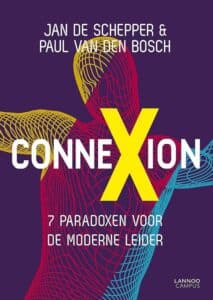 After a successful career as a top sports coach (including Sven Nys), Paul Van Den Bosch expanded his activities to coaching executives and teams in the business world. Because running a business is also top-class sport!
At Thursday, June 10 Paul teaches us 'sporty thinking', takes us through his story of the 7 paradoxes and shows us how to technology to the human touch.
After registration you will receive a link to attend the session online.
15u30
Welcome & Introduction
15u35
"7 Paradoxes for the Modern Leader".
By Paul Van Den Bosch
16u20
Q&A
Questions for Paul
16u30
End of session
This event is especially interesting for:
Managers & executives in the business world
"We are the Trusted Guide to your digital journey, so you can create wonderful things" - That's our mission. Every organization's growth strategy today must have a digital component. Business, strategy and ICT cannot do without each other.
In 10 pages, a wealth of numerical data brings out the pain points that a Managed Security Awareness Training could prevent.
Organising a hybrid meeting (mix of online and offline) is challenging. We go through some essential requirements in this blog
We have invested heavily in our completely renewed Webstore. Just order online!