Printers and Peace of Mind
Even in the digital age - which is already booming anyway - printers at a workplace are part of the fixed furniture. Many people prefer a hard copy to a tablet or laptop to read documents. Fosbury & Sons certainly doesn't want to take that freedom away from people, on the contrary. Putting the PC aside and reading that report on paper in a comfortable sofa can be much more pleasant than sitting bent forward at a hard table staring at a bright screen.
There are many reasons why printers are still relevant in the workplace. Just think of their scanning functionality and the management of official documents such as contracts. But everyone knows the frustrations that printers can cause. The right drivers are not always installed, which hinders the connection. The toner just runs out when you want to print a bulky document and there is no new cartouche in stock. Or the printer gives some kind of cryptic error message, after which a technician has to pass by and a peppered invoice follows.
Joke Seghers, Property Manager Fosbury & Sons: "Such frustrations do not belong in a balanced environment such as the co-working spaces of Fosbury & Sons. If people who are active here click on print, then a print should immediately roll out of the printer, no doubt."
"Moreover, we want carefree management of all printers. The costs for each printer need to be well mapped out and the printers need to be up to date at all times. In this way, we prevent defects and the frustrations this causes for the users."
HP Pagewide with PaperCut in Managed Print Services
Managed Print Services provides for the management and monitoring of an entire print park. Because Fosbury & Sons is a growing organisation with multiple physical locations, they appealed to VanRoey.be and worked in different phases.
For a first site, two HP PageWide printers delivered. These offer the lowest total cost of ownership for all print jobs, at the fastest speeds and best printer security. The specific PageWide technology of HP is that the printheads do not move. They are as wide as the page. This allows for faster printing and less wear and tear.
VanRoey.be supplies the printers to Fosbury & Sons along with PaperCut licenses. This ensures higher security and a more conscious and discrete handling of prints. Confidential prints are only printed when the person is at the device. Previously, a print was made remotely and forgotten. As a result, pay slips or contracts could be seen openly and naked by any passer-by. PaperCut thus provides compliancy to the GDPR regulations. In an environment where people from different organizations work together, this is of great value.
PaperCut, however, is more than that. It allows you to Monitor and control printing behaviour of users. For example, you can set quotas, apply authentication methods and facilitate printing from different devices (without cumbersome installation of drivers).
That Managed Print Services For Fosbury & Sons, a synonym for total relief in printing is clear. For their existing and new locations, they therefore rely on this integral service from VanRoey.be.
Want to know more about Managed Print Services?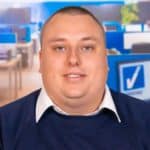 Do you want to know how much this formula can save your organisation and improve security?
Then contact our Sales Specialist Managed Print Services Jonas Heyns by business@vanroey.be or count 014 470 605 
Fosbury & Sons offers co-working locations in Antwerp, Brussels and Amsterdam. The company name is an ode to Dick Fosbury, who definitively changed the high jump by his - then unconventional but much more efficient - technique. Fosbury & Sons does what he did with the high jump with the workplace. You won't find clinical rooms with desks lined up next to each other. You do find plants, sofas, a coffee bar and cosy corners for concentrated work. You feel at ease there and find everything you need to work (together). The formula is a success. Fosbury & Sons will open new locations in Amsterdam and Valencia in 2020.
"We want carefree management of all printers. The costs for each printer need to be well mapped out and the printers need to be up to date at all times. In this way, we prevent defects and the frustrations that go with them for the users".
Product Operations lead & Property Manager at Fosbury & Sons