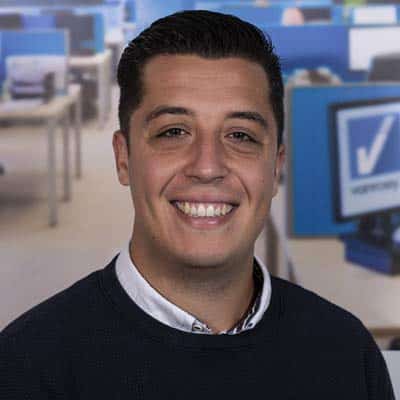 Voor Philip Coppens, Internal Sales bij VanRoey.be waren de ambities van CTOUCH tijdens de eerste plenaire sessie meteen duidelijk: "De focus ligt duidelijk op duurzaamheid. Dit willen ze bereiken door de levensduur van de schermen te maximaliseren. Zo zullen bv. beschadigde schermen die binnen organisaties niet langer benut (kunnen) worden, toch worden gerecupereerd en indien mogelijk ingezet op nieuwe locaties. Zo willen ze de maximale levensduur uit ieder onderdeel halen. Het zijn maatregelen zoals deze waarmee ze op een nettowinst van ± 20% CO² besparing en een kleinere e-waste voetafdruk mikken. Ik denk dat we deze inspanningen allemaal wel kunnen appreciëren"
Nadien volgden 6 interactieve workshops, gegeven door CTOUCH medewerkers. "De eerste twee sessies verduidelijkten de mogelijkheden van de Canvas, die eerder gericht is op bedrijven, en de Riva, het toestel dat het onderwijs moet bedienen. Er zijn vele accessoires die de ervaring kunnen optimaliseren, denk aan camera's, microfoons, pennen, liften… het was fijn om het hele gamma aan opties eens te kunnen leren kennen en testen. Het hele concept draait dus om veel meer dan schermen alleen.

De workshop over Brix was hier meteen een mooi voorbeeld van. Als je je scherm draadloos wil kunnen delen, whiteboard en/of Teams functionaliteit nodig hebt om de inhoud van het scherm realtime met externe genodigden te delen, kan je de schermen uitbreiden met Brix modules. Zo betaal je niet voor functionaliteit die je niet nodig hebt en blijven de prijzen erg competitief."
Workshop: CTOUCH remote management systeem.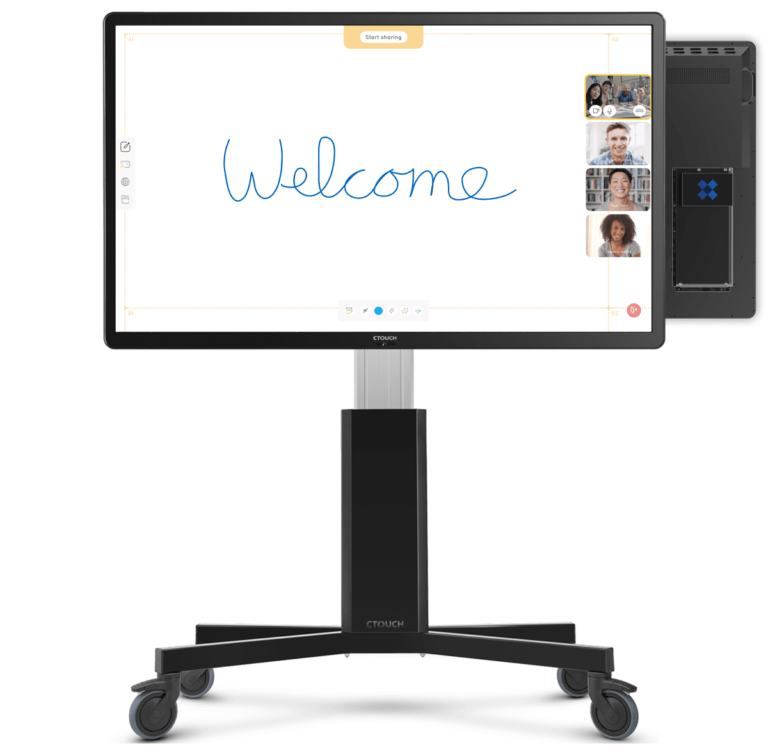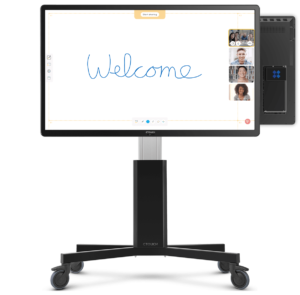 Sommige organisaties hebben vele schermen te beheren, denk bv. aan scholen. Gelukkig voorziet CTOUCH een centraal beheersysteem waarmee alle schermen eenvoudig geconfigureerd of geüpdatet kunnen worden vanuit je luie stoel. Dit spaart jou als IT-beheerder niet alleen veel onnodige wandelingen maar ook tijd uit. Ook onze engineers of de klantendienst van CTOUCH zijn hiermee gediend, daar ze makkelijk en snel een analyse en service kunnen bieden zonder ter plaatse te moeten komen.
Uboardmate CC
Uboardmate CC is een whiteboard programma voor Windows. Het is een ideale tool voor leerkrachten van de lagere of middelbare school om lessen interactiever en wat speelser te maken. Je kan bv. templates inladen, timers gebruiken, kansberekingen doen, integreren met Teams meetings, draadloos delen met laptops of smartphones…. Een leerkracht kan een meerkeuzevraag inladen en de leerlingen loggen in via hun smartphone. Zij kunnen via hun device antwoord geven en die gegevens worden in Uboardmate CC verzameld. Voor de Android omgeving is het standaard Uboardmate aanwezig op de Riva.
Tot slot nog een woordje over het design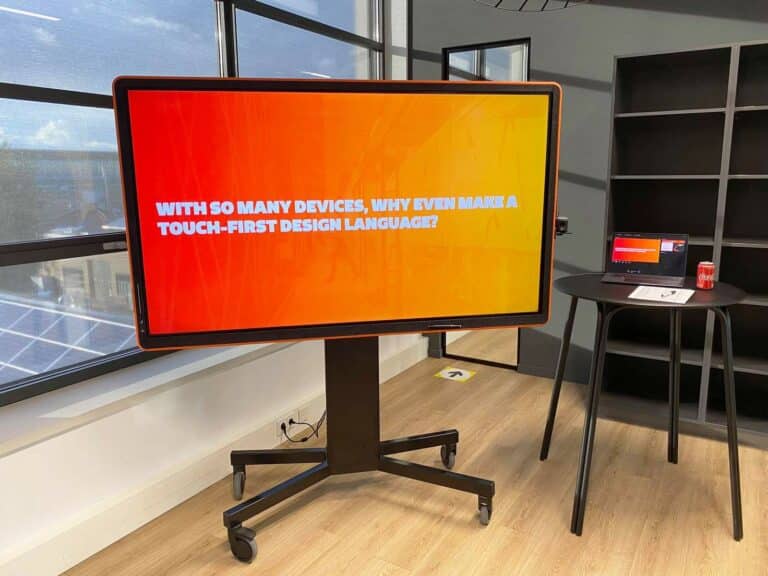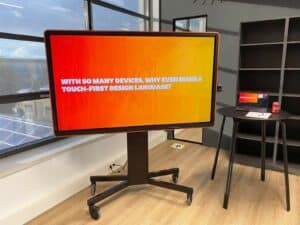 Philip: "Deze laatste sessie werd gegeven door Rhys Duindam, de hoofd designer van CTOUCH. Hij gaf ons een dieper inzicht in hun designlanguage en -keuzes.
Zo wordt de Canvas verkocht in 3 verschillende kleuren. Namelijk grijs, blauw en oranje. Grijs wordt vooral gebruikt voor de serieuze meetings zoals board meetings, de blauwe randen bij interactievere meetings, en tot slot wordt oranje meestal gebruikt voor brainstormsessies. Ook de textielrand heeft een bewuste functie. Deze maakt dat de toestellen een hogere aanrakingsfactor krijgen. Een hogere "aaibaarheidsfactor" als het ware."
Zo zijn onze experten weer helemaal mee om jou de perfecte ondersteuning te kunnen bieden bij het kiezen en implementeren van CTOUCH schermen binnen jouw organisatie.
Wil je de CTOUCH schermen graag eens bekijken en testen? Dat kan in ons Experience Center, waar we je in een interactieve rondleiding de mogelijkheden zullen tonen:
Get your digitisation up to speed. In an interactive tour, we show the contemporary possibilities of the modern workplace. So you can experience for yourself how well it works!
"Dankzij BRIX betaal je niet voor functionaliteit die je niet nodig hebt en blijven de prijzen erg competitief."