Creative emergency solutions
A leading cosmetics company from the Kempen region was confronted with this exact problem. Because the employees work in a clean environment anyway, they wear special aprons or overshoes, among other things. So everyone passes by the dressing room. During shift changes, often with many people at the same time.
COVID-19 asked for quick measures: a battery of containers was promptly installed to serve as an extra dressing room. A long canopy ensured that employees did not have to queue up in the cold and rain. In order to coordinate everything in the right direction, a small army of stewards was initially deployed. They assigned everyone a dressing room and place, based on a magnetic board where the status was monitored. This made it possible to check at a glance whether there weren't too many people together in one room.
Get your digitisation up to speed. In an interactive tour, we show the contemporary possibilities of the modern workplace. So you can experience for yourself how well it works!
Thus, the imposed social distancing measures were quickly and creatively responded to. Yet the system with the magnetic board error-prone. In addition, the need for stewards for an additional deployment of manpower. That's why the company started looking for a automated, more intelligent solution. However, the big challenge was that this solution had to be available very quickly.
SecureGate: an intelligent and sustainable solution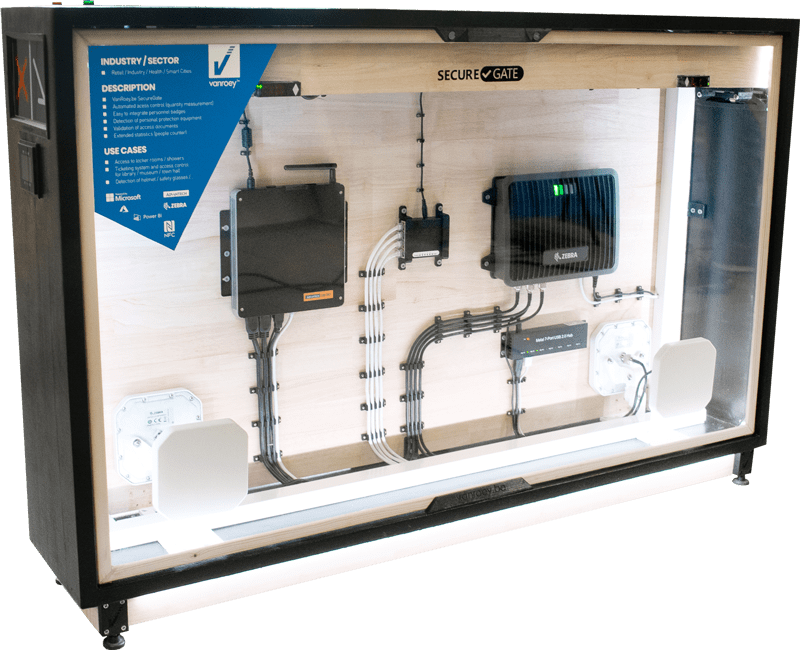 With SecureGate that solution came very quickly. In view of the acute emergency, speed was a prerequisite. The basic components and knowledge were already available at VanRoey.be: RFID sensors, a secure WiFi network, the knowledge to link and read data from a badge system, monitoring and visualization software. Specialists from different teams built it all together in a stylish plug & play kiosk. After about three weeks, the entire system was delivered and put into use. Not only the available knowledge and resources, but also the importance of the solution accelerated the implementation. Additional hardware (such as automated physical swing gates) was considered for a while, but implied a rather cumbersome installation, with a lot of logistics and cabling.
When the employees now enter the covered waiting zone, their badge will be read out. On a screen, they see their name and a location where they can change. Their presence in the changing area is registered and as soon as it is available, it is assigned to the next attendant.

It now only takes one steward to supervise the entire routing of employees. In an hour and a half, six waves of an entire shift pass through a department. The employees themselves respond satisfactorily to the system. It runs smoothly and the social distancing is assured in all comfort. The only remark is that they would like to see sports on the screens while waiting. But then it could get very busy in the waiting zone...
The applicant claims that the Court should
So with SecureGate, there is a user-friendly and intelligent solution to manage people's routing. In this form, it may be a temporary solution to efficiently comply with social distancing measures. Price/quality is the perfect solution for this project. However, the applications are numerous and will continue to find their way to companies, organizations and events after COVID-19. More info you will find here.
Want to see how it works? What the possibilities are and how you can integrate SecureGate within your organisation? We'd be happy to give you more information or a free demo. Experience Center in Geel.
"With SecureGate, a user-friendly and intelligent solution is available to manage people's routing".