Growth through Focus
The Van Roey ICT Group today announces excellent results. The group ended 2017 with a turnover of €34.5 millionSince 2015, VanRoey.be has realised a annual growth of 30% on its EBITDA and 10% in employmentToday, the group has 150 enthusiastic employees.
VanRoey.be also expresses its ambition to maintain this rate of growth in the coming years. The strong growth was achieved mainly by VanRoey.be's business department, with applications and cybersecurity as striking highlights. The cybersecurity know-how of VanRoey.be is renowned, with not only SMEs but also large organisations such as Torfs, Fluxys, Smals, Jan Denul and P&V as clients. The company can count itself among the top GDPR specialists in Europe. VanRoey.be therefore now focuses exclusively on the business user. With an offer of infrastructure (security, cloud & storage), applications (CRM, ERP, Sharepoint & mobile apps) and services (managed ICT infrastructure & Staffing).
VanRoey.be invests 5 million
Pat Van Roey: "In order to support these growth ambitions, we foresee an investment of more than €5 million in tools and infrastructure in the coming years, and we are resolutely opting for further digitisation and automation of our internal processes with modern tools such as Office 365 and Dynamics 365. An exciting digital journey in which we want to be the 'sandbox' for the solutions we implement at our customers' sites: Eat Your Own Cookies, and our customers can also get their hands on our digital solutions in various labs.
New buildings and renovations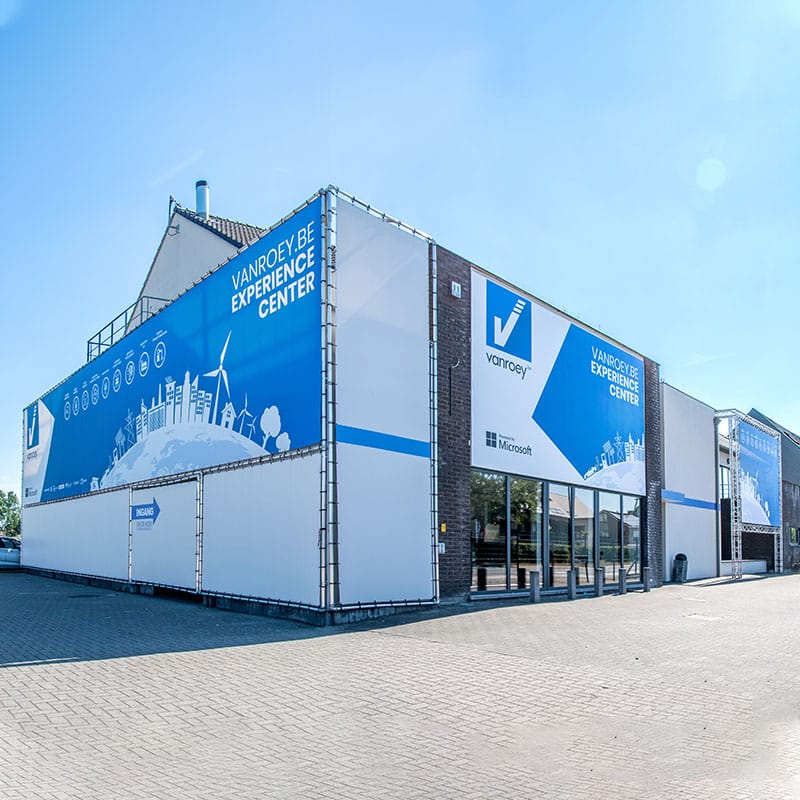 In addition, VanRoey.be will create a new office with more than 100 new workplaces: digital workplaces, in a pleasant physical working environment. In Turnhout, VanRoey.be therefore chooses for the realisation of a new Digital Innovation Center, next to its current building on the ring road.In addition to offices, meeting and network rooms, VanRoey.be also provides space and guidance for digital startups.
In the meantime, the current branches in Turnhout and Geel will undergo a transformation. The shop and service point in Turnhout will be transformed in the coming months into a Business Center where business customers can discover modern ICT solutions for professional usePurchases and repairs remain possible. The establishment in Geel will become - like Mechelen's - a working hub and meeting place for employees and customers. As of 1 March, VanRoey.be refers its customers exclusively to its branch in Turnhout for repairs and purchases. - open from Monday to Saturday - and of course also to www.webstore.beour business ICT web shop where you can go 24/7.
Recruitment
Pat Van Roey: "All employees are trained and coached. Digitisation is very fast, we have to be 'with you'. We are also looking for new colleaguesWe are looking for both experts and juniors, who we would like to let grow with us. The 120 new employees we will be recruiting in the coming years will enjoy a modern working environment, new tools, a warm atmosphere and a flat structure where everyone is approachable".
To support our growth ambitions, we foresee an investment of more than €5 million in tools and infrastructure in the coming years. Digitisation is very fast, we have to be 'with you'."