The perfect (wireless) network at the heart of your organization. Performant and safe
A high-performance network is vital, as is its security. Today, the threat also comes from within the network: mobile devices, Internet of Things, Malware… VanRoey.be is the ideal partner to help you design or support your network architecture:
 Certified CWNP experts
 Top level partnerships Ruckus, HPE, Fortinet… (with strong prices!)
 +25 years of experience in thousands of environments
 A lot of expertise and focus on security
There are many important steps in the process towards a flawless network.
What's your internet bandwidth, does the firewall have sufficient capacity?
Is the cabling correct and fast enough? Where do we use optics?
Which switches and access points are used?
Are there any issues that interfere with the wireless signal?
How many devices are on the network? (Don't forget printers, IoT…)
VanRoey.be has a team of specialists who can guide you through every step in this process.
Comparison Ruckus ICX Switches
Ruckus' ICX Switches have many advantages over the competition, such as price, performance and quality; But an additional advantage is StackingYou can use the following without additional licenses/costs 12 Switching in a row with traditional Ethernet cables and that over a distance of no less than 10 kilometres. 
You also enjoy ISSU (In Service Upgrade) which means: upgrades without downtime! You also enjoy Hitless stacking failover, an automatic failover from the active controller to a standby controller without resetting a unit in the stack. This happens within a second so that no packet-loss is experienced by the supported services and protocols.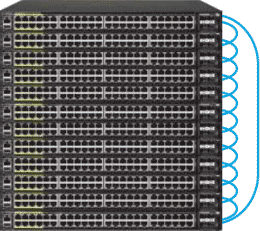 ICX 7150
ICX 7250
ICX 7450
ICX 7650
ICX 7750

Level

Entry Level

Entry Level +

Midrange

High-end

High-end

Bandwidth

180 Gbps

256 Gbps

336 Gbps

1,128 Tbps

2.56 Tbps

Ports
48 + 2 x 1 GbE RJ45
4 x 1GbE SFP
4 x 10 GbE SFP+
48 x 1 GbE RJ45
8 x 1GbE SFP
8 x 10 GbE SFP+
48 x 1 GbE RJ45
4 x 1GbE SFP
12 x 10 GbE SFP+
12 x 10 GbE RJ45
3 x 40 GbE QSFP+
48 x 1 GbE RJ45
4 x 1GbE SFP
4 x 10 GbE SFP+
24 x 1/2.5/5/10 GbE RJ45
2 x 40 GbE QSFP+
2x 100 GbE QSFP28
96* x 10 GbE SFP+
(*With Breakout cables) 32 x 40 GbE QSFP+


PoE/PoE+

Stacking

Layer 3 (Static, RIP, OSPF)

Redundant current

Hot swap Power supply/fans

Additional Options

VRF EEE (Energy Efficient Ethernet)

VRF EEE (Energy Efficient Ethernet) IPsec VPN MACsec BGP Reversible airflow option

VRF EEE (Energy Efficient Ethernet) MACsec BGP Reversible airflow option

VRF BGP Reversible airflow option VXLAN Multi Chassis Trunking (MCT)
* Attention, this table only gives an estimate of what you can expect. There are more features than shown above, and each type of switch family comes with variants that offer different features. Our experts will be happy to help you make the right choice.
More insight thanks to Ruckus SMARTCELL INSIGHT
This very powerful big data network + wifi analysis tool can be used on any Ruckus network. Historical information (up to 5 years ago) can be used to generate reports. Which access points are used the most, which devices (incl. operating system) log-in the most or which department uses the most bandwidth? This and many other reports can easily be consulted via your browser and shared as a PDF file if desired.
With this service you can manage all your access points and switches from the cloud!
 Becomes manage of your (wireless) network very simple
 Save and optimize you, also across multiple locations
 Do you get better insights about the use of your network
 Can we (optionally) manage your network with uptime guarantees
 Do you have to not to purchase a controller
Planning a meeting with one of our experts?
He or she has obtained numerous certificates and brings experience from thousands of environments to assist you with, among other things
Analysis & optimization of your current network
A site survey with wifi spectrum analysis to achieve the perfect WiFi
Drawing up the network structure
Securing your network (E.g. with FortiGateDeepScan and/or NAC)
Asset tracking
IoT platform couplings with Azure
…

Get started for free with Ruckus Cloud wifi + AccessPoint
Get a free AccessPoint with 60 days access to the management portal
Ruckus Cloud Wi-Fi simplifies your WLAN management. Don't take our word for it, just try it yourself (or read the case of Shoes TorfsYou'll be amazed at how simple it is to set up, monitor and manage it.
You will receive a free 802.11ac Ruckus accesspoint(!)
You can use the Ruckus Cloud Wi-Fi platform for 60 days.
Free Ruckus Cloud Mobile App to do management from anywhere
Free phone and chat support from Ruckus
Simplify the management of all your multi-site AccessPoints and Switches in one cloud portal
A data center is rarely 100% cloud or 100% on-premise. A reasoned combination of both is usually best. Count on our...
Prevent hacks, malware, cryptolockers and viruses in your company by deploying the right solutions.
If you want to have too much to do with your head, then IT outsourcing is the solution for you... As an ICT specialist with...