Measurements & data as leverage for your organisation
Minimize downtime with proactive monitoring & alerts
Use as/then rules for notification & automation
Trace and map your resources with RFID, NFC, GPS...
Automatically grant rights or block access
Measure productivity and identify bottlenecks
Save energy and optimize conditions
Use sensors to extract data from your existing assets. This data communicates with your ERP environment, database architecture or MS Power Automate... and can be used intelligently to optimize business processes & services or visualize them in dashboards.
We help you intercept information from devices. This data is full of useful information that you can respond to:
Troubling machine anomaly? Preventive recovery!
Silos that get empty? Order and replenish
Temperature rising? Add extra water
This allows you to respond in real time to processes in your company.
Optimize business processes
Existing information flows, which now go from person to person, are automated by the use of smart cameras, sensors...
By measuring turnaround times you can optimize and improve these flows. The effect of your interventions can then be read out in real time, on which a real cycle of: measuring, improving, measuring and improving again.
Savings & higher productivity
In the end, this cycle will cause you to feel your operating cost significant potential loweras you constantly evaluate and improve your processes. This is how you achieve maximum effectiveness of your assets.
IoT projects are often complex in nature, the possibilities are endless. Our goal is to inspire and support you where necessary. Count on us to carry out the thinking and research for you. We propose a ready-made Proof of Concept solution with a view to scalability.
Phase 1. Optional inspiration session
Be inspired by our demo setups with a few colleagues and discover how and where IoT offers added value today. You are guaranteed to be 'eager' to get to work yourself.
Phase 1. Optional inspiration session
Phase 2. "Anything goes" brainstorm
What challenges do you have? What does your ideal process look like? What data is there (not yet) and would you like to use? We start from an 'anything goes' attitude, get to know you through and through and think about the possibilities together.
Phase 2. "Anything goes" brainstorm
PHASE 3. IoT Solution Accelerator
In our IoT Solution Accelerator trajectory we apply our knowledge and investigate what opportunities we can use to tackle your challenges. How can an IoT solution create added value in your business process.
PHASE 3. IoT Solution Accelerator
Phase 4. Proposal & Proof of Concept
We come up with one or more proposals and optionally work out a working PoC. In this way we guarantee a successful IoT implementation.
Phase 4. Proposal & Proof of Concept
IoT bridges the gap between IT & OT
Azure IoT Central
Azure IoT Hub
Stream Analytics
Cloud Databases
Azure Webservices API
Redis Cache
Dynamics 365
Connected Field Services
Teams
Power Automate
Azure Sphere Platform
MEASURES THE BRUG
Optimized Operations
Decreased Downtime
Remote Monitoring
Predictive Maintenance
Joint Force
Secure / Scalable
Solutions
Modbus TCP/RTU
BACnet
CodeSYS
Ethercat
Profinet/bus
IO-Link
CANopen
Fieldbus
SCADA
OPC UA
Transform into a Smart Company
Optimize your production environment and processes, evolve to less downtime.
Measuring is knowing, so you can intervene and optimise where necessary. Machines that are in danger of overheating can be adjusted in time, freezers that rise above a certain temperature can be read out and corrected from a distance, for example workload can be measured and therefore distributed more efficiently.
Using Industrial sensors from IFM in combination with an Advantech IoT Edge Gateway and the Azure IoT Central platform we make any device measurable, smart or remotely controllable. The Microsoft Ecosystem allows us to integrate this data into your business
In this way we ensure that you can optimize your production process and reduce downtime to a minimum.
Industrial Sensors from IFM can be used in a wide range of applications. Via IO-LINK technology (or existing PLC) they talk to an intelligent Edge Gateway from Advantech (Modbus TCP / PROFINET / OPC UA), processing raw data streams and forwarding them to the Azure IoT Central platform. These gateways are rugged solid state mini-PCs, remain operational in the most extreme industrial conditions and also allow you to remotely program your PLCs via a secure VPN connection.
Azure IoT Central allows you to manage all devices and sensors and view real-time data. Ideal for gaining short-term insight into your devices and assets. It is a user-friendly IoT Cloud platform that requires no programming or advanced expertise.
For long term insights IoT Central can export the data to an external database, after which you can work with Business Intelligence tools such as Power-BI. In addition, this data can be used in advanced machine learning applications to gain optimal insights into the behavior of your equipment.
Integrate your data into your existing business applications, notify technicians in Microsoft Teams in the event of a malfunction or schedule them more efficiently for recurring maintenance and in the event of imminent malfunctions with a dispatching tool such as Dynamics 365 Connected Field Service.
The possibilities are endless, this is where the Microsoft Ecosystem can really make a difference. Use our expertise and experience in the Microsoft portfolio to create the right architecture and automations for you.
An overview of the possibilities:
Optimize lead times within your production department, using Radio Frequency Technology (RFID) or Barcode technology. In combination with smart platform agnostic mobile applications, these "tags" can be read out automatically or not. This data can be integrated in the planning process or other ERP applications.
Track lead times Identify where optimisation can take place, make adjustments and optimise your production process.
Ensure a good management system for check-in and check-out of your warehouse management equipment
Follow your product not only during the production phase but also make sure that they are can be identified in future service or damage
Bring your critical data from your assets into view, for all your challenges a solution can be found.
Equip your valuable property with location trackers and other sensors.
Do you often rent equipment or are colleagues often using it on the track? Now you can finally map out where and for how long all the equipment is located. What's more, you can also view the location history individually (per tracker), measure what happens to it and how intensively it is used.
Data doesn't lie, that's how it's done with the welles/nietes games and can be handled accurately.
GPS Location icm Azure Maps (IoT Central)
Locating assets: Location, duration, history, battery level
Standard Web Browser Application, available anywhere
A PowerApp can be developed to track and manage mobile as well.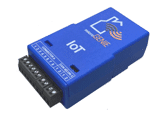 This versatile IoT device can be used to read out data from intelligent sensors. Important here is that it is extremely suitable for remote applications where one often has no or poor connectivity.


We succeed with our IoT Microgenie.
Global Coverage, Condtion Monitoring (NB-IoT)
Ideal for remote applications

2 Digital and Analog Inputs
2 Relay Outputs

IoT Central Integration with Power BI Dashboarding
Out-of-the-box integration with Azure IoT Central
Power-BI dashboard available on request
Use in engines, safety systems, condition monitoring applications
We can make the complete bridge between technology, software and business. Benefit from our experience within thousands of organizations, our rock-solid partnerships and our certified expertise in Microsoft Technologies, high-end Security, Managed Services and much more. IoT from A to Z.

Airtightness measurements
Don't just be our customer,let us be your partner
IoT is all about partnerships. Only it's not about partnerships, trust us and we'll make sure you can work with the right players and the right technology! Scalable and sustainable!
VanRoey.be has been a Gold & Advanced Service Delivery Partner for many years, which guarantees maximum certified knowledge and support. Within 15 minutes, we have level 3 specialists on the line with access to the Azure data centre: the Power Platform, Dynamics 365, Office 365, SharePoint... Everything is possible, everything is integrated.
Advantech has an extensive product range and is recognized worldwide as a forerunner in the field of IoT equipment. Advantech assembles its products at the Science Park in Eindhoven, a stone's throw from VanRoey.be. read
here
the entire article

ThingStream is an IoT Communication-as-a-Service broker that ensures that our smart sensors can talk to the IoT Central platform in a safe, battery efficient way. With their global coverage they ensure that a diverse range of remote applications can be offered.
Our colleagues will be happy to help you with the challenges your organisation is facing. If you contact us, the following documents will be sent to you by e-mail: