Evolve into a modern workplace. At home, in the office... 
Office 365 Business or O365 E3? Today, almost all of your business operations can be done through SharePoint, Teams, Word, Excel, PowerPoint, Power Automate & so much more...
An extremely versatile package, always up-to-date and integrated.
Office 365 is extremely versatile
Investing in MS Office 365, SharePoint or Teams pays off best when used optimally. That is why VanRoey.be focuses during the implementation 100% on the
engagement and training
of the end users.
Evolve to the Digital Workplace that provides space for safe teleworking
Stay ahead of the competition. With Office 365 Business and E3, you are evolving into a modern environment that supports professionals, not hinders them. Collaborate securely, wherever and whenever you want, in an efficient way.
Comparison table:Microsoft Office 365 Business vs Enterprise E3 vs E5
Microsoft 365 Business

(formerly Office 365 Business Premium)

Office 365 E3 (Enterprise)

Office 365 E5 (Enterprise)

Unlimited number of users? Or is there a maximum?
Max. 300 seats
Outlook Email and calendar
Exchange Business e-mail server
Cloud only
Cloud or on-premise
Cloud or on-premise
Teams Chat, Voice & Video (formerly Skype for Business) extended with numerous collaboration tools
SharePoint Intranet, information sharing...
Cloud only
Cloud or on-premise
Cloud or on-premise
OneDrive for Business 1TB Personal storage(!) with backup and version beher
Microsoft Office Online Excel, Word, PowerPoint, OneNote... in your browser
Microsoft Office Desktop Apps Install the full versions of Outlook, Excel, Word, PowerPoint, OneNote & Access on 5 devices per user
Advanced management/security Azure Rights Management to better protect colleagues and data
Yammer, Stream Internal social media and video subsystem
Delve Search all your files through the organization
Microsoft Power BI Pro Turn data from a wide range of sources into interactive dashboards
Optional
Integration Teams (or Skype For Business) with telephony systems Convert any PC or smartphone into a telephone exchange and make (inter)national calls via the organisation's fixed line.
Optional
Included in Microsoft 365  Business Premium and Enterprise E3 or E5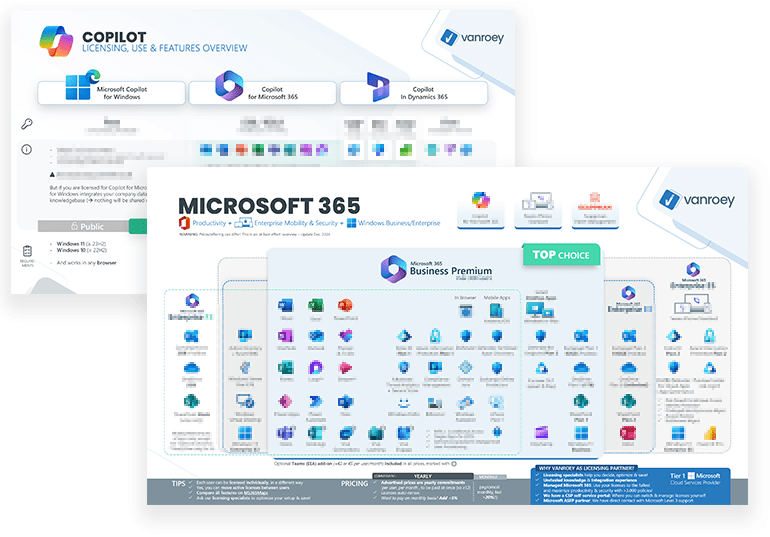 In the inexpensive Microsoft 365 packages you will find -in addition to Office 365- additional security features and Windows 11 Pro or Enterprise licenses.
It's pretty complicated, but if you want to know how these o 365 formulas compare and how much they cost? Then download here our unique overviews.
FAQ / Frequently asked questions
Does everyone have to have the same license within my organization?
No. Microsoft is very flexible in this respect. You can perfectly license users according to their specific needs, so you never pay too much for a product that they never use.
How fast can I (de)activate licenses in case of startup/failure?
This is possible thanks to our 'Microsoft Cloud Partnership' status immediately from our free cloud portal. For this you get a log-in and you can easily manage all licenses yourself. This way you never pay too much and you are not dependent on us (e.g. outside office hours) to keep a colleague productive.
What added value does the Microsoft Gold Partnership of VanRoey.be offer?
Take it from us, it is not easy to receive this partnership from Microsoft. As a Gold partner you are assured of our expertise with over 25 years of experience in thousands of organizations and endless certificates. So you never pay too much and you are not dependent on us (e.g. outside office hours) to keep a colleague productive.
What is the biggest difference between Office Enterprise E3 and E5?
The biggest difference between the two is that E5 adds a number of features that (even) improve your security and telephony capabilities. For existing E3 users these are also available separately as add-ons.
Getting started with Office 365
Schedule a meeting with our certified Microsoft Experts and you'll soon realize how much you can save in your environment!
Why VanRoey.be as OFFICE 365 partner?
Benefit from our years of experience with thousands of successful, thoughtful Office 365 implementations; And our Microsoft Gold partnership:
We are strongly committed to 'Continuous learning'. A SharePoint environment that is not used is an expensive joke. That's why we involve your colleagues from the outset and let them get the most out of it through training courses. Afterwards, we monitor usage per department.
Microsoft Licensing specialist: Our experts make sure you have the right licenses for the right profiles. No colleague has to pay for things they don't use!
If Microsoft Cloud Services Provider you can obtain or cancel licenses through our portal without the intervention of either us or Microsoft. In this way you can quickly switch with starters or departures.
Do you already know Teams? We will discuss a lot of useful things that will improve the (cooperation) of our teams!