Recently graduated in ICT and want to get started? Give your career in IT a kick start! VanRoey.be offers you a paid training path to develop as an IT professional!
As an ambitious talent, you can join us in early September with a open-ended contract. We will boost your career start by immersing you in the first 3 months in a intensive training programThrough training and close interaction with experienced colleagues, you will learn quickly and discover your possibilities in IT. 
What is the Next Gen Trajectory?
When you start with us, we'll give your career a boost by immersing you in a intensive training program.
We offer you various training courses, workshops and exploration opportunities that will enable you to further develop your soft skills and grow in the technical field. The soft skills are cross-company and technical training is within your area of expertise.
You have the choice of what you want to immerse yourself in..
A staff member will guide you and you will be immersed in the real stuff. You will have the opportunity to experienced colleagues in various functions to follow and learn about their work.
You will enjoy on-the-job training, take part in external courses and be involved in events. After this valuable and high-quality programme, you will have the necessary tools to be successful in your job.
Are you the perfect Next-Generation guy?
What do we offer?
A permanent contract, linked to an instructive training programme.
You can count on attractive rewards, supplemented with interesting extra-legal benefits and team incentives.
With us, you can launch your own initiatives and we give you every opportunity to permanently upgrade your own expertise.
The dynamics and personal approach of a strongly growing SME, combined with a thorough expertise and excellent service and quality!
Take part in the Next Gen Trajectory
Leave your details here and we will contact you soon for an interview!
Discover other vacancies at VanRoey.be
As a Recruiter, you are responsible for the further growth of our organisation VanRoey.be and that of our clients. It is your goal to find a strong match between the company and the potential colleagues.
As a Security Architect, you are the Technical Lead and Trusted Security Advisor in advanced Security Projects.
As Junior System Engineer you are responsible for the daily management of the ICT infrastructure at our customers.
As a Junior Account Manager, you are responsible for expanding our customer base. On the one hand you are responsible for active prospecting and on the other hand you take care of the further expansion of your existing customers.
As HR Business Partner IT you are on the one hand responsible for the sourcing of new IT Professionals, and on the other hand for the follow-up and coaching of colleagues, socio-legal support and the development of our HR department.
As Junior Engineer Multimedia you are responsible for the complete installation and configuration of innovative meeting tools and touchscreens. You configure the screens in the current ICT infrastructure and give our customers a short demo afterwards.
The right choice
Changing jobs is a big decision. You don't want to take a chance with your happiness, your family... That's why your happiness is our highest priority and why we will offer you many opportunities and growth possibilities.
As a certified "Great Place To Work" organization you'll be fine!
Strong annual growth, both in turnover and personnel, justified the investment in "Kempus" our climate-neutral new building. Enjoy beautiful offices with huge balconies and a lovely restaurant with terrace and view over the Kempen nature...
TRUST & RESPECT
You get confidence and are respected. You can be vulnerable, we listen!
25 YEARS EXPERIENCE
We are financially healthy, a fixed value. Our individuality and flexibility make us grow every year.
FUN @WORK
Teambuildings, fun drinks... there's a lot of laughter. You'll be at ease right away among our fine colleagues.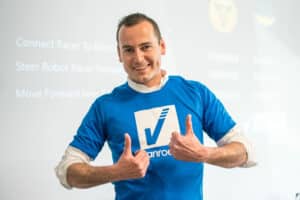 OPEN BUSINESS CULTURE
Our informal working atmosphere guarantees sincere communication. No-nonsense; everyone's input is always appreciated.
HEALTHY MINDS @ WORK
"Mens sane in corpore sano". We have lunch and exercise together, and mentally we support you in dealing with stress.
ADDITIONAL REWARDS
Bonuses, pension savings, hospitalization insurance and numerous extra-legal benefits such as an unlimited GSM subscription are ticking.
INNOVATION
We work with the latest devices, technologies and encourage our people to dare to experiment.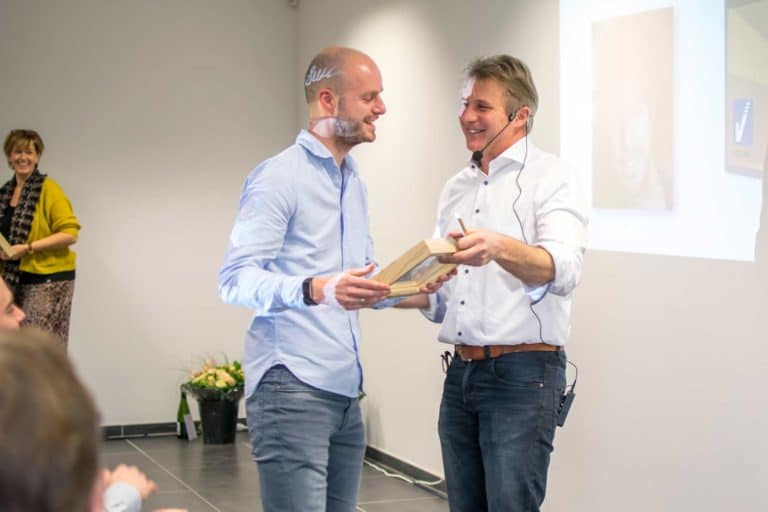 GROWTH THROUGH LEARNING
Our sustainable career policy teaches you the skills that are expected of you today and tomorrow.
SOCIAL COMMITMENT
We contribute to a better society by focusing on local growth, charities and minimising our ecological footprint.
VanRoey.be?
In 1993 the company was started by Pat Van Roey. 
What started in his garage at the Wieltjeshoeve has grown into an (inter)national top player in the field of IT services and security. Today we play along at the highest level, we protect Belgian government services and can help organisations such as Schoenen Torfs, Suez, Voka...count on our people. Read here More about VanRoey.co.uk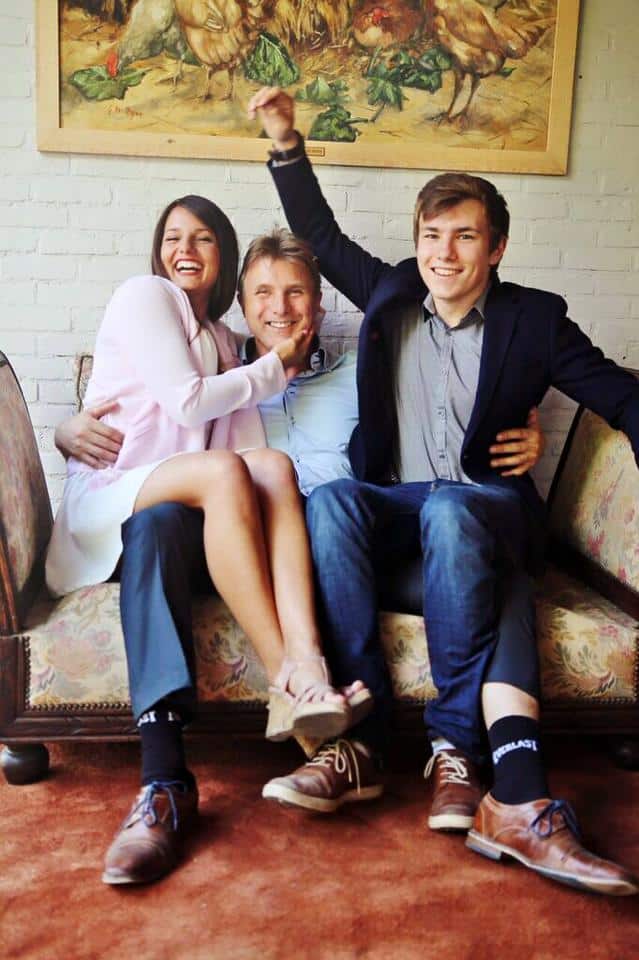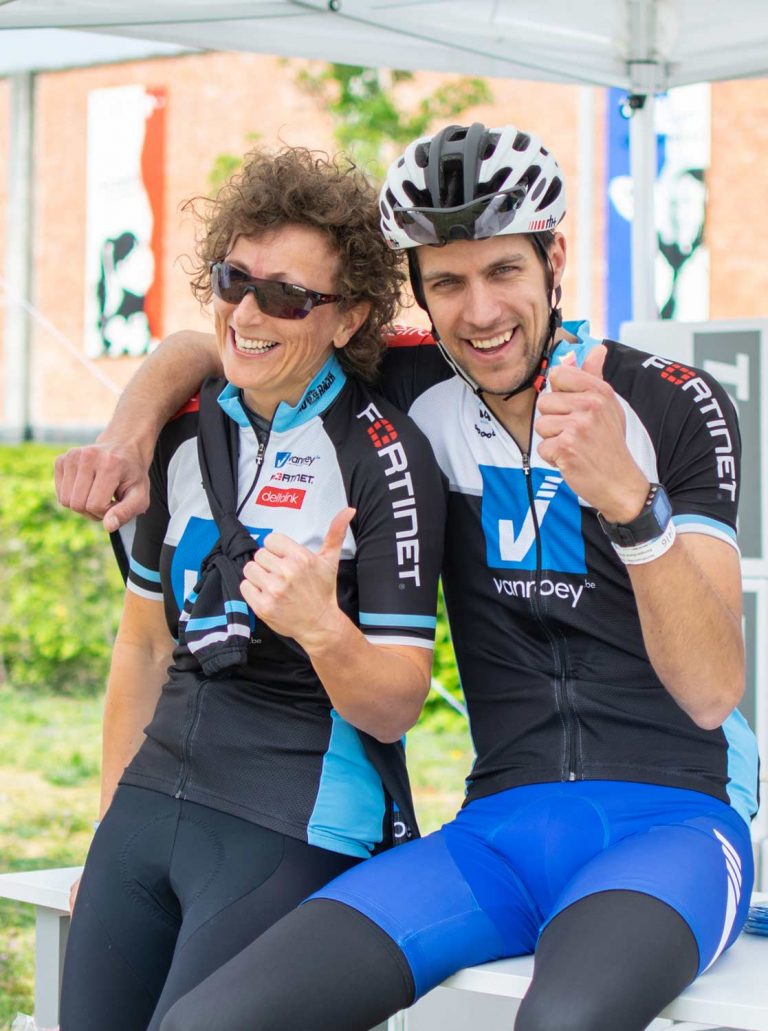 Are you a VanRoeyer?
As with Idol we're looking for some kind of "X-Factor with our colleagues. It's hard to define, but clients perceive us as down-to-earth, no nonsense and sincere with the intention to help others further. In short: you will find yourself in a warm nest where you have the opportunity to develop a enduring relationship to build with customers and colleagues.
Do you recognize yourself in the characteristics below or do you feel like working with such people? Then we should talk.
During my start-up at VanRoey.be, I was warmly welcomed and immediately felt I was welcome. I was assigned a sponsor to whom I can turn with all my questions. Due to the many training moments in the first weeks, I could quickly be called on to projects. And not unimportantly, at VanRoey.be there is a good balance between work and private life!
Every day brings new challenges. This, combined with a variety of tasks, makes for a nice variation in the job. The nice group atmosphere and colleagues make the work very enjoyable. At VanRoey.be we can also always work with the latest technologies, which allows us to continuously train ourselves. This opens several doors to grow!
In my job, you have to be prepared to go to extremes for the customers. We always consult with each other in order to find the best solution. Because the technological world does not stand still, I can continuously improve myself by attending all kinds of training courses. If you always want to be challenged and have opportunities to grow, VanRoey.be can help you.
Support, new installations, migrations... I can put my knowledge and experience to work for customers and get a lot of trust from VanRoey.be. This approach works because I can continuously train myself and can fall back on motivated colleagues and a great support department.
Going to work feels like coming home. My job is very varied: every day I work in different environments and I have contact with different clientele. There are always opportunities to develop yourself further through the right dose of challenges and growth opportunities!
VanRoey.be believes in me and gives me the opportunity to develop myself every day in a job I feel good about.