1. More cores + more performance = more cooling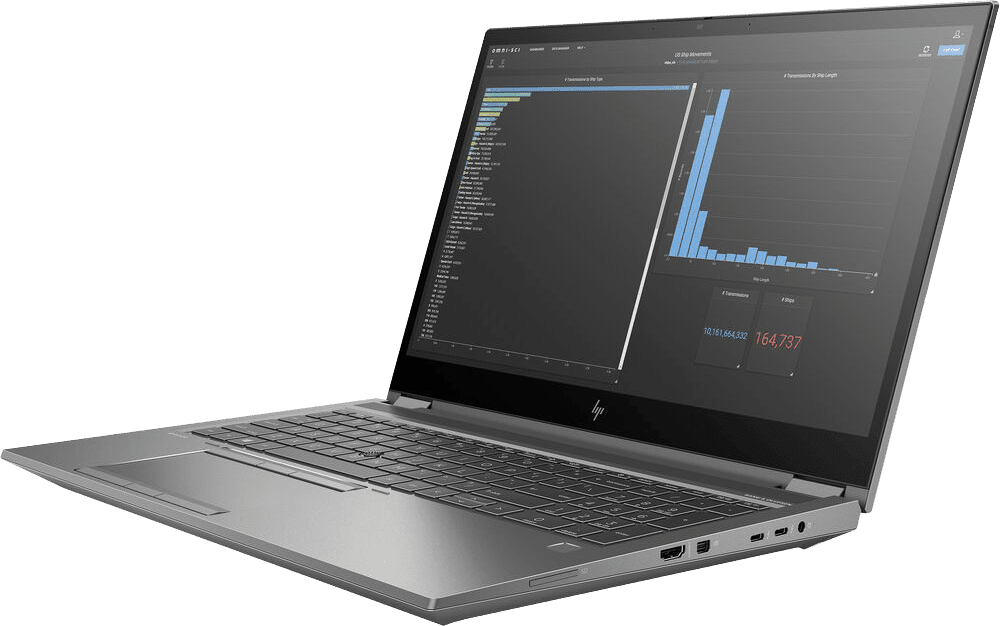 Also Thin & Lights can offer some serious performance today, but is a Core i7 or i9 hexacore in such a razor-thin chassis a good idea? The answer is yes and no. For medium-intensity work (Photoshop, Illustrator... relatively light CAD work) this is not a problem, but know that such CPUs will throttling when they get too hot for long periods of time. Their speed will then be scaled back to avoid overheating. Are you planning to use all the cores and the GPU 100% for long periods of time? Think about rendering, simulations, lengthy calculations... In this case, go for a slightly thicker device that provides enough space for cooling and is built for these types of applications.
You can also configure your workstation to support Pen and/or Touch. Useful on site visits to go over plans and analyze 3D models or as an artist. If you're in this niche you should make sure that these tablets or hybrids are comfortable enough to use for hours on end on your lap or in your hand. Another aspect that is sometimes forgotten can be the drop resistance.
2. Which GPU does your software prefer?
Some software requires specific, certified hardware. The Nvidia Quadro and AMD Radeon Pro series typically feature proven ultra-stable drivers, the best chips and consequently deliver maximum stability and image quality. They are built to work 24/7. Those certainties come with a price tag, but in return you can expect better support from Nvidia and AMD. Whether you should choose AMD or Nvidia may depend on the applications you use most. If you depend on Cudacores, then Nvidia is a must. Does your application support AMD ProRender or Nvidia's RTX cores? These are things you should look into before you buy. It can make a dramatic difference in GPU-accelerated rendering tasks.
h.265, AV1, VP9.... Most modern GPUs do support decoding and encoding of modern video codecs. Still, if you're going to do a lot of video editing, it can't hurt to check which video card will perform best in applications like Adobe Premiere or After Effects. Is processing 4K or even 8K possible? And if so, how smooth does it work?
3. Choose the right screen size and resolution
A QHD (2560 x 1440) or 4K (3840 x 2160) resolution on a laptop screen will always give you a 'nicer view'. But if your eyes are not that great, and you consequently have to work at 175 to 200% scaling, it makes little sense. In that case, the high resolution mainly affects your battery, general performance and maximum brightness. In that case, you might as well go for a Full HD resolution. However, if your eyes are good and you can comfortably work with QHD at 100%, or your 4K screen at 125 to 150% scaling, then you get a lot of workspace available. That will definitely help your productivity.
4. Invest in a second screen
If you choose a portable because you often take it home from the office, but always work on a desk with external monitor(s); Then investing in a large 4K screen, a 3440 x 1440p widescreen or even a 5K widescreen is a good move. You can never have enough image space if you multitask and each program displays many panels. Also consider accurate color reproduction, if needed. Do you want HDR support? Are the viewing angles fine? All things to take into account. It can also be nice to have a screen with built-in USB-C or Thunderbolt docking functionality. That way, your desk won't become a spaghetti of cables and you'll be off with just one.
Also, be sure to research what connectors your mobile device has and if they are compatible with the connectors of your peripherals. Thunderbolt 3 or 4, USB-C, HDMI 2.1, 2.0b, 2.0, 1.4, (mini) Displayport... The bandwidth and compatibility of all these variants differs, so be sure to take this into account if, for example, you want to drive a 4K screen at 120hz with HDR.
Some USB-C/Thunderbolt displays and docking stations also offer power over the same cable. But most (heavier) workstations with dedicated GPU will require more than 60 watts. So be sure to check your power supply if you want to go down this route. Your system might throttle if connected to a weak power supply.
5. Functionality & continuity > design

You are a designer? Then it's easy to be seduced by a 'beautiful' device. But first and foremost, it remains a workhorse that you are 100% dependent on. If you have a defect tomorrow, how easily can your device be repaired or replaced? Missing your workstation for weeks is just not an option. Pay attention to how easy it is to repair and buy from a partner who can help you immediately instead of one who refers you from pillar to post. With HP devices you can buy a Care-Pack consider giving you extra warranty and next business-day support. This is really not a luxury for a professional.
6. Storage tips and tricks
Storage must not form a bottleneck. You therefore need sufficient and, above all, fast storage on workstations. We therefore recommend exclusively SSDs. Preferably of the type m.2 NVMe, which can achieve the highest speeds. If you already have Microsoft 365 and/or Office 365 customer you have almost unlimited storage in OneDrive. Make use of this and make sure that a defect, theft or forgetting your device somewhere doesn't have to be a problem. It also gives you automatic version history on all your files: Accidentally overwrote a complex PSD with a bad edit? Accidentally deleted a file? No problem! It is also an ideal system for sharing (large) files quickly.
7. Think about your security
If you regularly work on source code, scientific research, construction plans, technical drawings or product development... a hack or theft is very risky. Malware or ransomware on your device can also seriously hamper your productivity. So make sure you're adequately protected. And we're not just talking about a good anti-virusBut also about hardware security that actively protects your BIOS as well as your OS, for example. Or think of biometric security like facial recognition or your fingerprint. Here Learn more about the extra layers of security HP builds into its Elitebook and Z Series.
Make wise, future-oriented choices
It is difficult to make a bad purchase in the high-end segment. But as you can see, there are many things to take into account.
Discover here (Part of) our offer in the HP ZBook series. Of course we can customize many more devices, including desktops.
Feel free to talk to us and get advice from certified experts on your purchase of professional workstations.
Get your digitisation up to speed. In an interactive tour, we show the contemporary possibilities of the modern workplace. So you can experience for yourself how well it works!
"It remains primarily a workhorse that you 100% depend on. If you have a breakdown tomorrow, how easily can your device be repaired or replaced? Missing your workstation for weeks is just not an option."