"We have been working with VanRoey | EuroSys for a very long time," says ProScan's IT manager. "When we also signed a maintenance contract with them, it strengthened our trust in VanRoey | EuroSys. We noticed that it improved the quality of our servers benefited and we experienced significantly fewer problems, as VanRoey | EuroSys always had its finger on the pulse."
So when in 2017, after five years, the warranty of ProScan's servers came to an end, VanRoey | EuroSys was in a perfect position to assess the possibility of postponing their replacement until 2018. "VanRoey | EuroSys assured us that, subject to a warranty extension, we would be able to continue with these systems for another year," says the IT manager. "They had always maintained the infrastructure well and were able to assess our needs as well as the evolution of the required performance, storage and backup capacity."
From separate to converged servers
ProScan used to have two separate redundant servers and a separate backup NAS located locally in the company. VanRoey | EuroSys replaced those with a new Dell VRTX system. "This is a converged infrastructure: whereas the two old servers were really separate systems with all kinds of links between them, this is a server chassis containing two 'blade servers' that each use the same central storage capacity, controllers, power supplies and network connections," explains the IT manager.
"This common backbone does theoretically make the converged infrastructure slightly more sensitive to downtime, but VanRoey | EuroSys has therefore ensured internal redundancy at just about every component. The Dell system is so intelligent that it monitors itself and can autonomously request spare parts and interventions when necessary. This, combined with the proactive maintenance by VanRoey | EuroSys, gives me great confidence in this infrastructure. If disaster strikes, we can count on a repair within four hours. Moreover, the small risk does not outweigh the advantages of the new converged architecture.
This setup is budget-friendly, more efficient to manage and gives us more flexibility for the future. For example, we can now very quickly add storage capacity or an additional server to the chassis, without additional interventions. The NAS backup system was also replaced by a physical backup and management server from Dell, which we are already noticing is faster and more reliable. The entire installation and migration to these new systems went extremely smoothly with virtually no disruption or disruption to our staff."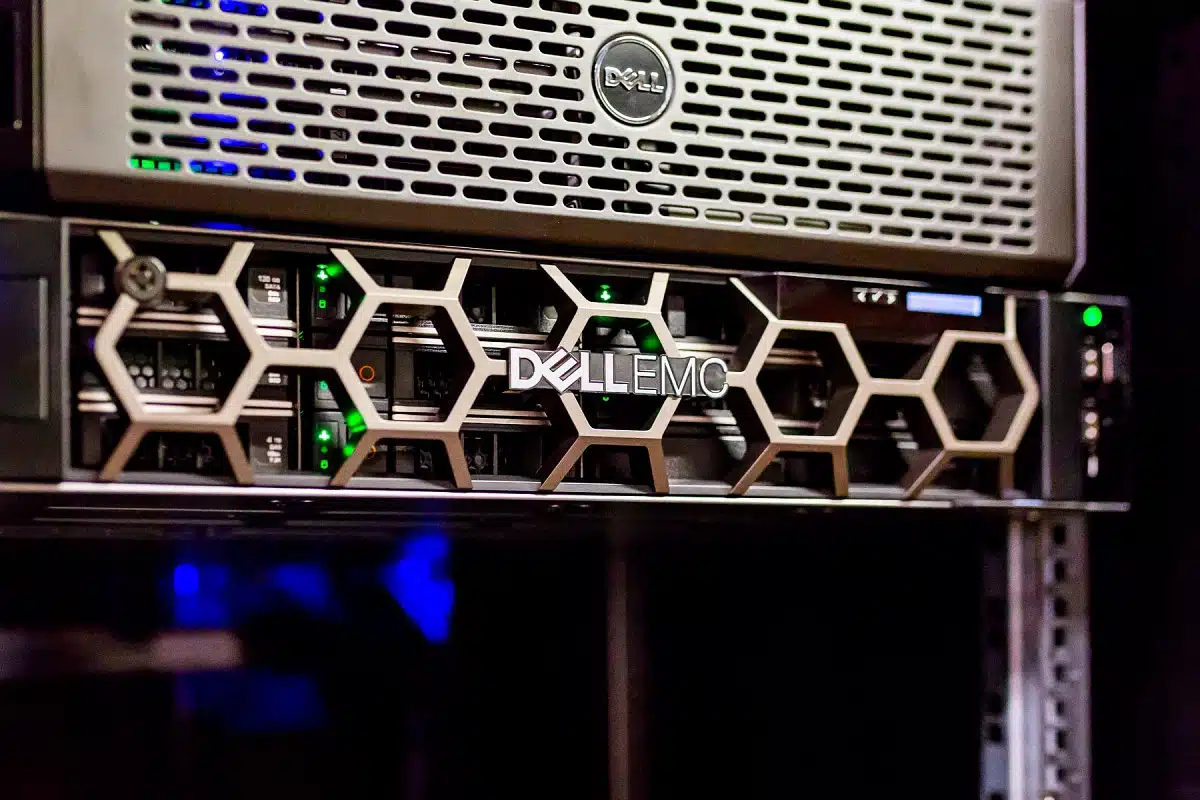 Faster and safer
In any case, the new servers are a lot faster than the old ones. "In addition, the storage capacity has been expanded and made hybrid: we now have some very fast SSD disks for files and databases that are constantly accessed intensively. In addition, we also have a lot of classic server disks for storing the software, all other data and archives," says the IT administrator. "Furthermore, a new firewall has also been installed, so security is much more robust."
Moving to the cloud
Besides renewing the IT infrastructure, VanRoey | EuroSys also tackled the software. Previously, ProScan's 21 employees worked with locally installed Office packages. One licence was required per PC. "We gradually used more and more different devices - laptops, tablets, smartphones, ... - which required additional licences," says the IT manager. "Moreover, updates did not always happen synchronously and maintenance was time-consuming.
Office 365 turned out to be a much better choice for us: you can use each licence for multiple devices, everyone always has the latest version and we have access to all kinds of extra features such as OneDrive, SharePoint and Teams. Integration with other Microsoft programmes such as Microsoft Dynamics 365 is better and more secure. Even our mail environment is now more reliable. After all, through Microsoft, we are assured of perfect security and availability. In addition, day-to-day management is much easier. For example, I can manage the mail addresses myself without any problems."
By switching to Office 365, ProScan's salespeople can also work and mail securely remotely. Access to the On-Premise environment is now done via Microsoft Remote Desktop, faster and via a better protected data connection than the previous way of working via vpn.
Maintenance contract: highly recommended
Now that the new infrastructure and Office 365 are in operation, VanRoey | EuroSys continues to maintain the whole. For this, a permanent systems engineer visits ProScan four times a year. "But beyond that, we can always reach someone if necessary," says the IT manager. "We do the general maintenance of the PCs ourselves as much as possible, but we when we need help, VanRoey | EuroSys provides remote or onsite support on call. Any question is solved quickly. Also, you know our systems and our way of working very well by now, so you can respond perfectly to our needs."
According to the IT manager, a maintenance contract is the best approach: "Highly recommended for any company of any size that wants to keep its IT infrastructure up-to-date. The advantage of an external service provider is anyway that he has a much broader IT knowledge and experience that they can put to use with us. That results in IT facilities that meet industry standards: more secure, cost-efficient and easier to maintain."
Founded in 2002, ProScan is originally a Belgian family-owned company with offices in Belgium and the Netherlands. The company develops and distributes implants, components and customisation for dental implantology in Western Europe.
"We do the general maintenance of the PCs ourselves as much as possible, but we when we need help, VanRoey | EuroSys provides remote or onsite support on call. Any question is solved quickly. Also, you know our systems and our way of working very well by now, so you can respond perfectly to our needs."