ICT as a backbone
Two branches, the customer traffic of a large supermarket, and a range of more than 150,000 different products - it takes a solid ICT system to do that. A few years ago, Vatana's ICT was regulated by a Dutch company. That always offered Vatana the latest software and checked which computers needed replacing. "But we rather needed a partner who offers us knowledge and support. Someone who knows what we need, but also what we don't need, who can guide us. In short, someone we can always turn to with all our questions," says Sigrid Put.
So there was a need for a new partner. A partner who listens to the customer and, above all, puts the customer's needs first. "When we were looking for a company that could help us with this, our accountant recommended EuroSys. He was in fact very satisfied with his cooperation with EuroSys," Sigrid says.
ICT Manager as a service
That meeting turned out to be very instructive. It was decided to work together. That cooperation started with a series of talks in which we looked together at what was going wrong in the company, what problems needed to be addressed and how EuroSys could provide a solution. EuroSys then proposed working with an ICT Manager as a service. "That basically means that we can borrow one of EuroSys' colleagues. Basically, we now have our own ICT manager, not full-time but only for the time needed with us," says Sigrid, "with extensive experience that a permanent ICT manager at one company sometimes does not have."
For the service to run smoothly, a number of things had to be put in place first: not only were PCs replaced and new connections made, experts from EuroSys also helped explain to employees how a number of things work. "All this happened in April 2020, during the first lockdown. It was a more difficult period, but EuroSys finished and delivered everything neatly and on time," Sigrid looks back.
Considerate neutral partner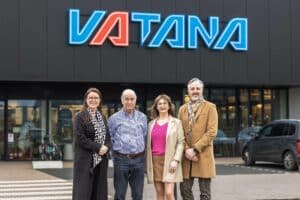 After this installation, EuroSys sent a Manager as a service, in this case Peter Vanherck, to Vatana. He arrived as an outsider in a very close-knit family business, but he soon managed to win everyone's trust. He did this not with sales pitches, but with honest advice. Together with Vatana, he drew up realistic plans and still supports them in talks with other partners. When things get a bit too technical for Vatana during these talks, Peter provides a translation that an entrepreneur can use. He also made a step-by-step plan that made it clear what needs to be done.
Sigrid explains how it works: "Peter takes a neutral stance and provides the best solution for Vatana. As an ICT partner, you have to look at how the customer works, what needs there are, but also how skilled everyone is with ICT. It makes no sense to choose the most progressive and trendy solution if the people who have to work with it on a daily basis cannot follow that story. With a lot of ICT suppliers, selling is the main issue, here we look from the company's interests."
For Vatana, an ICT Manager as a Service was already a service that came at just the right time. Sigrid: "Our company has reached a point where we need to question the current way of working and look at how we can further automate and digitise. When we need to look for a different way to build our telephony, for example, or look out for a new ERP system, the salespeople's explanations are full of technical terms but their offers always seem like that's exactly what we need. But if we then listen to Peter's translated version and see how it fits within our plan, it turns out, for example, that we don't need the whole the package that is proposed, but only one particular application for the time being. Because Peter now knows our company inside out, is at home in all these markets and can keep an overview of the entire ICT infrastructure, he can therefore really support us. He thinks strategically with Vatana and looks at what we need at what time."
What will the future bring?
A lot is about to happen in the coming months. "Since January, we have switched to a new social secretariat. This already allows some things to be automated. One example is the pay slips. Until today, these were still sent manually by post but so we are going to change that," Sigrid says. "In addition, we are going to change the entire ERP system. The cash register system, warehouse system and accounting are attached to that. By 1 April, we want to be ready.
We are also thinking of adding RF-ID tags to our in-store products as standard. These are basically stickers that can be read from a distance. It is then enough to walk past the racks with a scanner to take an inventory. The system automatically counts how many products are left in each rack. Today, we have to scan the barcode on each product separately, which is very labour-intensive, but we no longer have to do that. It makes the stock count much easier. However, it also means that we have to review and rearrange our warehouse."
Even more plans
In terms of marketing, too, there are a number of projects that will start in 2022. "In the meantime, for instance, we have rolled out Digital Signage. This allows us to control all TV screens and outdoor screens in Paal and Pelt simultaneously and centrally," Sigrid says. "Right after the first lockdown, we discontinued our original webshop. Everything you could find in the shops, you used to be able to find on the webshop as well. Only, we have more than 150,000 different articles in our shops. As we don't have a separate internet warehouse, all online orders therefore had to be manually retrieved from the shop. This created too high a workload, making the webshop unprofitable. In 2022, we will revamp our website, including a revamped webshop. In that shop, we will offer a limited range of products online. We can then organise this differently, making the webshop profitable," Sigrid continues.
These future plans mean that Vatana will be modernised step by step. This will obviously involve a lot of adjustments, and therefore work and costs. "Nevertheless, we are convinced that these costs will benefit our business in the long run. Indeed, while drawing up our new strategic plan, we chose products and packages that we know can grow with us in the future," Sigrid explains. "That was not the case before."
"Once the future goals are achieved, and Peter has thus finished his strategic plan, even then we will continue to call on EuroSys' services. A good and in-depth cooperation like this, is always one for the long term," Sigrid ends her story.
Vatana's roots go back to the 1960s: founder Willy Put started working as a leather worker back then. It wasn't long before he set up his first shop 'Vatana' in Zelem. Due to its great success, he and his wife opened a second, larger shop in Zonhoven. As business continued to grow, the shop moved to an even larger location in Paal in 1982. A branch that is still open today. The original range of shoes and leather goods has expanded considerably over the years to include sports items, clothing, toys and school supplies.
Three years ago, a new branch opened in Pelt. The offer is similar to that in Paal, only shoppers can also go to the Yummi coffee bar for a coffee or a meal. Founder Willy (75 years old) can still be found in the business today. Although the daily management has since been taken over by two of the three daughters, Sigrid and Inge. Vatana has become a real family business.
"Thanks to Maas, we now have our own ICT manager, not full-time but only for the time needed with us."