Not a futuristic prediction but a current, active performance
"The quote 'technology is best when it brings people togetheradorns the wall of our Experience Center and is also the guiding principle in the Geelse building. We want to make the centre a meeting place for clients, colleagues, teachers and students. Fully in line with our Kempen character, the Experience Center has a high hands-on content: no futuristic fiction of what the future might bring. would can come, well An active and interactive presentation of future-proof technology that is already on the market, at democratic prices."
From talk to action: Experience Center as a customer-oriented catalog
"VanRoey.be has many advantages to be a versatile IT partner for a diverse target group. We really want the customer to experience how we can do the job for them. The Experience Center is also an ideal first meeting point with potential customers. VanRoey.be doesn't want to be bound by empty promises, but allows prospects to experience the many benefits of IT. Under the motto 'work smarter, not harder' we let them experience organisational optimisations in practice. The centre is built around a quartet of chalk lines. Security, unified communication & collaboration, connectivity and optimize organizations will be discussed in various dynamic setups."
Try before you buy': tailor-made added value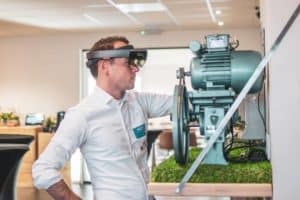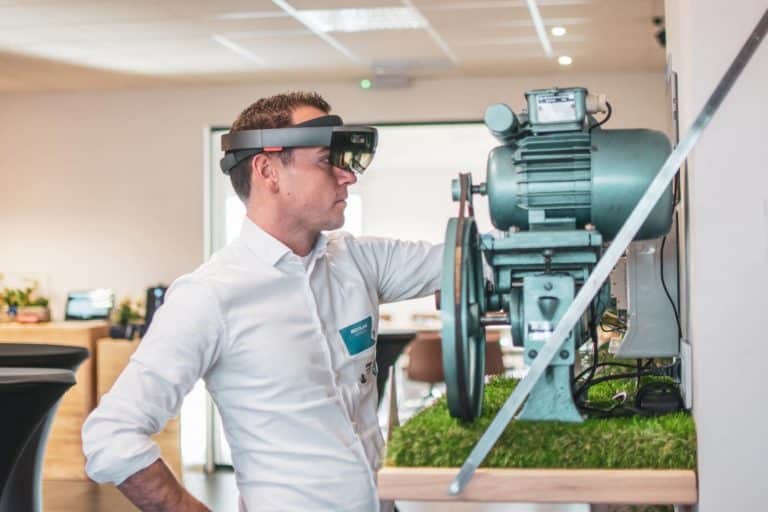 "We want to take entrepreneurs or decision makers away from their operational environment for a while. In a dynamic dialogue, we analyse where we can make the difference. With visual presentations and practical test assemblies, we let visitors experience at first hand what VanRoey.be can do for them. We provide a targeted 'guided tour' tailored to the needs of the company. For example, we will certainly give a demonstration of the Hololens at service companies. Microsoft's augmented reality glasses can offer engineers a lot of operational support on the work floor. Other companies we introduce to attractive alternatives for their classic office environment. The set-up with three movable cameras and large screens brings the customer into contact with hybrid meeting possibilities with unprecedented options. Concrete needs and experiences form the reliable basis for structural cooperation."
Get your digitisation up to speed. In an interactive tour, we show the contemporary possibilities of the modern workplace. So you can experience for yourself how well it works!
A socially responsible story about human capital
"Our core is digital, but the human being is always central. We use workshops and events to share our experiences with clients and students. With such cross-pollinations we want to connect people and make their human capital work. Also in the brand new Kempus We want to bring together knowledge and expertise."
A guided tour with your colleagues?
In one morning or afternoon we can immerse and inspire you and some colleagues. Plan here your visit to our Experience Center! See you then.
"We really want to let the customer experience how we can do the job for them. The Experience Center is therefore an ideal first meeting place."
Be the first to walk through our revamped Experience Center in Geel along with other entrepreneurs.