Frederik Guypen and Kris Noben, the two system administrators at Jaspers-Eyers, tell their story. Frederik: "Before, we had 1 file server per site and the backup per site was done on tape. We then had an exchange of tapes between the 3 offices (Hasselt, Leuven and Brussels). That way, we were safe in terms of disaster recovery, but there was also a lot of tape handling."
Instead of renewing 1 server, 9 were now replaced. Kris explains: "Since we were going to switch to Veeam for our backup, it was necessary to have everything virtualised. Therefore, we went a bit further and also replaced more recent servers so that we would all have Dell servers."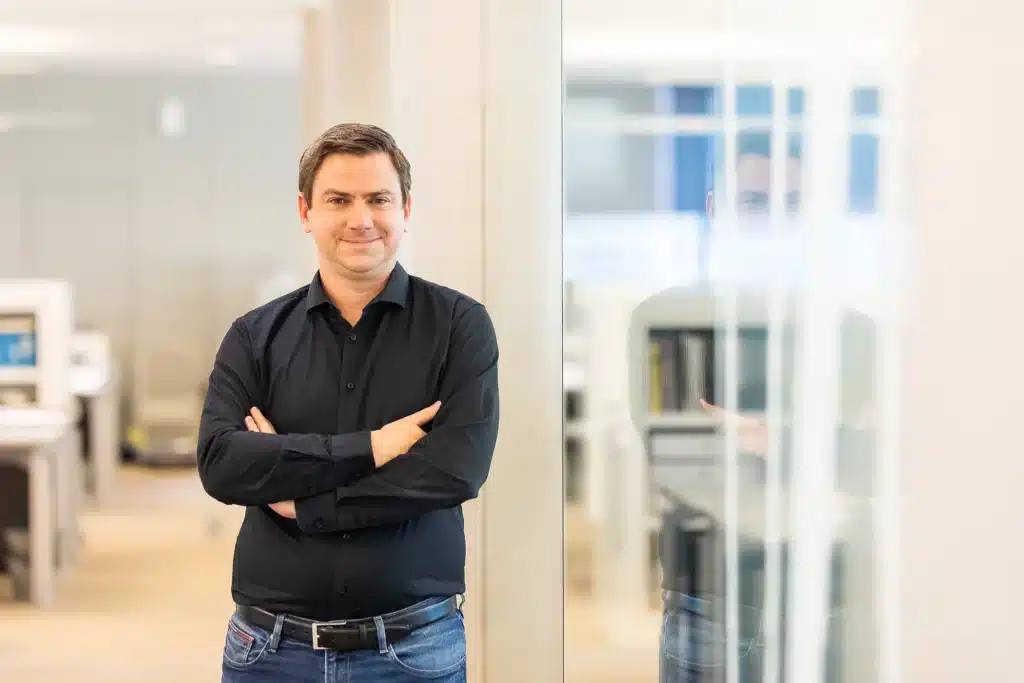 Cooperation VanRoey | EuroSys
They also praise the cooperation with VanRoey | EuroSys. Frederik explains: "For this project, we did sit down with a number of partners. But it was with the account manager and presales of VanRoey | EuroSys that we came to a point where we wanted to go. Of course, this was not a simple process because the scope grew throughout the process.
We are really quite satisfied with the cooperation and especially with the work of the two system engineers. They really did a very strong job. There was an estimate in advance of the number of working hours that would be needed. But the system engineers managed to get the work done much faster. We noticed that with both of them, their technical knowledge is at a very high level. They knew the answers to all questions concerning installation, implementation and configuration.
For us, that was the biggest plus of the whole project, that we could always count on them. They were totally committed to the project and really went for it."
Backup via Veeam
"As an architectural firm, we are liable for 10 years. That means we have to keep 10 years of data, because we are obliged throughout that period to be able to give those plans to our clients. So we are talking about a huge amount of data that needs to be backed up. Because this involves quite a bit of work, we have now moved away from tape backups in a future-oriented way. With the combination of Veeam and the 3 sites that backup are from each other, that was nicely realised. Though that was not an easy exercise."
The Systems Administrators quickly saw the benefits of the new backup solution. Frederik says: "Besides the fact that we no longer work with tapes, we have improved a lot in terms of security. During the implementation process, both systems engineers gave a number of tips on this. Backup on tape is of course super-secure, because it is difficult to get hold of those tapes. But by doing encryption today, the backup is safe from ransomware.
In terms of cost-benefit, we have also improved. We no longer have to buy tapes and a big chunk of handling is also dropped. Moreover, the time frame in which we used to be able to pull a backup was limited and the process took a long time. We used to do the main backup on weekends because that also took over a weekend. That has been solved with this set-up. It runs in the background and you don't notice anything."
"Veeam is faster, more intuitive and easier to understand than our previous backup solution. I never had any training on Veeam myself, but after a 5-minute explanation from my colleague, I was up and running with it. It works so easily. You can't say much negative about that. Towards the future, we also have a good solution thanks to that virtualisation layer in between," Frederik adds.
Dell servers and Data Domain
"We switched to Dell for these servers and we really do see the added value of this. It was also very clear to us during the decision process that we would go for this brand. We have a lot of data and we are really impressed with the deduplication ratios we are now achieving. Of course, this is also useful for our backup. The amount of data to be written away has become much smaller," Frederik says.
Kris adds: "Data Domain was also a plus for us. We really needed the extra features it offers, such as replication to other branches. It is something that is set up once and afterwards there is very little to worry about. Together with the system engineers, we fine-tuned the event viewers and the mailings around them. If we should have a disk failure somewhere, we are safe there. This is very important for us, also because we have three offices and are not very fast everywhere. But that also sat well quickly."
Success story for many years to come
The systems administrators truly speak of a success story. Frederik: "Of course you hope in advance that things will go as they did, but we didn't expect it to go so smoothly. Especially because it was quite a change and migration.
Even now, we still call on the system engineers from time to time, which is the best proof that we are very satisfied. Moreover, we can continue with this solution for many years. That was also the intention. When we set up projects like this, we always assume 5 years as the minimum at which we want to keep the solution. That will certainly be achievable now."
About Jaspers-Eyers Architects
Jaspers-Eyers Architects is an international architectural firm specialising in large projects for both the public and private sectors. With 130 employees spread across offices in Brussels, Leuven and Hasselt, Jaspers-Eyers among the largest architecture firms in the Benelux and the 100 leading architecture firms in the world. 
"Set-ups do change from time to time, which is why we like to rely on a reliable IT partner. We clearly found that in VanRoey | EuroSys. We have been working with them for 15 years now and really can't say anything negative about this cooperation. The after-care they provide is also really very good."