As employees expect to be able to participate in meetings in a flexible way, it is important to make the right choice when (re)designing your meeting rooms. Aaron Poels, our Sales Specialist Collaboration & Display Solutions, offers advice:
How to organize a hybrid meeting?
Organizing a hybrid meeting (mix of online and offline) sounds simple, but proves to be challenging in practice. Below I will briefly go over a few essential requirements:
1. Software
With the outbreak of COVID-19, we have all become familiar with programs such as Microsoft Teams and Zoom. Even the grandma and grandpa we taught how to video call (or at least tried). The choice of this software may seem like an afterthought, but it isn't. That will become clear in the next chapter.
2. Hardware: in the conference room
It seems to me that what an SME needs nowadays are a few smaller meeting rooms. Spaces with a limited physical capacity, designed in such a way that (if necessary) an unlimited number of participants can have the same experience from a distance.
Beamer, TV or interactive touchscreen?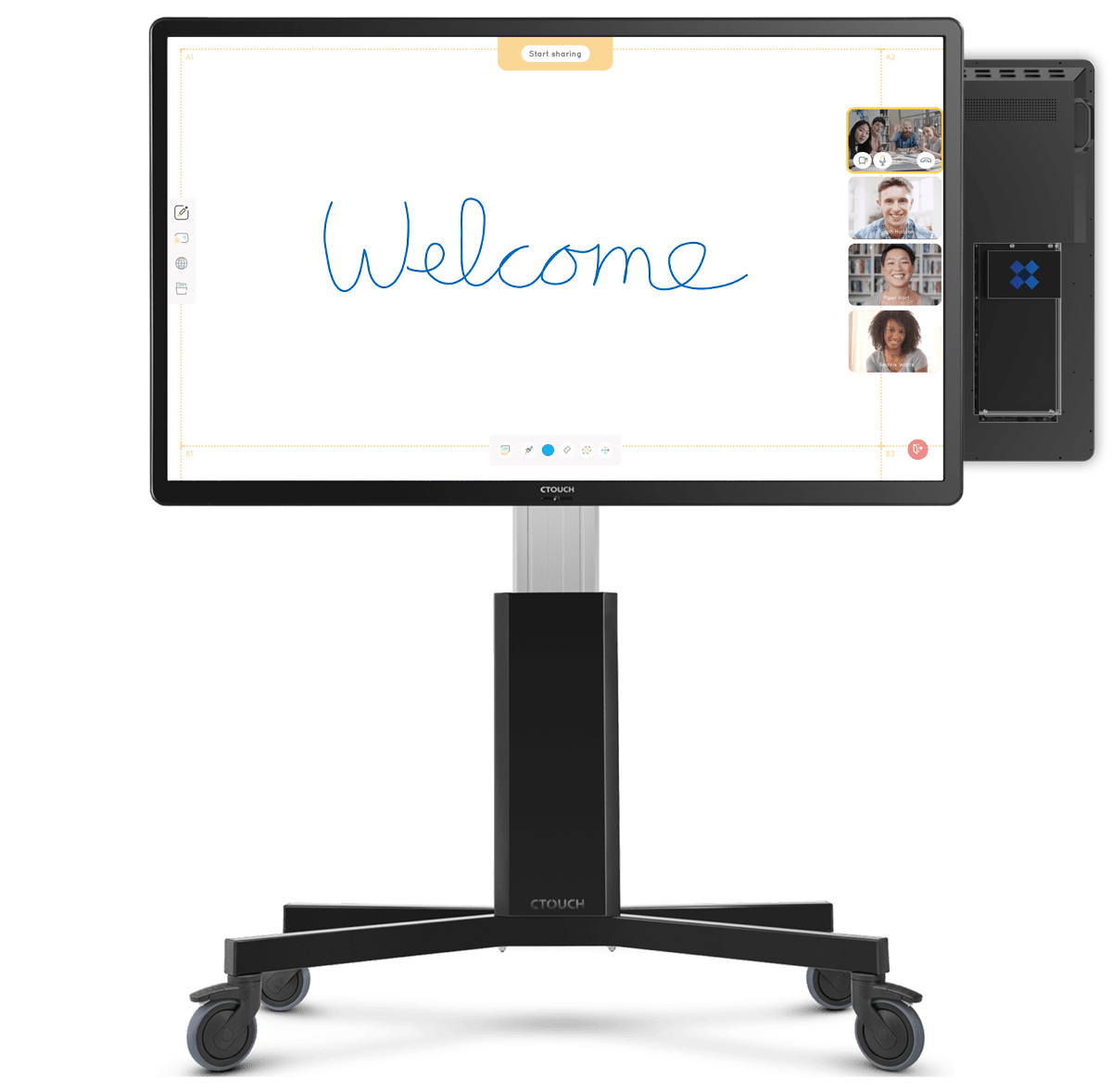 Whereas, say 10 years ago, meeting rooms were still primarily equipped with beamers, you are now increasingly noticing a shift towards (touch) screens. An evolution that is reasonably easy to explain based on a number of trends:
 "Touch is the norm"
Touch technology is now so well established that it has become an obvious choice, especially for young people. They prefer to give a presentation on a touch screen instead of using a classic presenter.
"Perfect image and sound for every participant".
A beamer has the advantage of being able to project over a large surface. Therefore, there are certainly applications where a classic projector can be used to its full advantage. However, the image and sound quality of the average beamer is often poor. Especially when compared to a monitor. A traditional TV often suffers from reflection. Not useful in spaces with a lot of sun. Elements that CTOUCH responds to with its touchscreens.
"Shift to smaller meeting rooms"
Pre-corona, many companies were looking for an available meeting room. Many companies therefore invested in several small meeting rooms. This puts the beamer at a disadvantage, as it is mainly used in larger rooms.
"Interactive conferencing, including whiteboarding and Teams integration"
In education, they have been used to working with interactive screens for years. In recent years, this trend has continued in the corporate world and more and more flipcharts have been pushed aside. Thanks to built-in Teams integration, room-booking software, these interactive whiteboards are becoming more versatile than ever.
The above trends, combined with the switch to hybrid meetings, will undoubtedly increase the demand for interactive displays increase.
Everyone understandable and good in the picture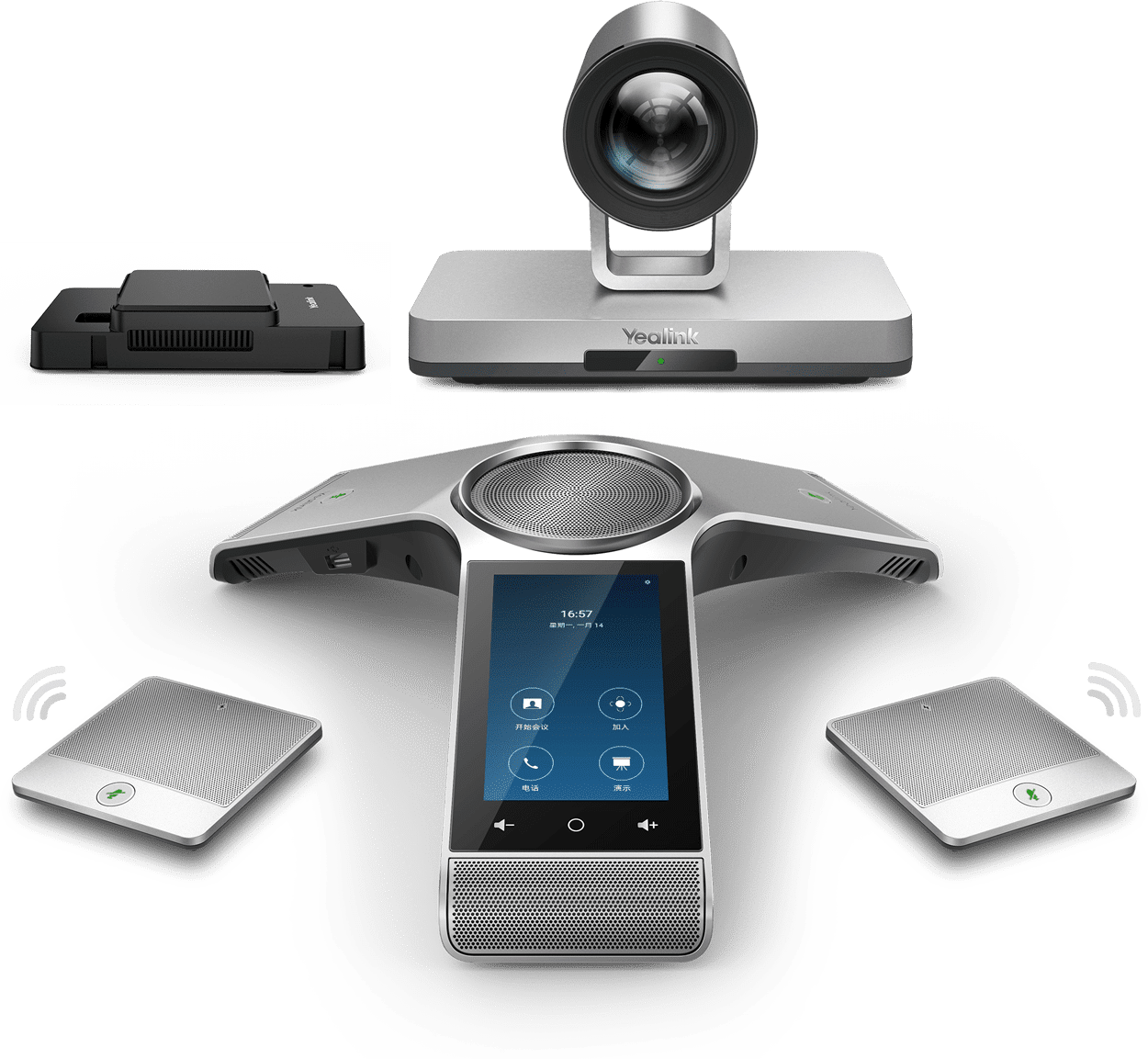 "Hello? Can you hear me?", "Can you sit closer to the microphone?", "Who said that?"... You know the drill.
For meetings to run more efficiently, it is best to invest in video conferencing equipment. The latest high-end camera and sound systems always give speakers an optimal view and offer clear sound without echoes or interference.
You can also make the best use of the available space. With room-booking systems, you can make the most of the limited space available. For example, presence sensors can remove a booked meeting from the agenda after a few minutes if nobody shows up. Conversely, they can automatically mark a room as 'occupied' in the room-booking system if people are present. This certainly prevents some uncomfortable Oh, here's one.
Sharing screens also becomes child's play with special USB sticks that allow you to switch between screens in the blink of an eye. This way, you avoid a tangle of cables and connectors, and you don't waste any time switching between images. Because remember: if you are sitting with 6 people, every lost minute counts times 6.
3. Hardware: for online participants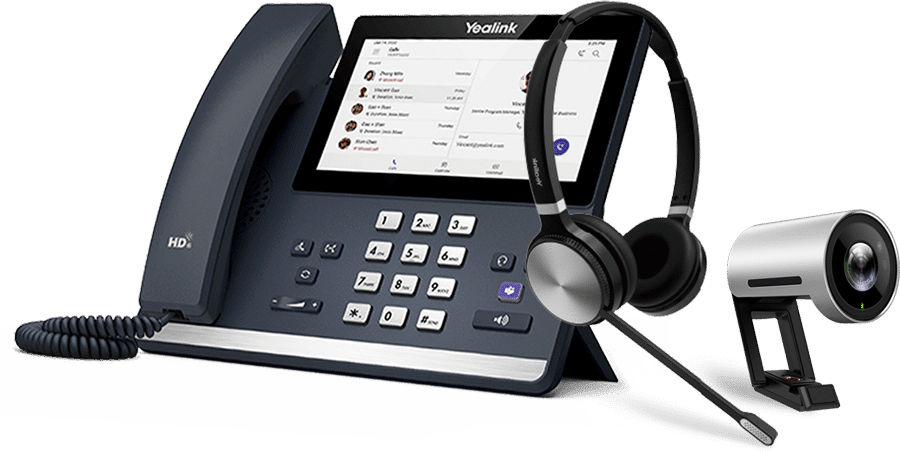 Of course, as a participant, it is also important that you can be understood. The built-in microphones and speakers do their job, but an upgrade to a professional headset -wireless or otherwise- is certainly not an unnecessary luxury. Others find a rather classic telephone set on their desk ideal. Although the term classic is anything but. The VoIP/SIP phones from Yealink have a built-in Teams client. This means you can even use them without a PC or laptop. Ideal as a reception phone, or if you want to be able to make or receive calls comfortably at any time, without being dependent on your PC.
You see, there is something for everyone. Meetings in the modern workplace or from home can be particularly comfortable today.
If you would like to know more about the possibilities, feel free to speak to me, or plan a visit with some colleagues in our Experience Center. There we have some demo's where I will show you perfectly how everything works.
Get your digitisation up to speed. In an interactive tour, we show the contemporary possibilities of the modern workplace. So you can experience for yourself how well it works!
"In my experience, the main need for an SME today is a few smaller meeting rooms. Set up in such a way that (if necessary) an unlimited number of participants can have the same experience from a distance".