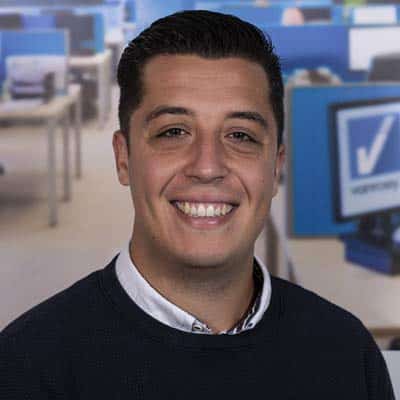 For Philip Coppens, Internal Sales at VanRoey.be, the ambitions of CTOUCH were immediately clear during the first plenary session: "The focus is clearly on sustainability. They want to achieve this by maximising the life span of the screens. For example, damaged screens that are no longer used within organizations (can) be recovered and if possible used at new locations. In this way, they want to get the maximum lifespan out of each component. It's measures like these that allow them to achieve a net gain of ± 20% CO² savings and a smaller e-waste footprint. I think we can all appreciate these efforts".
This was followed by 6 interactive workshops, given by CTOUCH staff. "The first two sessions clarified the capabilities of the Canvas, which is more geared towards businesses, and the Riva, the device to serve education. There are many accessories that can optimize the experience, think of cameras, microphones, pens, lifts... it was nice to be able to get to know and test the whole range of options. So the whole concept is about much more than screens alone.

The workshop about Brix was a good example of this. If you want to be able to share your screen wirelessly, whiteboard and/or Teams If you need functionality to share the content of the screen with external invitees in real time, you can expand the screens with Brix modules. This way you don't pay for functionality you don't need and the prices remain very competitive."
Workshop: CTOUCH remote management system.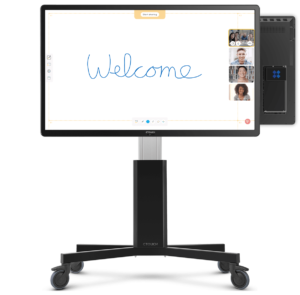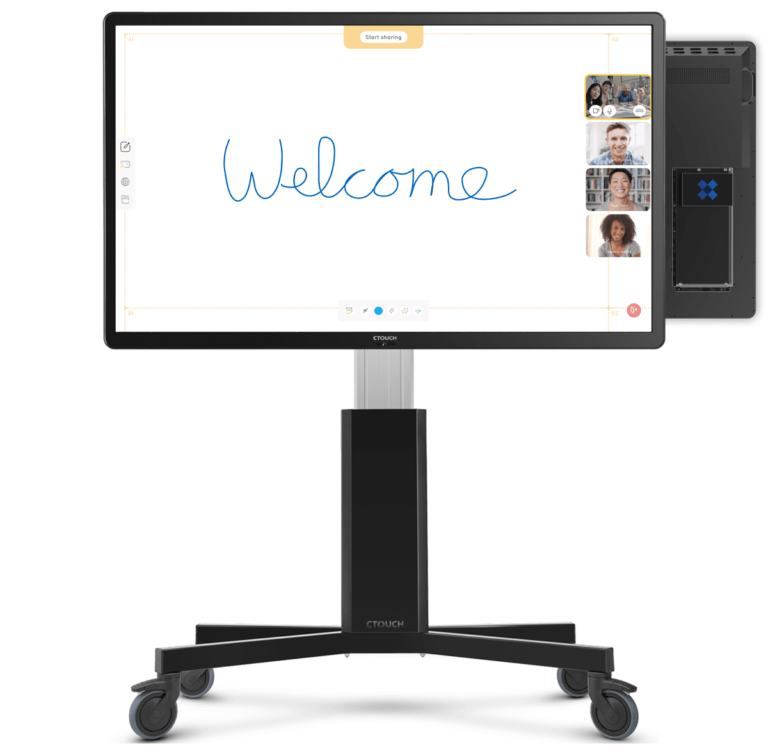 Some organizations have many screens to manage, think of schools. Fortunately CTOUCH provides a central management system with which all screens can be easily configured or updated from your lazy chair. This does not only save you as IT administrator a lot of unnecessary walks but also time. Our engineers or the customer service of CTOUCH are also well served by this, because they can easily and quickly offer an analysis and service without having to come on site.
Uboardmate CC
Uboardmate CC is a whiteboard program for Windows. It's an ideal tool for primary and secondary school teachers to make lessons more interactive and playful. You can load templates, use timers, do probability calculations, integrate with Teams meetings, share wirelessly with laptops or smartphones.... A teacher can load a multiple-choice question and the students can log in using their smartphones. They can answer via their device and that data is collected in Uboardmate CC. For the Android environment, the standard Uboardmate is present on the Riva.
Finally a word about the design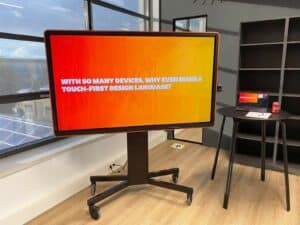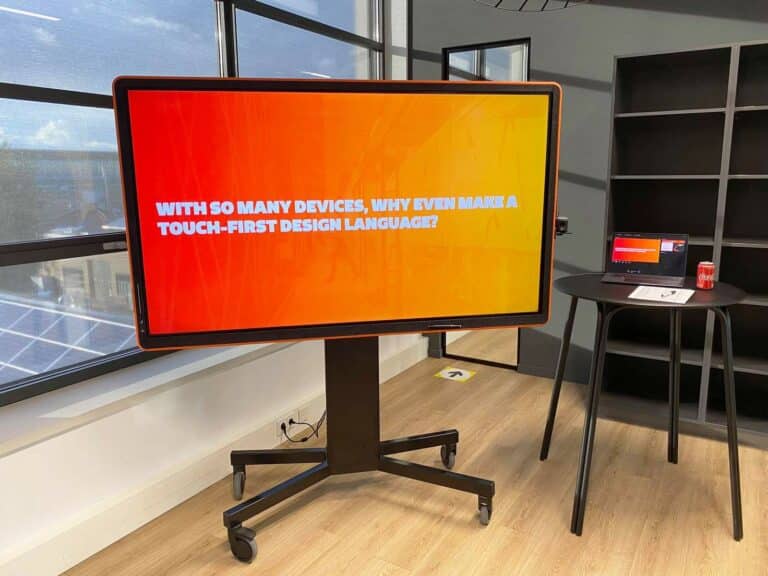 Philip: "This last session was given by Rhys Duindam, the head designer of CTOUCH. He gave us a deeper insight into their designlanguage and choices.
The Canvas is sold in 3 different colours. Namely grey, blue and orange. Grey is mainly used for serious meetings like board meetings, the blue edges are used for more interactive meetings, and finally orange is mostly used for brainstorming sessions. The textile edge also has a deliberate function. It gives the devices a higher touch factor. A higher 'pettability factor' as it were."
Our experts are ready to offer you the perfect support in choosing and implementing CTOUCH screens within your organisation.
Would you like to see and test the CTOUCH screens? You can do that in our Experience Centerwhere we will show you the possibilities in an interactive tour:
Get your digitisation up to speed. In an interactive tour, we show the contemporary possibilities of the modern workplace. So you can experience for yourself how well it works!