3x technologically advanced
It's downright astonishing what technology is behind the HPE Nimble storage Optimizing the use of available resources and ensuring that the entire system remains efficient and stable is a real challenge. Artificial Intelligence offers new perspectives.
1. Optimal use of available computing power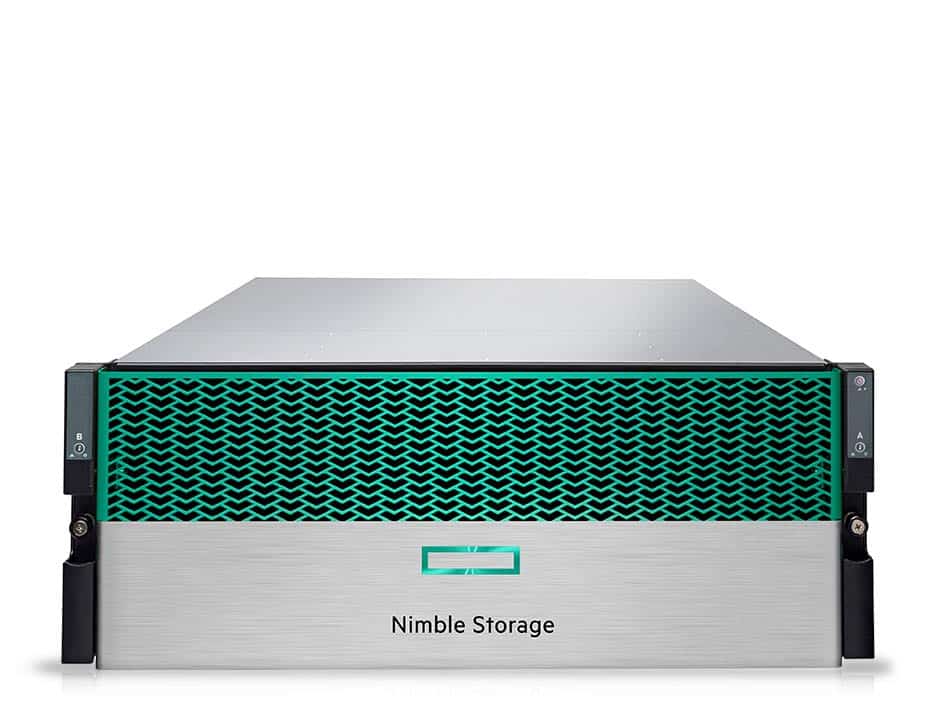 In legacy storage solutions, the speed This is mainly determined by the type and number of disks used. A fast processor cannot fully exploit its performance in combination with slow disks. Solid State Discs or SSD's offer a good technological answer to this and are very popular because of their good performance compared to classic hard disks. However, the disadvantage of storage solutions based on SSD's is their price tag. SSD's are considerably more expensive than conventional hard disks and because the disks are the most common elements in storage solutions, this price difference is seriously considered.
HPE Nimble combines both technologies - HD and SSD - and uses them in a smart way, so the disks are never the bottleneck and the processing power of the processors can be fully exploited.
2. Artificial Intelligence
Combining HD and SSD technologies is not an easy task. The system gets its great added value from a good allocation of resources to the applications used. Applications that are often used, for example, are started on an SSD so that they are quickly available. Applications that are less critical can run from an HD. In addition, this allocation of resources works dynamically and is adapted to the changing needs of users. To achieve this, the HPE Nimble storage solutions have been equipped with a clever AI.
Switch on the right solutions in the right place. On-premise or the cloud? Compare the different possibilities here.
HPE InfoSight
InfoSight is HPE's smart cloud portal that continuously monitors the Nimbles in the field. Each HPE Nimble reads a stream of data from the customer and forwards it to InfoSight. There the data is proactively analysed with a view to early interception of irregularities and monitoring the performance of the Nimbles.For example, if a problem occurs on a Nimble after the installation of an update, the quick feedback can prevent problems with other users. In case of degradation, notifications are sent to initiate the necessary maintenance actions. Thus, thanks to the application of AI, a loop of predictive support is created, allowing the system to become smarter and more accurate.
.
3x user-friendly
It is often companies that are in the middle of a growth phase that come knocking on the door for a storage solution. With them, all hands on deck are required to further develop the core business, so they benefit from a user-friendly solution that they can quickly get to work with and that does not require a lot of attention. Not only all hands, but also all financial resources must be used wisely in growth companies. A solution that technologically meets current requirements and can easily grow with the organization is therefore what is needed.
1. Setting up is child's play
If a customer opts for an HPE Nimble storage solution, it will be up and running very quickly. Once the configuration has been determined, setting up the servers is a matter of a few hours. So it only takes a one-time intervention on-site to install and bring everything online.
2. VMware based layout
InfoSight and the entire Nimble interface are based on the VMware layout. This is a genius move by HPE, as many users are already familiar with this simple and intuitive way of working, which allows you to get started quickly with HPE Nimble storage solutions, without having in-depth knowledge of them.
3. Scalable in all directions
When it comes to scalability, we immediately think of adapting the storage. capacity This is of course possible with HPE Nimble solutions, ranging from 10 TB to 2 PB with scale-out up to 8 PB. Moreover, HPE Nimble deals very efficiently with the available capacity. Thanks to the intelligence and decompression techniques applied, we were able to observe savings in data volume of up to 80% on already installed installations.
For HPE Nimble, however, scalability means much more. performance This can range from 35,000 IOPS (I/O operations per second) to 300,000 IOPS and even a scale-out to 1.2M IOPS.
Thirdly, scaling can also be done to the extent of redundancyClustered, redundant controllers provide unit coupling, transparent failover and guaranteed stable performance.
.
3x support of the highest shelf
With an HPE Nimble storage solution from VanRoey.be, you can always be sure of the right support: before the purchase, during normal operational use... and in case things should ever go wrong.
Buy & Try
VanRoey.be is convinced of the advantages of an HPE Nimble storage solution. We are happy to listen to your needs and configure the right solution for you. If you still want more certainty and want to find out for yourself what HPE Nimble can do for your company, we offer a buy & try. If the solution doesn't meet your expectations, you won't hang on to it for years.
Troubleshooting
Thanks to the easy VMware-based interface, troubleshooting is a straightforward process. Things like latency, memory and processor usage are clearly monitored and you can easily dive into the details if you want. Someone with basic IT knowledge is already getting a long way with this.
HPE Level 3 specialist
Thanks to the proactive monitoring of your HPE Nimble via Infosight, any problems may be intercepted before you even notice them. In the exceptional case that an intervention is required that may have an impact on normal operation or that requires cooperation from the company, a Level 3 specialist from HPE will be contacted immediately. Thanks to the certification of VanRoey.be as Hybrid IT Gold Partner immediately gives you the best support HPE can offer you.
"We are happy to listen to your needs and configure the right solution for you. If you still want more security, we offer a buy & try.