Groep Van Roey has made impressive strategic investments. The new building on the business park at bridge 8 in Rijkevorsel is the crowning glory, both structurally and in terms of ICT. The group is committed to top quality and embraces the latest solutions and technologies from the VanRoey.be ecosystem. A conversation with Martin Björklund, ICT Manager and Stijn Wauters ICT Support Engineer of Group Van Roey.
Martin Björklund: "Since 2007, Groep Van Roey has been placing part of its ICT in the hands of VanRoey.be. At that time, we were faced with the transition from our former ERP solution to Dynamics NAV and also with the switch from a Mac to a full Windows environment, for which VanRoey.be's expertise was the winner of the market research, and our first major project together was a fact. The support provided during the migration to Windows Server and Windows clients turned out to be a bull's-eye.
"When the plans for our new office building in Rijkevorsel were on the table, we decided to also revamp the entire ICT infrastructure", adds Stijn Wauters, "and here too we came to VanRoey.be after a thorough market investigation.
Martin: "It's not that we didn't talk to different parties. We compared many aspects, such as the cooperation, the knowledge and the technology on offer. Everything has to add up together in order to find the ideal partner who can set up such a large project, but in the end we ended up at Luk Massaer and VanRoey.be again." (laughs)
Beautiful and with ruthless strong wifi
Luk Massaer, Business Development Manager VanRoey.be: "Indeed, what followed was an impressive project, both in terms of architecture and ICT infrastructure. A good start is half the battle, so thorough analyses were carried out during the preparation, for example for the wifi: the new building consists for large parts of concrete core activation and is almost zero-energy (BEN). Believe me, it's absolutely no laughing matter to get a successful wireless signal everywhere" Stijn: "Our awning also has 'metal mesh', it's a good start.
Luk: "During the carcass phase, we called in our Networking & Wifi expert Hans Van Ballaer to make measurements so that he could accurately predict where and how many access points we would need to install for an optimal range. After installing and configuring the wireless network, he performed a post-implementation analysis to see whether the signal - as predicted - was okay in every nook and cranny," Martin: "I also think that the success of our wifi is due to Ruckus Wireless' chosen technology with the support of the Be Be, among others.
(Collaborating) wherever you are
Martin: "A perfectly functioning wifi was crucial because we also work with flexible workplaces in our new offices. The same quality of work must be possible everywhere," Stijn: "For (internal) telephony, for example, we switched over to Microsoft Skype for Companies.
By using headsets instead of landline phone sets, people can communicate efficiently, no matter where they work. Skype for Business today works best via laptops, as the WiFi chip is much more powerful than that of smartphones, and through Group Policies, we configure laptops so that they are given priority on the network.
Martin: "Almost all desktops have been replaced by HP Probooks with built-in SSDs. A Full HD or dual Full HD monitor is available at the workplace. Our people and our workplaces are perfectly equipped for the new way of working."
Storage to lick your fingers at: HPE 3PAR
hpe-3par-7200cMartin: "Our market research brought us to the pure performance and reliability of HPE 3PAR for the renewal of our storage. We are very enthusiastic about the HPE 3PAR 7200c - with more cache, converged storage and up to 100TB extra capacity - and the HPE Gen9 DL-380 servers we purchased are more powerful and more economical than Gen8. Nice bonus!"
Stijn: "The company guarantees given by Hewlett Packard Enterprise are particularly impressive: the hardware is constantly monitored by people from 3PAR itself, who keep a close eye on the status of our infrastructure and immediately inform us of any irregularities. The same experts also do the updates for us, but HPE does impose the condition that we first go through a specific procedure, for which we always call in VanRoey.be. Maarten Nevelsteen, Senior Infrastructure Engineer, reviews a checklist and, where necessary, puts things in order, as a result of which everything is running smoothly.
A comprehensive backup
Martin: "Disaster Recovery was high on our priority list, for which we switched to VEEAM for backup & replication, which at that moment came with tape support. Now our data replication is completely digital and for long-term storage we still count on tapes. Last but not least, a direct line via Proximus was laid between vanhout.pro in Turnhout and Van Roey in Rijkevorsel, so we can sleep peacefully again!"
The network
Luk: "When it comes to switching, you were even pioneers!"
Stijn: "Indeed, the 4 core switches HPE FlexFabric 5700 Switch Series in combination with the 10 end-switch (HPE 2900 series) form the neural network of the organization. when your colleague Hans van Ballaer did the first tests, it turned out that VanRoey.pro was the first user, i.e. a pioneer in Belgium! We opted for 10 Power Over Ethernet (POE) LAN-Switching because we wanted to use VOIP, so sufficient wattage is provided, so the message is provided, since power consumption depends on the number of connected devices and the wattage used.
Security
Martin: "Security is of course also extremely important for our new branch, but before that we could count on a Fortinet 110C firewall. But in the new environment even more bandwidth was needed, so we opted for a Fortinet redundant cluster with 2 firewalls of the FortiGate-200D type, which connects and protects both our new branch and our subsidiary Steel Concrete. We are extremely satisfied with the strength and robust security of the Fortinet solutions, and even though you wouldn't expect it to be such a high-end solution, managing it also turns out to be very easy.
Stijn: "As far as I'm concerned, we also owe the fact that the management is so simple to our collaboration with VanRoey.be. The setting up of security, backup, infrastructure and networking, among other things, always took place together with your experts, which in my opinion was a very important trump card. Your engineers let me follow the installation and configuration step by step as part of a mixed team, so that we can now carry out basic and advanced changes ourselves, which keeps us 'lean and mean'.
Martin: "In the past, we relied on Kaspersky for End Point Security, but when renewing the licenses, management was often difficult and cumbersome, so we were looking for a cloud-based solution for the new environment."
Luk: "Under the motto 'Eat your own cookies' we were able to prove to Martin and Stijn that Symantec End Point Security, the solution we use ourselves at VanRoey.be, met their wishes."
"As with the Fortinet configuration, we again followed VanRoey.be's ecosystem," adds Martin.
Licenses easily managed
Martin: "We have been working with Enterprise Agreements for desktop, server and office licenses since Windows Vista, and today we are migrating to the Cloud. It all started with Exchange Online, but in the meantime we have removed Office from the Enterprise Agreement and all our colleagues have Office 365 via the Office 365 E3 plan. Our number of Windows Server licenses has also increased exponentially, from 16 to 60 since 2010, and these contracts are now renewed every three years with an annual count.
Stijn: "It saves us a lot of time that we can arrange these license-related matters directly with you. For us, this means that both invoicing and communication are greatly simplified. From experience we know that Stijn Dockx and Jan Convents, your Cloud & Licensing Solutions Specialists, can respond very quickly to the ball.
Luk: "Over the years, our licensing team has indeed been organised very efficiently. As a Cloud Service Provider, we take care of these licenses ourselves, so it will also be our responsibility. On the one hand, licenses may never expire and on the other hand, we always want to give you plenty of time to decide whether to renew licenses or not."
Stijn: "The last strategic move we made was Managed Print Services from VanRoey.be. From now on, the 5 HP departmental printers will do their own maintenance and the ink and toners will be delivered automatically. In itself, these are only the smaller print environments, but we have noticed that we need a lot less intervention for this as well: fewer headaches and, above all, more time to concentrate on our core tasks.
On a sounding collaboration?
Martin: "Indeed, everything went very smoothly" Stijn: "Yes, I can only endorse that. The expertise of your employees has really proven itself: when I look back at the insights and interventions of Hans Van Ballaer, Maarten Nevelsteen, Roel Van Looy, Tony Verhaegen and others, these men know what they're doing, which always results in the right decisions and flawless installations.
Luk: "We put a lot of effort into 'winning teams' of Subject Matter Experts, which guarantees a great chance of success because we realise that we are working on the core of your infrastructure, literally the heart of your organisation.
Stijn: "Good communication is for me the key word of our cooperation. You always knew how to ask the right questions at the right time."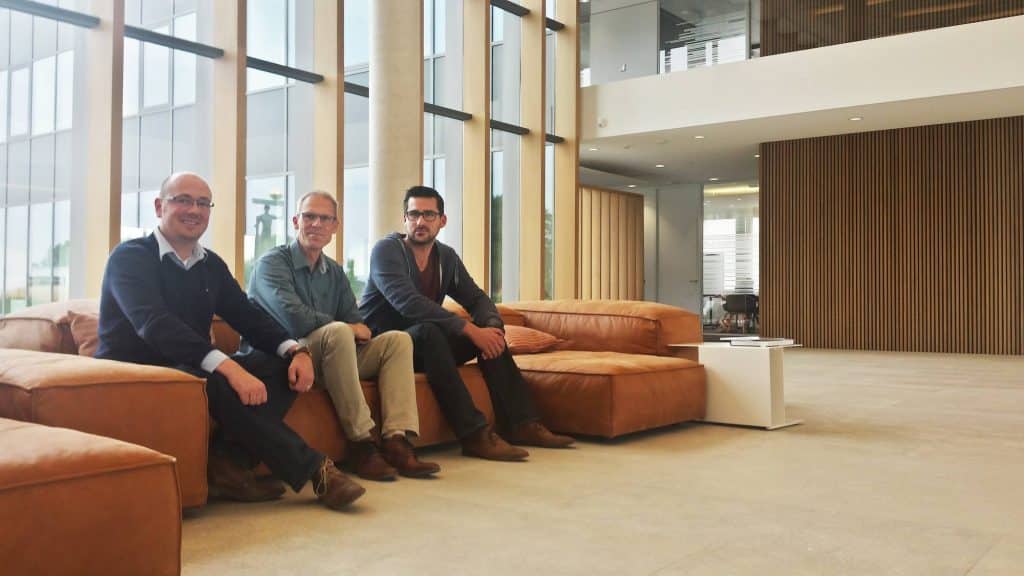 Luk Massaer, Martin Björklund and Stijn Wauters
Groep Van Roey creates pleasant, liveable and sustainable environments. Working together with all stakeholders is our trademark. We develop total solutions that make a difference in people's lives. Our group consists of 9 companies: Van Roey, Staalbeton, Van Roey Vastgoed, vanhout.pro, Sportoase, Algemene Bouw Maes, Sibes, Nys-Driesen and Architon.
Quality pays for itself over the years, both for construction projects and in ICT. That is why we chose the VanRoey.be ecosystem: the right solutions, the right brands, expertise and flexibility, resulting in high reliability "
ICT manager at Groep Van Roey