Success stories you don't write on your own
HT²O started the lessons in September 2019. In the spring of that same year, Jan Roels and Frank Biesemans and their team were able to work. They boasted many years of experience as directors of the St. Peter's Institute and the Free Technical Schools of Turnhout respectively. Renovation work, equipping labs, developing an attractive curriculum, recruiting students... It was all realised in a very short period of time. With success, according to the enthusiastic students.
Frank Biesemans, director HT²O: "Success stories can't be written on your own. With a little creativity and an open mind, we create collaborations that offer added value for all partners. For a few renovations, we work together with, among others, the VTST's construction departments. These students are given beautiful practical cases. They are confronted with instructive situations, which are less common in traditional studio environments. For urgent renovations, we called on people from De Troef, a customised company that delivers highly professional work. For our IT, we relied on VanRoey.be. And in that collaboration, too, there is a win-win. After all, we are in the same boat of digitisation."
A high-performance and reliable WiFi network - everyone connected
Jan Roels, director HT²O: "Connectivity is essential in today's digital context, which is why we want our students - and all teachers and staff - to be able to connect smoothly to a high-performance network. Not only in classrooms, but also in public areas, there is a comprehensive WiFi network available. The choice to work completely wireless poses some challenges, with VanRoey.be supporting us very well. Since our start in September, it has never happened before that a student cannot connect to the network. We are proud of that."
To meet the requirements of an extremely powerful WiFi network, VanRoey.be has integrated Ruckus switches. Ruckus is part of the American CommScope and is on the rise. Recently, VanRoey.be was elected by Ruckus as the best choice. EMEA Cloud Partner of the YearThis is not only proof of the knowledge available at VanRoey.be, but also guarantees VIP treatment when it comes to support.
Digital CTOUCH screens - an extension of the educational tools

In the classrooms on the HT²O campus you will find the multifunctional CTOUCH screens These digital whiteboards are used intensively in combination with classic whiteboards. Because the students work a lot in numerous software applications, the digital screens are a great added value. In this way, the teacher can explain a certain way of working for an entire class.
The possibilities of the CTOUCH screens are very extensive, which undeniably constitutes a certain learning curve for the teachers as well. Nevertheless, everyone succeeds in smoothly integrating the screens into the educational process. HT2O also opted exclusively for mobile screens; this allows them to move easily from room to room and flexibility becomes the yardstick.
Frank Biesemans, director HT²O: "We can always contact Steven Malfroidt, our contact person at VanRoey.be, for support regarding the CTOUCH screens. He and his colleagues help us quickly and efficiently."
School and business in the mix
"For our IT, we relied on VanRoey.be. And there's a win-win in that partnership, too." What does that mean?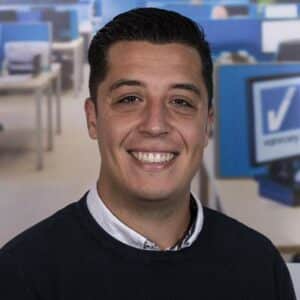 Philip Coppens, Account Manager at VanRoey | EuroSys: "There is a clear overlap between what HT²O does and the activities of VanRoey.be, namely technology and digitalisation. Moreover, we too are in a continuous learning process, just like HT²O's students. We share the knowledge we gain about recent developments in IT with HT²O students in targeted workshops. Who knows, they might soon become our new colleagues...."
In this way, the threshold between education and business is blurred. If the boys and girls at HT²O continue their studies later or enter the business world immediately, they will be well prepared. They will immediately add value to their employer and their hunger for new knowledge will increase their chances.
About High Tech Education Turnhout
There are no bored teenagers in the classes at HT2O, only enthusiastic boys and girls, who radiate a passion for technology and science. They are working with 3D printers, a textile printer, a cobot, drawing programs, etc. The teacher has no trouble involving the children. On the contrary, he is consulted by the future engineers and scientists.
In this way, the school responds to the increasing demand from industry for technological and scientific profiles of all levels. By completing the STEM programme even more hands-on, the pupils are very close to the practice. In this way, the barrier between knowledge work and executive tasks is removed at an early stage.
"The choice to work completely wireless presents us with some challenges, with VanRoey.be supporting us very well. Since our start in September, it has never happened before that a student cannot connect to the network. We are proud of that".