Outdated server farm
Koen Vandevenne, CEO at Mireille, says: "Our previous server park was outdated and the warranty was about to expire. After the initial 5 years, we had already extended the warranty by 2 additional years with which we were at the maximum, so it was really time for a replacement."
For this replacement, Mireille called on EuroSys without hesitation. Koen Vandevenne: "We didn't ask for competitive quotes. We have a very specific IT environment which you really have to know. We don't just let anyone loose on our environment because there are quite a few servers, peripherals and software linked together. Moreover, we communicate with our second site over an MPLS fibre-optic connection from Destiny. That all has to be taken into account properly. We know we can rely on EuroSys for this. They know it here inside and out."
Advantages of the new servers
The choice of EuroSys as a partner proved to be the right one. The servers and storage were installed effortlessly and virtually without any downtime for their employees and processes. "Our operational reliability and flexibility has been increased with this new equipment. Performance has also improved a lot with the new servers and network upgrade. Our servers are now all connected to the primary Switches via redundant 10gbit connections. From there, deduplicated 10gbit fibre connections were also provided to all secondary switches. Quite an improvement. All this makes it very easy for us to install or migrate additional virtual servers in real time with little or no impact on production," says the CEO.
Support always available
Besides the new equipment, Mireille also opted for an extended service plan at EuroSys. "Since 2020, the existing service plan has been extended. On the one hand, on the advice of the service engineer, we extended maintenance from half a day at a time to a full day. This partly because the old and new software environments are still being used side by side because of an ERP migration. On the other hand, we also subscribed to 24/7 support so that we can also call on their technical service outside office hours," says Koen Vandevenne. And that decision hasn't hurt them yet.
Koen clarifies, "We are very satisfied with having done that. Maintenance is also proving its worth more and more. For instance, updates are carried out very quickly, which has already saved us several problems. IvITa is essential to us. This tool has already proven its worth. For example, we recently received an alarm at night during a large-scale internet failure and at the weekend during a power failure due to flooding.
The start of cooperation
How did the story of Mireille and EuroSys actually start? That start goes back a very long time. Koen Vandevenne: "When Mark Lens was still working out of his garage, we started buying peripherals (printers, switches...) from EuroSys. That's how we got to know the company. In 2014, we bought and installed our first servers from them."
Cooperation full of confidence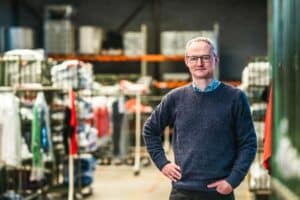 Since then, the collaboration has only gotten better. "Ever since we bought our first servers from EuroSys, we still have the same service engineers coming over here. In an environment where everything is interconnected and where various processes are running - often involving several parties - something always happens. Logical, but then it is important that you are helped quickly and efficiently. That you get the right people available to help you further and that you can reach people. We are very satisfied with that."
Contact with the account manager also runs smoothly. Koen Vandevenne: "We find each other and are in close contact. If we have questions, we make a call or he comes by. Based on the information obtained, we can move forward and make decisions. I think it's important that that's part of it. That we can discuss the situation once without an immediate sale. Just sharing the knowledge. That is also a piece for which we rely on EuroSys. The trust has been built up over the years and we also find that we get the right information. Therefore, we are not inclined to let third parties come in between."
Mireille is an industrial laundry with three activities: textile care, floor hygiene (cleaning mats at the entrances of shops, restaurants and businesses) and sales of personal protective equipment (work clothes from head to toe). The company started as a private laundry in 1995, but since this year they have been operating 100% B2B. Mireille has two branches. The head office and production is located in Heusden-Zolder and in Merchtem the company has another distribution centre and call centre. Mireille employs 250 people, 2/3rd of whom are women, and works for nearly 10,000 companies.
"That you get the right people available to help you further and that you can reach out to people. We are very satisfied with that."