We are like Platinum Partner of Kyocera, therefore pleased to present you 2 new A3/A4 colour MFPs viz. the TASKalfa 2554Ci & TASKalfa 3554Ci. As of now with built-in AI (Artificial Intelligence) and numerous other innovative innovations in document processing, security, quality, .... We list some of them for you below.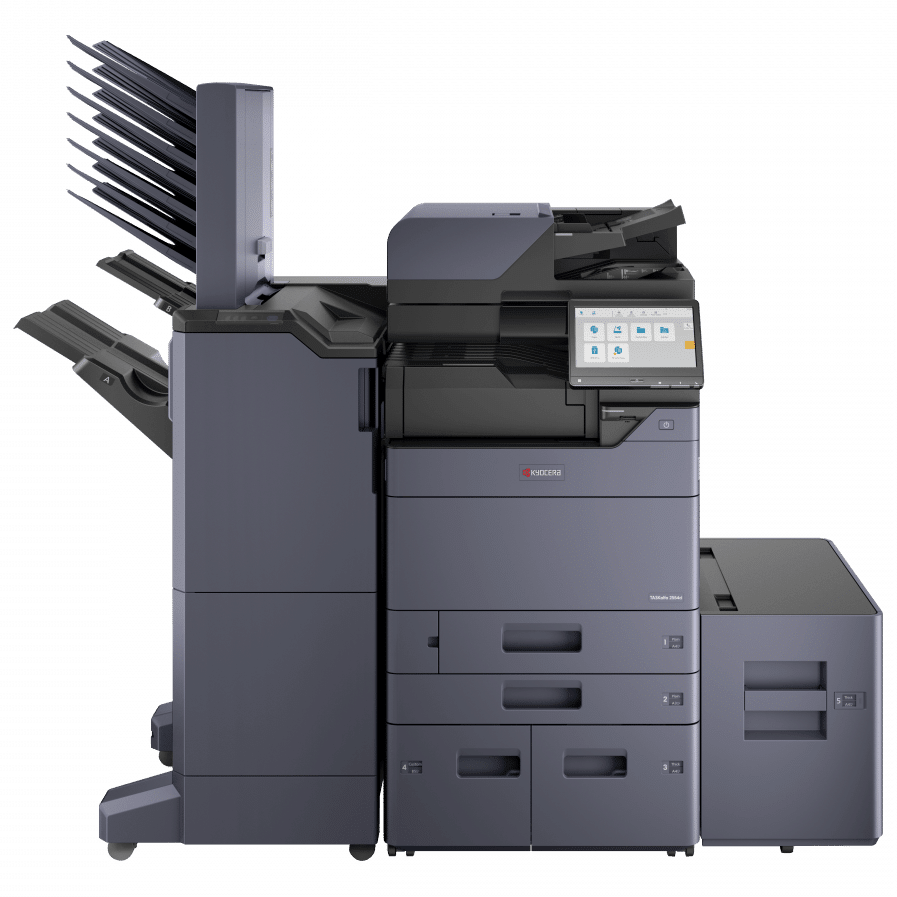 Security first
Our devices are equipped with high-quality built-in security features including the ability to overwrite and encrypt data, Trusted Platform Module, Secure boot and Runtime Integrety Check, S/MIME and TLS1.3. All this with constant monitoring and updating with the latest releases.
Redesigned user interface
The large 10.1" touchscreen features a new intuitive and efficient interface. Menus and settings are quicker and easier to access. Moreover, this new interface works just like a tablet, which increases ease of use and productivity.
Despite the excellent service and quality of our machines, things can still go wrong and the machine may have a problem. With the previous generation of machines, it was often impossible to use the machine at all. That is different now. With this new generation, for example, it is possible to continue printing if there is a problem with the scanner or vice versa. Less downtime which is good for productivity.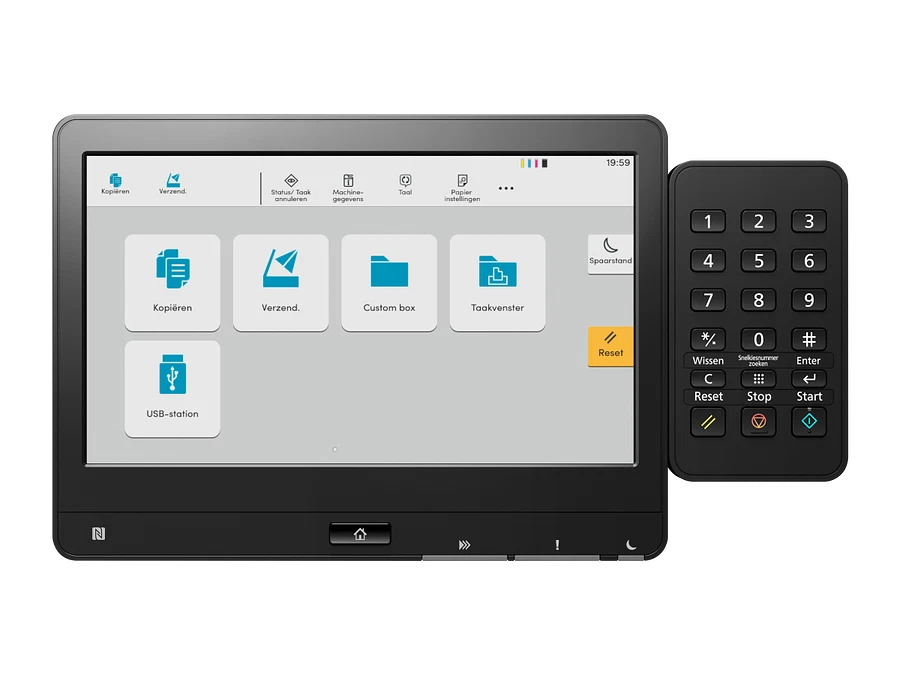 Built-in AI (Artificial Intelligence)
AI is unthinkable these days, both in everyday things and in critical business processes. Therefore, with Kyocera, we are one of the pioneers who have built AI into the new machines.
Super resolution is one of the additional functionalities we can offer through AI. Based on a library of reference images present in the machine, we can qualitatively "enhance" images and text to a higher print quality.
Another functionality is to enhance handwritten text on a document, emphasise it, display it in a different colour, highlight it, ....
Future plans with AI on MFPs will continue to expand with numerous possibilities.
Additional expansion options
Although we could already offer our Kyocera solutions with all possible options (Paperdecks, bulk trays, internal and external finishers, folding units, etc.), we can fit even higher-performance feeders on these machines for specific markets that have high scanning volumes and expectations. Single pass feeders now have a capacity of 320(!) sheets and scan speeds of 200ipm. Even ultrasonic detection of double feed, encroachment or staples is possible. Once the problem is removed, the scan can simply continue and does not have to be redone all over again.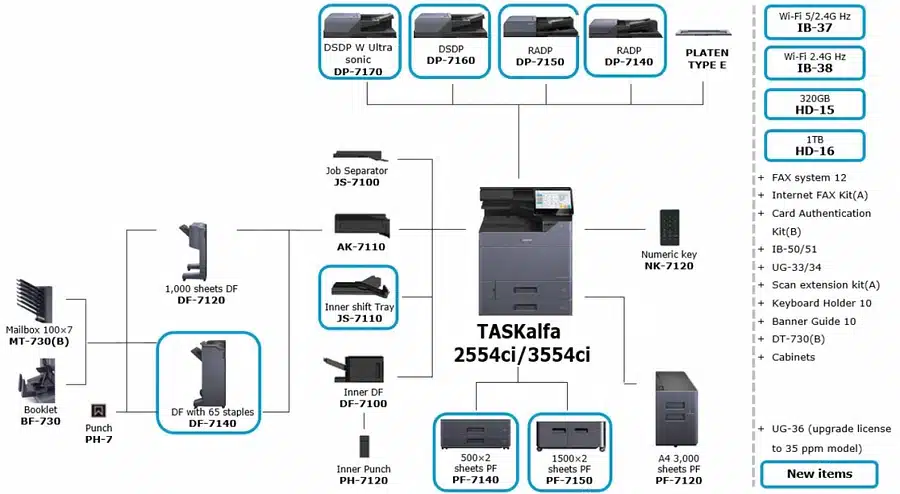 Lower TEC & TCO
Use of less energy-consuming components and a lower melting temperature of our toners means that power consumption can be greatly reduced. In "sleep" mode, our machines consume 0.7W or less. An intelligent motion sensor ensures that the machine automatically becomes "ready for use" as soon as someone stands in front of it.
Together with long-life technology, high-capacity toners and reusable empty toners as waste toners, we ensure significant cost savings and, above all, a huge reduction in the TEC & ecological foodprint.
Be sure to take the trouble to contact us about this!
"Before, when an error message occurred, the machine could not be used at all. This is different now. Today, e.g. it is possible to continue printing if there is a problem with the scanner or vice versa"