Game Mania saw the light of day in 1992 on Bredabaan in Merksem. The yellow-and-green logo has been a fixture on the streets of many Belgian (city centre) cities for over 30 years. With 30 shops in the Netherlands and a web shop with more than 2,500 active products, Game Mania has become the specialist when it comes to games, game consoles and accessories.
"Retail has changed"
Michiel Dams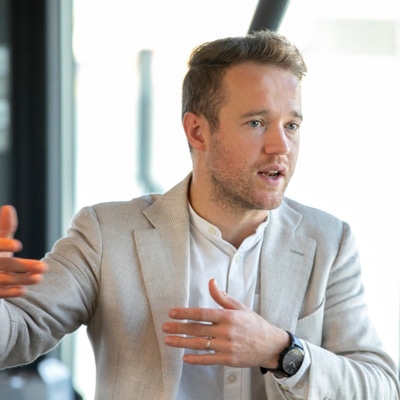 begins the conversation by confirming that the retail market has evolved significantly over the years. "The video game industry has evolved from a B2C (Business to Consumer) to a D2C (Direct to Consumer) revenue model. While you used to go to a shop to buy the new FIFA, you can now buy it through the PlayStation Store, among other places. This made us have to refocus as an organisation. The way we were doing retail is not a solution for the future if we want to firmly increase and diversify our offering. Which makes us rethink the model."
50 physical shops + webshop
Game Mania currently has 50 physical shops across Belgium and the Netherlands. Since 2017, it has also been operating online. The webshop has since become its biggest source of income. You will find more than 12,000 products in different categories.
"The biggest challenge online is making our employees' expertise and passion accessible. We are now fully implementing technologies to provide the same service to our website visitors. For instance, our shop employees help web visitors find the right products via chat. In addition, we now also have an 'online choice guide'. This was used more than 10,000 times in the first two months after launch. Finally, we can recommend customers the right products using 'smart recommender systems'.
"Anyone can be hacked"
When, like Game Mania, you depend on data and technology, a flawlessly functioning and secure IT infrastructure is an absolute must. Michiel Dams also realises this: "Any company can fall prey to hackers. Paying sufficient attention to cybersecurity is therefore my message. We realise that for companies like ours, it is not realistic to have this expertise in-house. VanRoey.be is the perfect partner to fill this void.
Fortinet FortiGate's in cluster
Over the past year, Game Mania invested heavily in the expansion and security of its IT infrastructure. At its headquarters in
Antwerp were Two Fortinet FortiGate's firewalls in cluster installed to monitor and protect internet traffic within the network. Clustering here provides failover, so that scanning traffic flows are automatically taken over by the other device if necessary.
To keep all Game Mania's precious data safe, it invested in new hardware from Hewlett Packard Enterprise. "For us, it is important that colleagues can work from anywhere and access our files securely from anywhere" Michiel clarifies. To meet this need, on the advice of the Level 3 Specialists at VanRoey.be, a StorMagic hyper-converged configuration set up.
Multifactor Authentication (MFA)
A first quick-win in Game Mania's new cybersecurity strategy was the rollout of multi-factor authentication. By allowing employees to authenticate with a unique code on their smartphone in addition to their password, the security level was already increased significantly.
By additionally focusing on Security Awareness Training of KnowBe4 Game Mania is making its employees extra alert for phishing.
Managed Services: tandem with IT team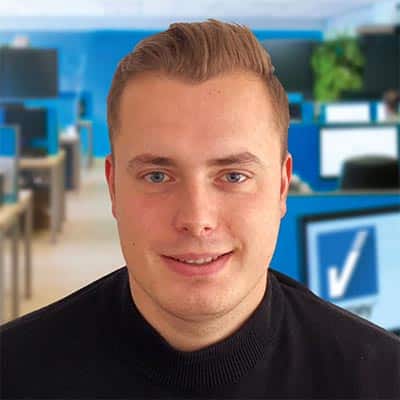 To keep its finger on the pulse in all this, Game Mania signed up to the Managed Services formula of VanRoey.be. Maarten Huijskens, Account Manager at VanRoey.be and the permanent point of contact for Game Mania, explains this service: in tandem and complementary to Game Mania's IT team, the renewed infrastructure is kept in top condition. This thanks to monitoring, patching and proactive interventions. At regular intervals, there is strategic consultation with a Service Manager. If things do go wrong, Game Mania can count on a transparent SLA (Service Level Agreement).
Michiel looks back with satisfaction on the cooperation so far: "Technology has become crucial in our business. Every moment of downtime means lost sales for us. It is therefore a continuous process to optimise our IT infrastructure. We are very happy to be able to do this together with a local partner like VanRoey.be."
With 50 shops in its portfolio, Game Mania has been a renowned value in the Belgian and Dutch gaming industry for many years. Besides the well-known game specialty shops, the Game Mania Group also includes several other gamer-focused organisations. Such as VCTRY.agency, a marketing agency specifically aimed at gamers and POP'D. A merchandising (web) shop.
"While you used to go to a shop to buy the new FIFA, now you can also buy it directly from the PlayStation Store. This makes us have had to refocus as an organisation."
Chief Digital Officer at Game Mania