Make the right choice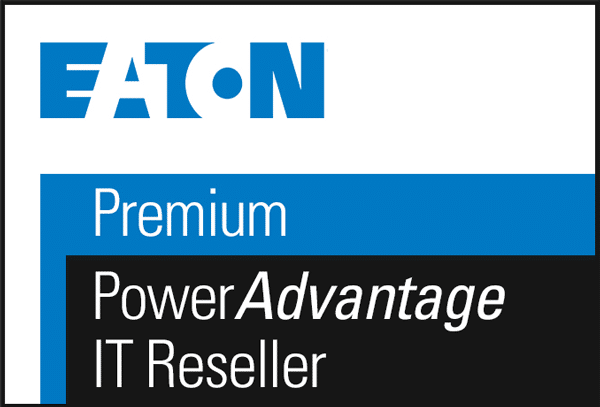 With a good UPS you choose a power management system to protect and monitor your IT infrastructure. A UPS prevents your systems from failing during a power outage and protects them against possible voltage spikes on the mains. Naturally, UPSs come in different sizes and weights.
1. Which equipment?
To make the right choice, you must first determine exactly what equipment you want to protect. For an office environment, this is typically computers, servers and network infrastructure. So the things you need to keep going.
2. What power?
Next, you determine the combined capacity of all the appliances you want to protect. This is the minimum capacity your UPS will have to be able to handle. Obviously, it is also best to take into account any future expansions. Another important factor in your choice is how long your equipment should be able to run on the UPS.
3. Which topology?
The topology of a UPS describes the way the device controls and protects the power supply. There are three main types of topologies: offline, line-interactive and online with double conversion.
Offline UPS systems: These systems, also called standby UPSs, provide the most basic form of power protection. When power is operating normally, it is routed directly to the connected devices and charges the UPS's battery. In the event of a power failure, the UPS switches to battery power.
Line-interactive UPS systems: These systems have a built-in voltage regulator that can compensate for small fluctuations in the mains voltage without having to use the battery. This can extend battery life. In the event of a power failure, the UPS switches to battery power just like an offline system.
Online double-conversion UPS systems: These systems offer the highest level of power protection. They convert the incoming AC current to DC to charge the battery, and then convert it back to AC for the connected devices. This ensures a 'clean' power supply, free from voltage spikes and dips. In the event of a power failure, connected devices continue to operate on battery power, without interruption because they are already operating on battery power.
Choosing the right topology depends on how mission-critical the equipment to be protected is. For less critical applications, offline or line-interactive systems may be sufficient, while for highly critical applications an online UPS with double conversion is the best choice.
4. Which form factor?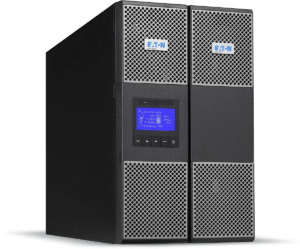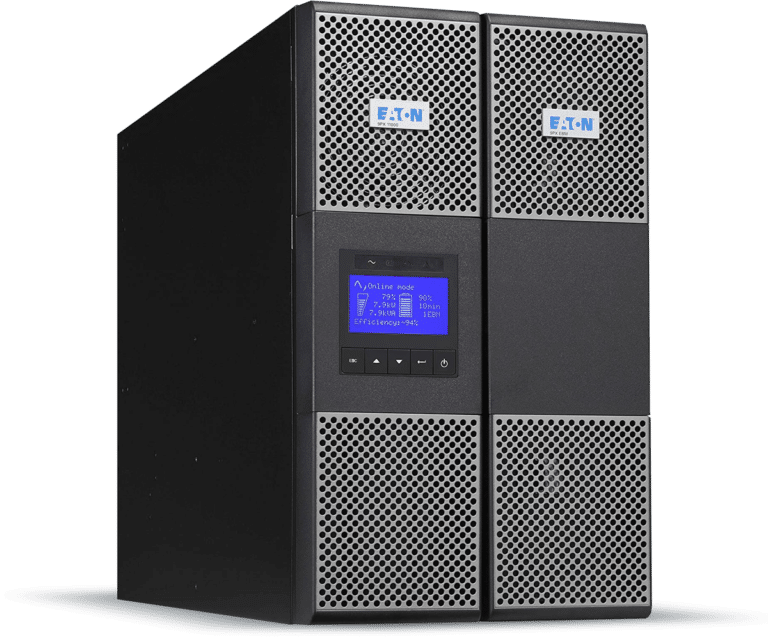 Useful for future expansions and changes in requirements are the models with expandable battery modules. So there are different form factors available and you can usually choose from rack-mounted models or stand-alone's.
A very elegant UPS for the office is the Eaton 3S. It is intended for the lower power ratings of say 20-30 watts and is typically used to power critical equipment such as a modem for several hours.
5. Single-phase vs three-phase
The choice between single-phase and three-phase UPSs depends on the power of the devices and machines you use. For most office environments, a single-phase power supply is sufficient. UPS systems up to 3KVA are typically single-phase and fitted with a regular plug. Heavier UPS systems, such as those of 4-5KVA and above, require a three-phase power supply.
Eaton 5P vs 5PX
Within single-phase UPSs, for example, you have the Eaton 5P or Eaton 5PX series. Below, we compare these two popular ranges:
| | | |
| --- | --- | --- |
| Feature | Eaton 5P | Eaton 5PX |
| Power range | 650 VA - 1.55 kVA | 1 kVA - 3 kVA |
| Efficiency | Up to 96% in online double conversion mode | Up to 99% in high efficiency mode |
| Implementation form | Rack/Tower | Rack/Tower |
| Extended battery modules | No. | Yes |
| Screen | Basic LCD screen | Advanced LCD display with power information |
Intelligent and VMware compatible
The hardware will go a long way, but the software will really make the intelligent power management system. Mobility and visibility are essential aspects that add value and provide a unique user experience. That's why Eaton software allows you to easily manage, configure and monitor your UPS remotely.
Eaton software also integrates seamlessly with popular virtualisation platforms such as VMware and Hyper-V. So in the event of a failure, instead of the physical machines, the virtual machines can be shut down. And this according to a clear sequence to ensure optimal reliability and security. guarantee the protection of data and vulnerable hardware. This is a major asset, now that virtual machines are being used more and more. The UPS will thus also play an important role in backup and disaster recovery.
Conclusion?
No matter what the situation, Eaton's intelligent software ensures optimal load distribution on the grid and warns and intervenes where necessary. This is why Eaton UPSs are more than just an emergency power supply. They provide an intelligent power management system that protects and monitors your IT infrastructure. Whether you need a single-phase or three-phase system, Eaton has a UPS solution to suit your needs.
Need advice?
"No matter what the situation is, Eaton's intelligent software ensures optimal load distribution on the grid and warns and intervenes where necessary."