Reliable network infrastructure: essential for reliable service provision
A reliable, stable network is an absolute necessity for a service provider that operates at such short notice. Employees in the field must be able to consult and enter the correct information immediately. Calls from customers must be translated into tickets immediately and must reach the right service provider through the network. The processing of quotation requests and orders via the website must also be fast and efficient. The network infrastructure is VAB's most essential asset. It must be of a high quality, securely and preferably at a fair price.
With an overgrown IT team, VAB has a lot of knowledge and expertise in the field. Proof of this is the years of stable operations, which have enabled VAB to build on its reputation as a reliable service provider. Of course, technology does not stand still, but switching to new technologies is not obvious when, as an organisation, you need to guarantee a continuous service with a high volume. Nevertheless, Steven Bruynseels - IT Operations Manager at VAB - and his team wanted an external opinion. A proposal from a reliable party... To future-proof the network infrastructure.
Qualitative and secure network environment with Fortinet and Ruckus
Fortinet
Like many organisations, VAB pays the necessary attention to security. With a solid Fortinet installed base, VAB was already well armed. Due to the strong focus on security, a lot of knowledge about the installed Fortinet solutions had been built up over the years. The entire VAB IT team was also enthusiastic about these solutions, because Fortinet shows that it is future-oriented with its recent developments and provides a very fast and flawless service.
VanRoey.be also promotes Fortinet's security solutions with full conviction. With security as one of the pillars of our service and tens Fortinet specialists at homewe've been recognized from the very beginning as Fortinet Expert Partner. For VAB, that was already a major asset, because in addition to being a competent service provider, the VAB IT team also found a partner in VanRoey.be to further expand its internal knowledge of Fortinet and security and to take new steps with regard to security.
The entire Fortinet installed base was transferred to VanRoey.be and some obsolete firewalls were replaced by new ones. FortiGates.
Ruckus
VanRoey.be is also a Ruckus Elite Partner, and many employees of the VAB IT team knew about the Ruckus products and technology. Although VAB was satisfied with the technology used in the past, some improvements could be made. The network topology had to be reconsidered and some hardware was in need of renewal.
With a substantive proposal, supported by extensive demos of the Ruckus management platform, the GUI and commands, VAB was convinced. The new topology was worked out in consultation between the VAB IT team and the network specialists at VanRoey.be and all network hardware was replaced by Ruckus components. All this to a very interesting price tag. Ruckus surpasses the competition in terms of technology and can still keep the price even higher.
Steven Bruynseels, IT Operations Manager VAB: "The Ruckus solutions are new to us. Our network infrastructure is really very important, and you don't want to compromise on quality. You are then inclined to look for more expensive solutions 'just to be on the safe side'. Ruckus is really at the top of the technological league, and at a very attractive price. We are very satisfied with the results."
VAB & VanRoey.be: a long-term partnership
Of the four providers, VanRoey.be soon came out on top. This was partly due to the good value for money of the solutions offered and the proven expertise and partnerships with respected vendors. In addition, it was mainly the modus operandi that gave VanRoey.be an extra edge.
Steven Bruynseels, IT Operations Manager VAB: "What I value most about VanRoey.be is their hands-on approach and no-nonsense corporate culture. They are transparent in their communication and take the bull by the horns immediately. Moreover, they do not just answer the question, but really think along with us. For us, this led to a deeper insight and solutions that exactly met our needs. The quotation and technical proposals were clear and complete.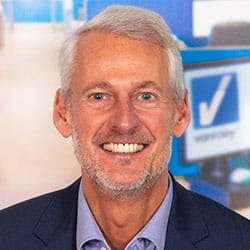 The cooperation with Business Development Manager Frenk Smits and all other VanRoey.be employees is going very smoothly."
Finally, the network is continuously monitored and proactively maintained thanks to Managed Services. For VAB, VanRoey.be is much more than an IT supplier. It is a partner that is always available. Moreover, there are more projects on the horizon.
VAB's customers can therefore rest assured, because the partner they rely on for their mobility also chooses a reliable partner and robust solutions for their IT.
The yellow-blue logo of VAB can be found everywhere on our roads. Especially in freezing temperatures, the breakdown service is busy. Did you know that 1 in 2 vehicles have a breakdown or accident every year? Fortunately, it's usually something small: a flat tyre, no more fuel, lost keys,...
Nevertheless, it is important to be able to rely on a fast and smooth service at such times. In addition to roadside assistance, VAB also offers travel assistance, driving schools and numerous other mobility services. Also for cyclists!
"Our network infrastructure is really hugely important, and you don't want to compromise on quality. You tend to look for more expensive solutions 'just to be on the safe side'. Ruckus is really at the top technologically, and at a very interesting price.
Manager IT Operations VAB