Part of Microsoft 365
Microsoft Bookings is included with Microsoft 365 Business Standard and Microsoft 365 Business Premium (not included in Microsoft 365 Business Basic). Also for Office 365 Enterprise E3 or Enterprise E5 customers is Bookings available, but is disabled and activated by default by your Office 365 admin.
You can start the application by selecting Bookings in your Office 365 overview portal or by going directly to the following URL: https://outlook.office.com/bookings.
How does it work?
You don't have to be a technician to make a reservation through Microsoft Bookings. The tool guides you step-by-step through the actions that need to be taken. We already describe some useful features that we came across during testing.
1. Add availability or opening hours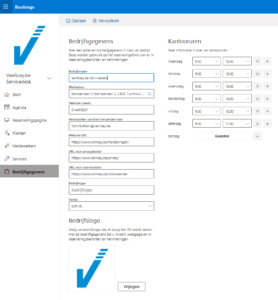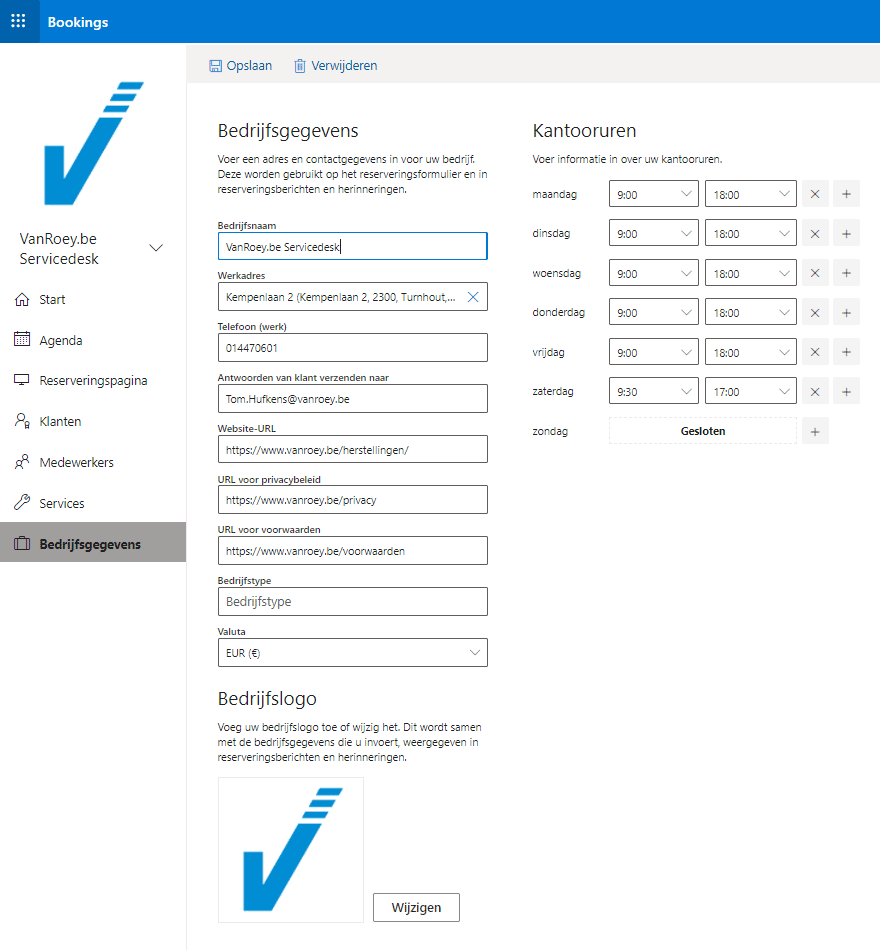 One of the proposed actions was to add our working hours. In other words, what hours are we available to our customers? You can reach these settings via "Start" > "Set your working hours or by entering the menu Company data to select. Besides office or opening hours you can also set your company name, address, website and logo.
2. Pairing your Outlook calendar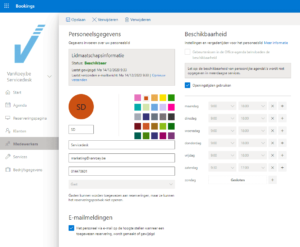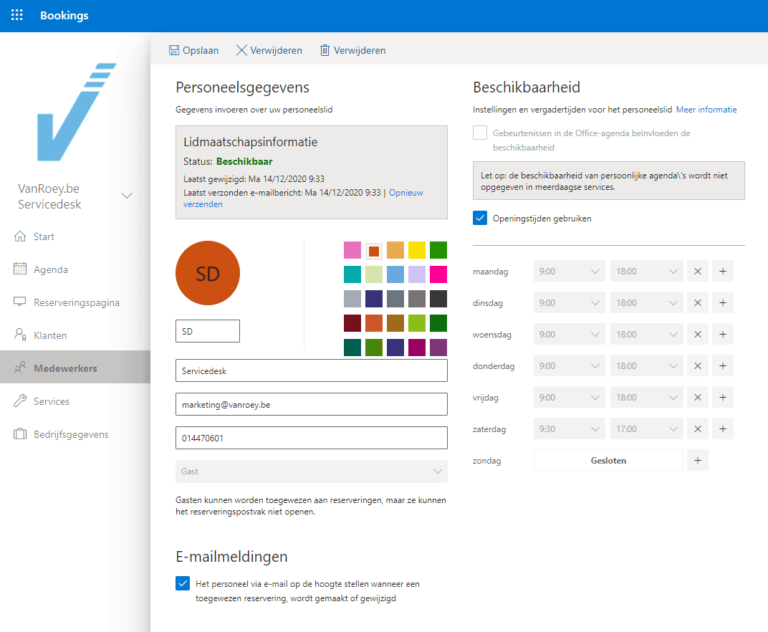 The power of Microsoft Bookings is its flawless integration with your Outlook calendar. Configure it under 'Employees'. Here you determine with which employees or departments customers can make an appointment. Bookings automatically takes over the availability of your calendar. Days or time slots where something has already been scheduled (e.g. meeting or vacation) are displayed as unavailable.
Note: if bby default, you will also be included in the list of employees. It took us a while to figure out how to disable this, but we found it: by linking employees to your services (see next point) you determine which employees will be visible on the reservation page.

Our licensing specialist Ines Van Hoof takes a look at some smart savings using example scenarios.
3. Manage services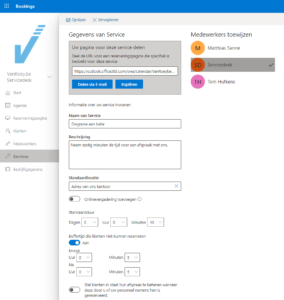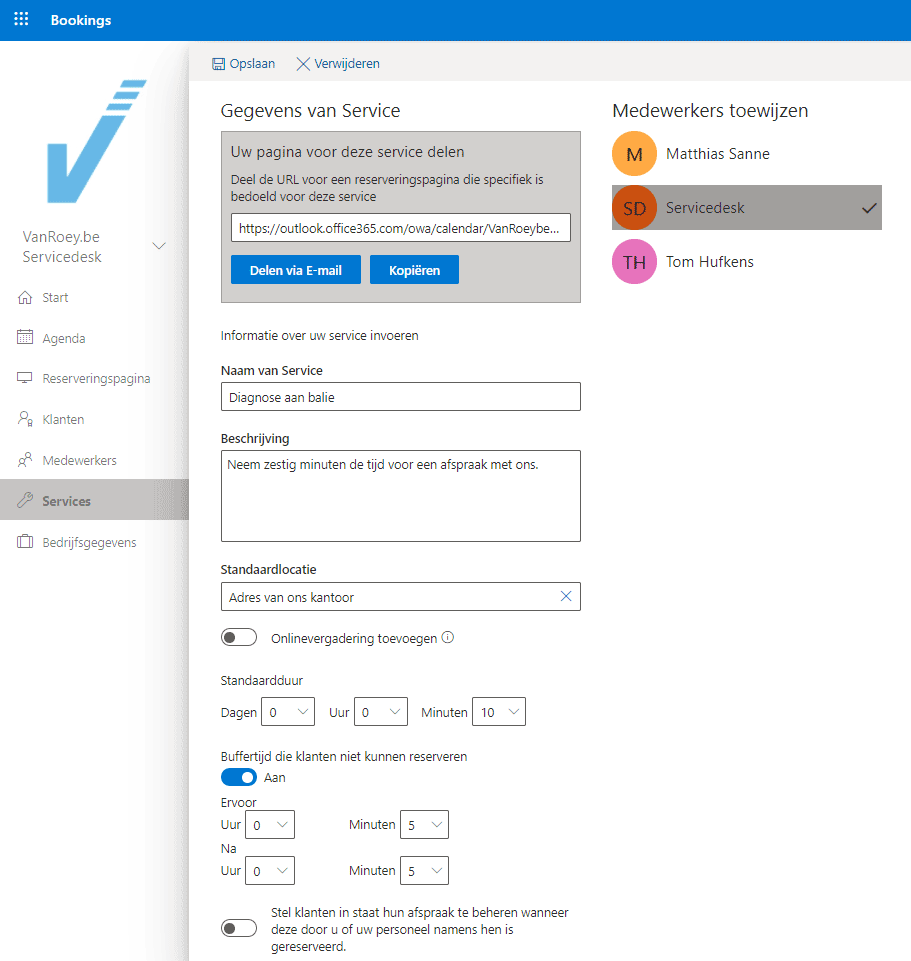 In this section you will determine which services customers can choose from. Each service can be linked to one or more employees. In addition to a description, you can also set the standard duration, buffer time and price for each service. Here you also determine what information you want to receive in advance, as well as whether an email reminder should be sent.
4. Setting the reservation page
Undoubtedly the most important element within Bookings: the reservation page. Both the layout and practical details (e-mail notifications, planning policy, availability, ...) can be fine-tuned here. Once all this is set up, you can also publish your reservation page here.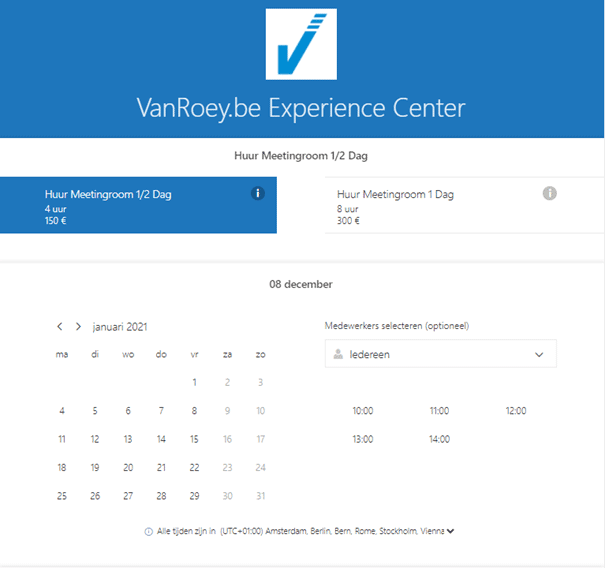 The result?
In less than 30 minutes we set up a basic but professional reservation page. With lots of automatic communication behind it such as confirmation mail, calendar-invite and reminder mails for a professional image. Test successful as far as we are concerned!
.
Our conclusion
Microsoft Bookings is definitely recommended when you need an online appointment system. Not only is it free for many Office 365 and Microsoft 365 customers, it is also very easy to use. We would like to go over a few pro's and con's:
Pro:
Very easy to use
Handy that you can choose which info you want from your customers per service
Faultless integration with Outlook (both email and calendar)
Customers can easily change or cancel appointments themselves
Calendar invites, confirmation emails and reminder emails are sent automatically
Included with Microsoft 365 Business Standard and Premium + Office 365 Enterprise E3 and E5
Contra:
Limited design possibilities, especially with regard to formatting forms, this would be desirable.
Reporting is limited to the number of reservations made and the estimated turnover for the last 30 days.
Shared mailboxes cannot be set up as an administrator, which means you miss part of the Outlook integration (e.g. reading the agenda)
Getting started with Bookings or other hidden gems within Microsoft 365 discover? Do not hesitate to contact our specialists contact us!