BIPT carried out this study last year in September and October (2020). In order to guarantee the reliability of the tests, the locations investigated were not communicated to the operators beforehand. With a ski box full of technical equipment and a few smartphones on the roof, two cars crisscrossed the whole country to examine the calling and surfing experience of Belgian consumers.
They passed through dozens of large cities, rural areas and motorways in Flanders, Wallonia and Brussels, taking a total of 11,000 km and 250 hours of measurements. The experts made no less than 7,800 phone calls and did 60,000 data tests per network.
The three largest operators score very well in any case. And that is certainly to be welcomed. As we work differently, a strong mobile network is indispensable for companies and their employees.
Data results
Especially now that working remotely is the new reality, employees need a fast and stable network connection. we explain some terms in the overview:
ThroughputThe average download throughput is the speed the network can offer to a user. Telenet has the highest average download throughput, followed by Proximus and Orange.
File Transfer: was measured by downloading a 10 MB file and uploading a 5 MB file.
Cloud Storage: Uploading a 1MB file into Dropbox with the three operators also went quite similarly.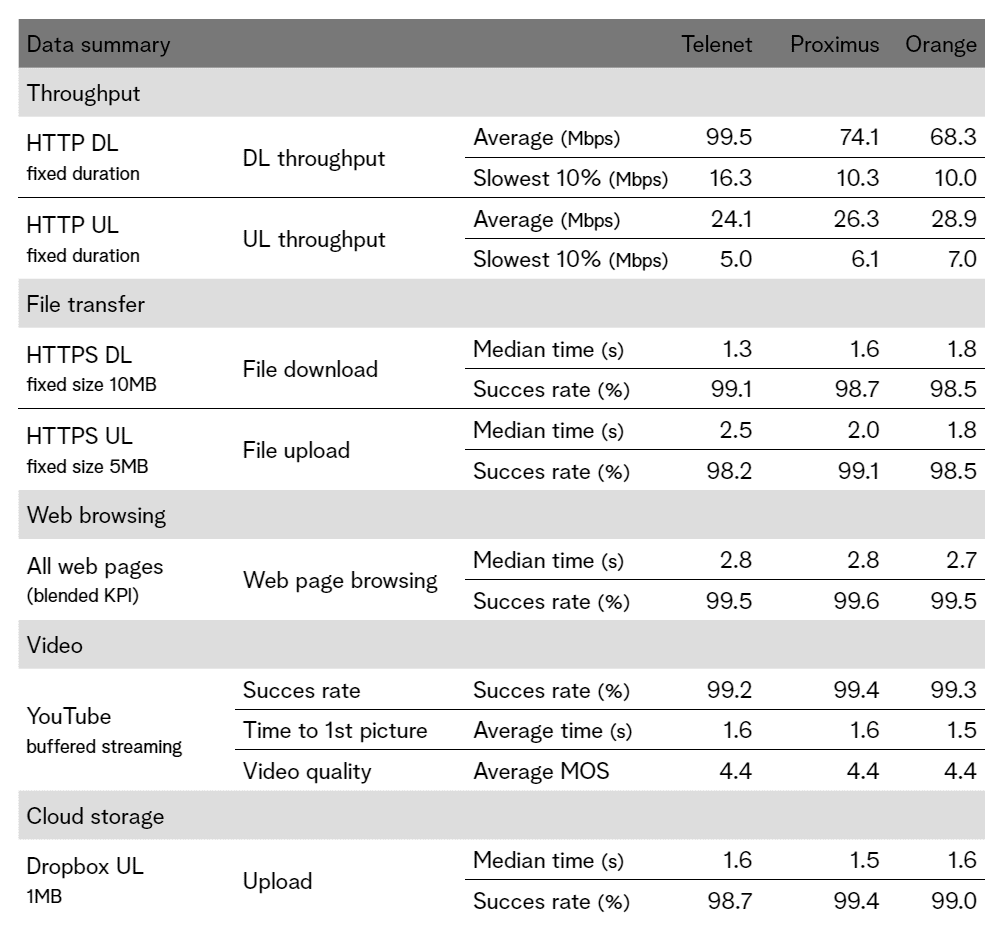 Telephony
We spend many hours on the phone. Companies therefore find it important that everyone is easily accessible. At the office, at home and on the road you want to be able to speak without a hitch and with excellent sound quality. Anyone starting a call with Telenet has the best chance of a flawless call with a success rate of no less than 99.9%. Moreover, their network offers the best voice quality of all operators. With Proximus, on the other hand, you will have someone on the line the fastest (call setup time).
This is the time between pressing the call button and the ringing tone.
Network coverage
The study shows that the quality and experience of the 3 mobile networks is very good. Even in rural areas and along transport axes, the quality remains excellent. These mobile networks have also evolved considerably in recent years, thanks to investments in new technologies and network optimisation.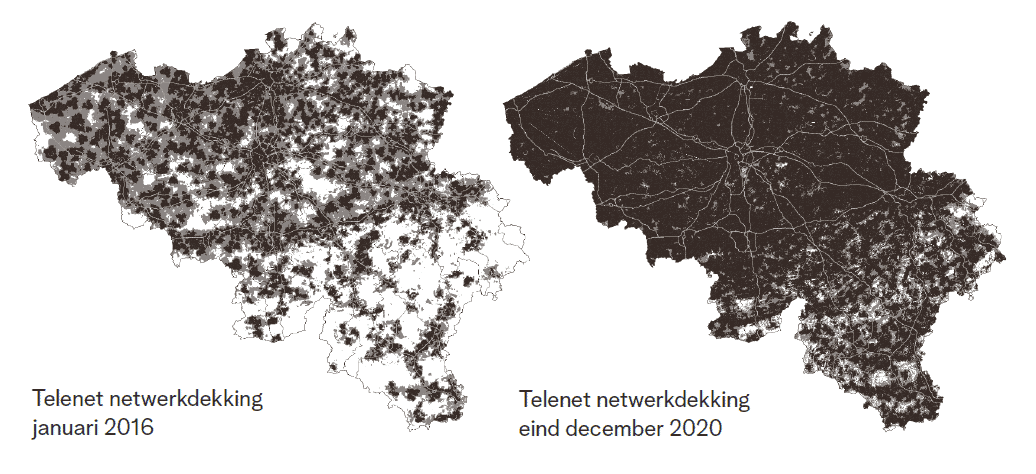 Final results:
| | | | |
| --- | --- | --- | --- |
| | Telenet | Proximus | Orange |
| Average call quality | 4,4 | 4,3 | 4,4 |
| Average downstream speed(Mbps) | 99,5 | 74,1 | 68,3 |
| Average upstream speed(Mbps) | 24,1 | 26,3 | 28,9 |
Your staff at the office and/or on the road, in one or more branches, always provided with the fastest and most stable mobile network? As a Telenet Business partner we can guide you perfectly in choosing the right internet solution.
"Those who start a call with Telenet have the best chance of a flawless phone call with a whopping 99.9% success rate."