The eye and ear also want something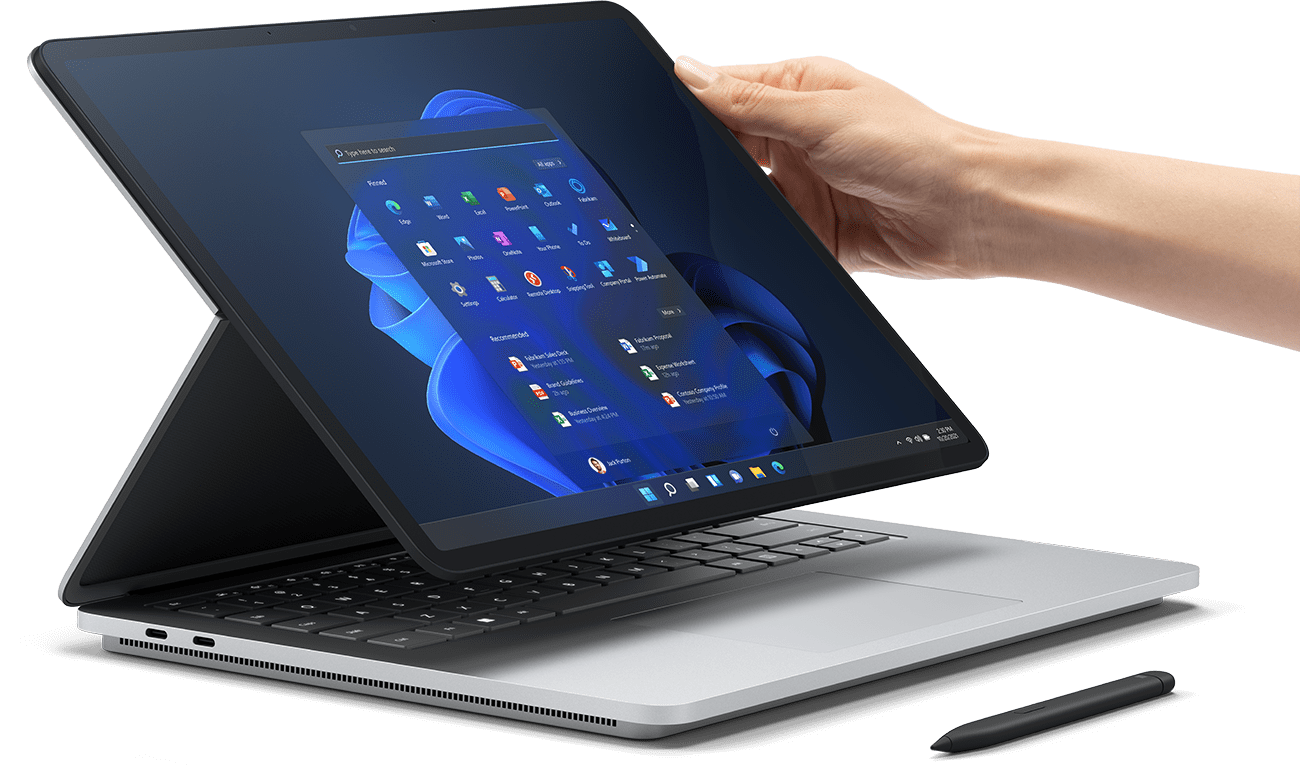 The first thing you notice is of course the new look. Microsoft introduces with Windows 11 Fluent Design. You already noticed that the icons within Windows Explorer, the Microsoft 365 and Dynamics 365 ecosystems have evolved over the years. Windows 11 steps away from the ultra-minimalistic metro-look and now breathes that same layered, colorful, yet minimalistic style. A change in style is always daring but I, as a graphic designer, find it very successful.
Their own distinct visual style brings the whole Microsoft story together. And especially with the release of the Latest Surface devices you have beautiful devices in your hands that do full justice to this design philosophy. Hats off to Microsoft.
Fluent of course means fluent, and this is reflected in the soft, fluent animations and pleasant sounds. It is difficult to put into words, but e.g. connecting hardware went from 'ting-tingling' to a rather ethereal 'bwoedoem'... They are small interventions, but you feel that they have been thought about, and that makes the difference.
The semi-transparent frosted glass look of the taskbar and new context menus (right-click) also creates depth in your desktop experience. The apps that support it blend so subtly into the new visual style, whether in light or dark mode. Still, I hope Microsoft dares to go even further and extend this frosted glass look to all applications. But there will always be proponents and opponents... Gustibus non est disputandum.
Notifications and toggles separated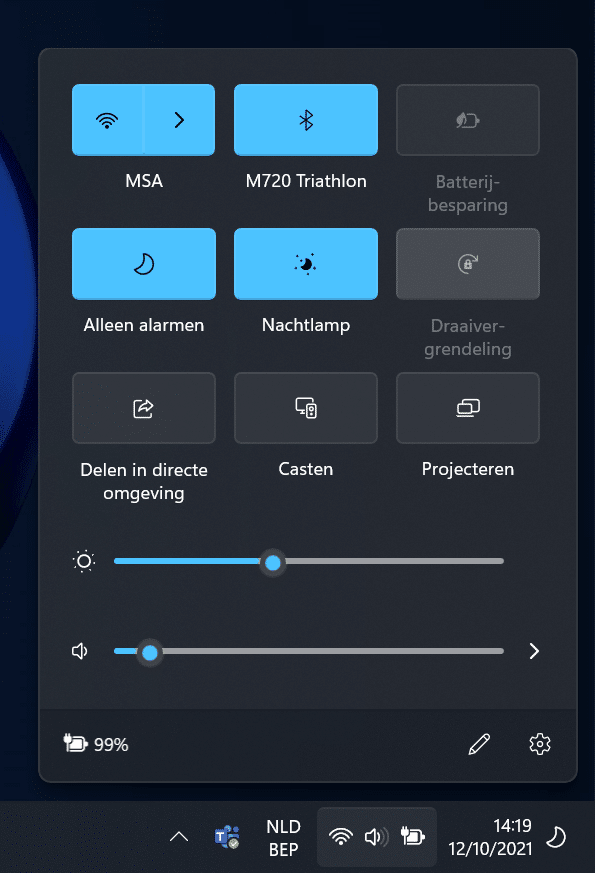 It could be annoying when you had to connect with a projected image to another wifi network. The room immediately saw the messages from your partner or could see incoming emails. Just like in Android and iOS, notifications and settings are now separated.
In addition, you can easily customize your toggles as well. You remove toggles that you will never need, and can move the rest around as you please. Your music player (if it supports it) will also show its hotkeys here.
Finally, the toggles, notifications and the 'projecting' (win+p) framework have all become more compact and less bombastic.
Better window management, snap groups
What's in a name... Windows remains windows. And in that window management, they've made some good innovations. Especially if you use multiple screens, switching between monitors has become a much better experience. Windows 11 tries to remember the positions of your windows better so that when you switch, you can immediately continue working in your ideal setup.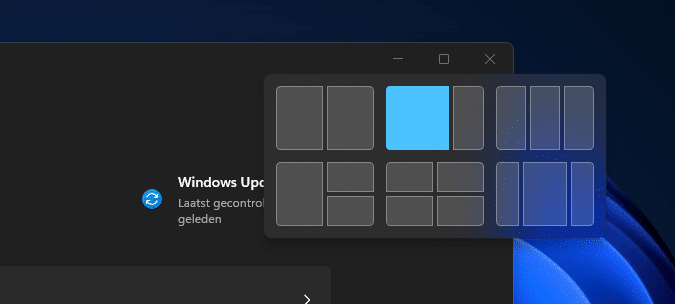 Also, if you now hover your mouse for a second over the 'maximize' button in the top right, a menu will appear where you can immediately determine where the window may maximize on your screen. This is more accessible to ordinary users than the hotkey shortcuts, or physically dragging the windows against the edges or into the corners. What I do regret is that I couldn't make this pop-up appear directly with my fingers on a touch-screen.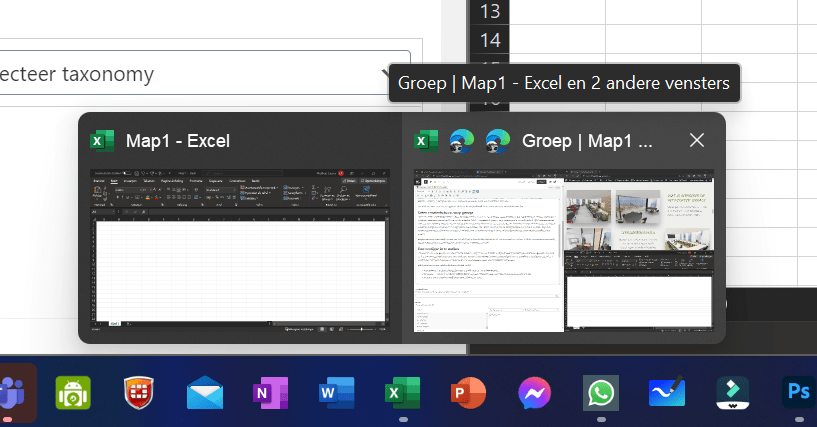 Snap Groups are also a handy innovation. Say you have your Excel pinned to the left side of the screen, a website on the top right, and a Teams conversation on the bottom right, you'll be able to minimize this entire group or conjure it back up.
Easier to set up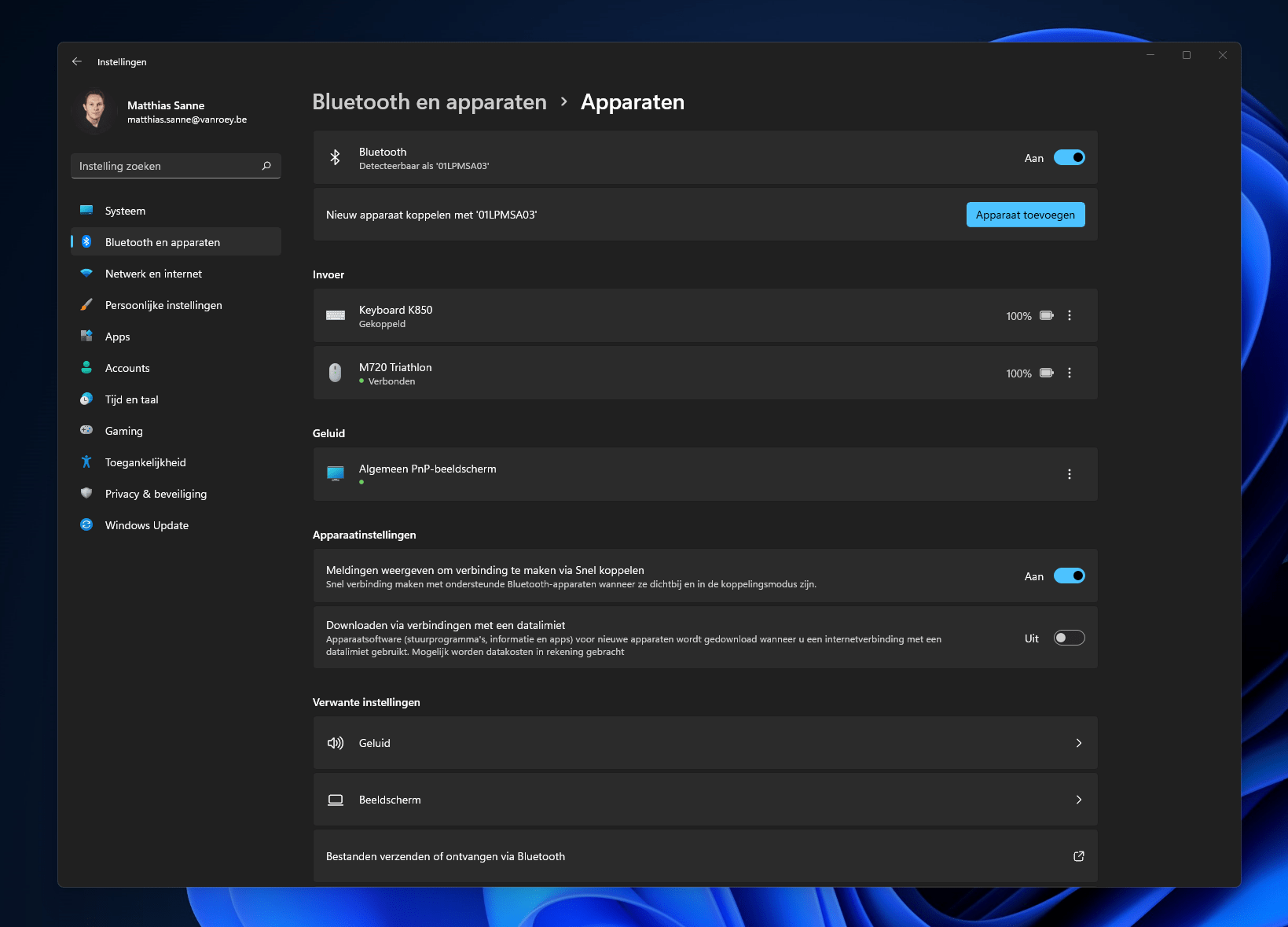 Windows 8, 8.1 and 10 still regularly went wrong and kept redirecting you to the old 'control panel'. This has been cleaned up in Windows 11. I'm not going to say it's perfect yet, but today most of it is neatly and conveniently put together in the 'settings' app. Also, there is now a breadcrumb showing where you are approximately in the settings, so you can find your way more easily.
Some nice other novelties I've discovered in the meantime:
Controlling the volume of your headset, your laptop or external sound has become easier.
In System -> On/Off & Battery you can easily see how your battery is being used and which applications are the possible culprits.
Casting your screen has also become more accessible in the toggles menu
When using your microphone a small microphone icon will appear next to your clock. When you right-click on it, you can easily assign microphone permissions per app.
This also applies to your webcam and GPS signal, among other things. You can find this in Settings > Privacy & Security > app permissions.
Our favorite configuration windows like 'device manager', 'services', 'task manager', 'computer manager', 'process Monitor' etc... still remain a blast to the past. "If it ain't broke, don't fix it" they must have thought at Microsoft, but most power users will not experience that directly as a problem.
Faster and more efficient(?)
Although I did not do a clean install, I already experience that Windows 11 performs just a bit better. My laptop starts up faster, logging on is smoother and in general the system performs at least as well as before, if not slightly better... I have to add here that I haven't done any before and after benchmarks, and both are pretty solid systems with allocated Nvidia GPUs.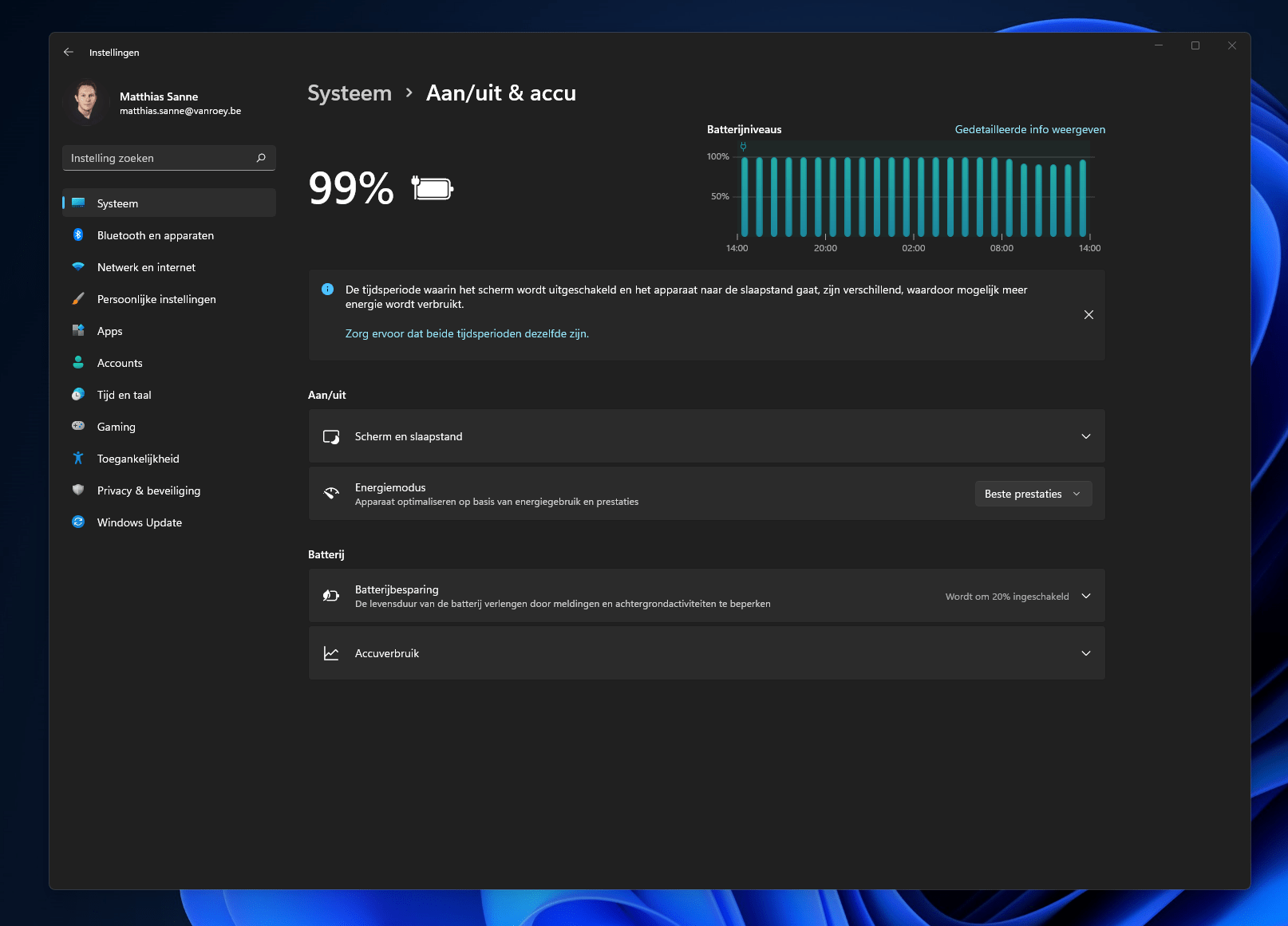 It's a bit too early to draw any real conclusions, but my battery life seems to have improved a bit. Although this was already very good under Windows 10.
Menus: less is more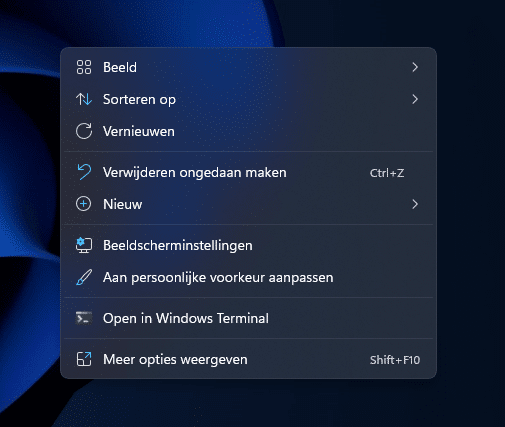 When you right-click on a file or on the desktop, the 'context-menu' will give you less, but the most common options. In most cases, you'll find the function you were looking for more quickly, and for specific cases you can still click "Show more options". Then the full context menu will be shown as before.
It's little things like this that can make the operating system seem a little less overwhelming for less tech-savvy people. Still, I would have liked to eventually be able to decide for myself what I consider important enough to show at all times.
Tablet mode and widgets
Touch remains a spearhead for Microsoft. The entire Surface line is focused on that. The separate tablet mode has been removed from Windows 11, however. The OS is considered mature and user-friendly enough for touch users. A lot has been changed over the years to make it easy to use with a mouse as well as with your fingers. Some new gestures have been added to make window management a bit easier with just your fingers, you can easily drag them to the side or a corner to lock them there. Also, by sliding 3 fingers down you can hide your apps, and up you can access the task-view and desktop-switcher, just like on your trackpad.
When you 'swipe' from the right side of the screen to the left, your notifications open, and when you swipe from the left side of the screen to the right, the new 'widgets' panel pops up. Here you can see useful things like your calendar, the weather forecast, news, some stock quotes, you can create tasks... I'm still in the middle of whether I'll use this feature much, but I can see the potential. I hope that developers will work on it and build useful things... so that I can use it for example.
can collect social notifications such as those from Linked-In
Can read and reply to SMS and whatsapp messages
Reading RSS feeds
Display KPIs from Analytics or other status monitors
homemade Power Apps in can place
can easily participate in ongoing Teams-meetings
…
It could save a lot of unnecessary apps and clicking.
To switch or not to switch?
With the release of every new operating system it is recommended to wait a while for the teething problems. The last wrinkles are smoothed out, drivers optimized... Up to now I have not encountered any problems on either system, and you will probably never see me working with Windows 10 again. Even though this is a damn good operating system, Microsoft has managed to outdo itself again with Windows 11.
Whether you should switch immediately I leave open the question. There are no immediate major reasons to hurry and your IT department will probably postpone it a bit to avoid bugs; it is a nice and necessary evolution, but not a revolution.
In any case, you still have time to think about it until October 14, 2025, when support for Windows 10 ends. If you're still unsure, you can always come and try out the latest HP and Surface devices in our Experience Center!
"Fluent stands for fluent, and that fact is carried through (in addition to design) in soft, flowing animations and pleasant sounds... They are small interventions, but you feel that they have been thought through, and that makes all the difference."
You take measures to prevent hackers and viruses, but what if they get in anyway?