HPE Alletra: Fast, Faster, Fastest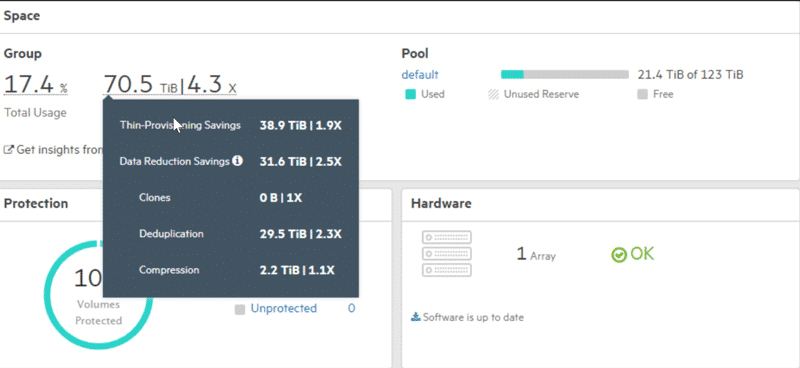 We'll get straight to the point: An Alletra achieved access times below the millisecond. Thanks to intelligent allocation of the fastest cache and flash storage, even speeds up to 25% higher than the puniest HPE Nimble all-flash arrays.
And if that's not enough, you're also going to save drastically on storage. Thus, we penetrated at one of our customers the total storage of 100 terabytes down to a mere 21(!) terabytes. An unprecedented degree of compression and deduplication, and without any loss of speed.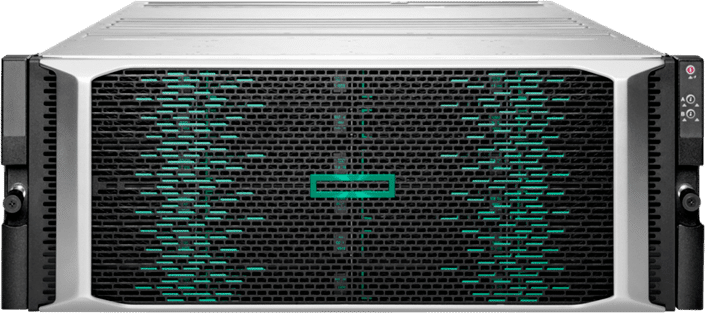 Flash speeds with traditional drives
In addition to All-Flash arrays, you also have Hybrid Arrays, where hard disk drives and flash storage are combined. Thanks to 'data serialisation', both read and write operations achieve maximum speeds even on traditional disks. But that is just the beginning.
Indeed, current data and data that is edited and/or accessed with regularity is automatically shifted to flash storage and even on the extremely fast CPU data cache placed. So basically, you achieve unmatched data centre speeds even with classic disks.
Considering the ratio in terms of cost per gigabyte between hard drives and flash memory, you soon arrive at nice savings this way.
Installing and allocating storage easier than ever
Putting an advanced device like the HPE Alletra in your rack is certainly no longer rocketscience; Also, with some knowledge of the matter, you are within a few proverbial clicks operative, ready to supply the most demanding applications with data at lightning speed.
Allocating application-specific storage is also easy and even partly automatic. You specify which purposes certain apps have and the artificial intelligence gets to work configuring for optimal data processing.
Management is through a always-up-to-date, centralised SaaS cloud console. From here you can -from anywhere and on any device- manage the entire fleet. Multiple installations spread across the country or even the world are thus always at your fingertips.
Upgrades and expansion also proceed without disruption
Alletras are equipped for growth. Indeed, you can add storage or migrate data to other environments in a live environment without any problems.
HPE InfoSight & Data Services Cloud Console as key
The Alletra's enjoy HPE InfoSight. This is an A.I. that tens of thousands of data centres constantly analyses to arrive at universal insights. Not only does it do many optimisations behind the scenes, it also suggests interventions to ensure optimal operation of your environment and resources.
The hardware itself is also closely monitored. Loads, bottlenecks, temperatures, disk errors, power supply, memory... As soon as the system notices peculiarities, it will intervene where possible and notify you. Subsequent problems or malfunctions are thus nipped in the bud immediately.
Thanks to this predictive power of A.I. within HPE InfoSight, lying awake over downtime will become a thing of the past. As a virtual assistant, this can count!
In turn, the Data Services Cloud console lets you put your time and energy into optimising actual usage and applications. That way, behind it, you don't have to spend too much time managing disks, storage locations, deduplication etc... That's largely done automatically.
Uptime and data retention guaranteed thanks to Triple+ Parity Raid
The HPE Alletra adopt Triple+ Parity RAID as standard with no impact on performance. This allows Up to three disks fail simultaneously without losing a single bit.
If something does go wrong and you need to restore your data, it can be done quickly and easily. App-aware backup and recovery, both on-premises and in the cloud, ensures that data can be restored quickly.
Belgium and VanRoey.be as frontrunners in Europe
Today, only 3 HPE Alletra's of this type are operational in the whole of Europe, two of them in Belgium. We are proud to announce that both have been installed(!) by VanRoey.be.
Alletra as a Service via HPE Greenlake
You can of course just buy a complete HPE Alletra set-up (CAPEX); But in these uncertain times, it is perhaps more interesting to use the device in a pay-per-use (OPEX) model without major upfront investment.
From a predetermined minimum consumption you have the option to -by means of the HPE Greenlake programme- get an HPE Alletra installed at your premises on-premises. You then pay monthly only according to how effectively you use the system. Your CFO will love to hear about it!
So for many organisations, there is really no excuse not to upgrade immediately to the extreme performance, deduplication as well as uptime guarantees of the HPE Alletra.
Want to know more about this innovative storage solution? Then feel free to contact us and our certified experts will be happy to show you around.
"Today there are only 3 HPE Alletra's of this type operating in all of Europe, two of which are in Belgium. We are proud to report that both have been installed(!) by VanRoey.be."