Suez Water Technologies & Solutions recycles and treats water that circulates in industrial processes or requires specific pre-treatment, such as the recycling of cooling and rinsing water and the pre-treatment of water as a basic raw material in the food industry. the acquisition by Suez clearly defined the deadline and cost for the further use of GE's IT infrastructure, with the absolute deadline set at 31 March 2019.
The company with Belgian branches in Herentals, Herstal and Haasrode opted for a transition to Office 365 The internal IT department (80 employees) was already working on numerous other IT migration projects; putting them in charge of a migration project of this size was unrealistic. A partner with specific expertise was needed. By focusing not only on the technical aspect but also on the users (Change Management & User Adoption), the ICT company VanRoey.be was chosen, with branches in Turnhout, Geel, Mechelen and Antwerp.
Koen Van Loon, Business Manager Applications at VanRoey.be: "We had a lot of experience with migrations to Office 365 and SharePoint, but the size of this project at Suez was quite new. Migrating 7,000 users and 14 terabytes of critical, operational data to less than 12 months worldwide was challenging".
To the great satisfaction of Gerard Van Kempen, IT Manager EMEA at Suez Water Technologies, the actual migration took only 3 months: "By appointing Power Users and providing a Microsoft e-learning platform, our end users were familiar with tools such as OneDrive and Teams faster than expected. To train the 80 Power Users, VanRoey.be organised bootcamps in Herentals, Toronto (Canada) and Philadelphia (USA) and produced their own tutorial videos. In short, a successful project in all areas to return to.
4 Key challenges
Gerard van Kempen, IT Manager EMEA at Suez Water Technologies, saw four concrete challenges at the start of the project:
1. Time & budget
At the time of the acquisition by Suez, clear agreements were made regarding the timing and cost of further use of GE's IT infrastructure. The absolute deadline was 31 March 2019, but a faster migration could significantly reduce costs.
Adoption of the new SharePoint & Office 365 platform
Under GE, an in-house developed system was used - a SharePoint avant-la-lettre, so to speak. Due to the outdated technology and expensive operational costs behind it, a transition to Office 365 and SharePoint was chosen. Gerard knew that this would require an adjustment from all users, and proper training and guidance would be crucial to ensure that the users would embrace the new tools.
3. Expertise & focus
Suez Water Technologies can count on an in-house IT department of around 80 people, all of whom are skilled people, each with their own expertise and who are deployed on numerous IT projects. They were also busy with numerous other IT migration projects; putting them in charge of a migration project of this magnitude would be unrealistic. We needed partners with targeted expertise who could focus on this single migration project.
4. Creativity & Flexibility
To be able to act quickly on such a scale, the partner would have to be very creative and flexible in providing solutions. Suez Water Technologies had to be able to count on the job to be completed on time, even if unforeseen difficulties arose that were difficult to grasp in the contract.
Acceleration Workshop
During a 5-day Acceleration Workshop, the scope of the project was determined and a project plan was drawn up, not only with a view to delivering a technically suitable solution, but also with regard to Change Management and User Adoption. After this workshop, Gerard and his team were convinced of VanRoey.be's expertise and creative approach.
Gerard van Kempen, IT Manager EMEA Suez Water Technologies: "The collaboration with the people at VanRoey.be went very smoothly right away. Their approach was strongly result-oriented and everyone dared to take the initiative independently to come up with solutions. This short decision chain was very important for us to achieve quick results.
Koen Van Loon, Business Manager Applications at VanRoey.be: "We already had a lot of experience with migration projects, but the size of Move IT was still new. 7,000 users worldwide and 14 terabytes of critical, operational data had never been done before, all the more reason to give the best of ourselves."
The migration process
1. Sharepoint
In order to set up the new data structure, a great deal of information was gathered during the Acceleration Workshop. A stakeholder team was put together to obtain the necessary feedback from the users and the structures drawn up were quickly realised in SharePoint. Gerard testifies that the new SharePoint structures quickly resulted in a more efficient document management of engineering.
To migrate all data, two different methods were used: assisted and self-assisted. In the assisted method, large blocks of operationally critical data were migrated by experts from VanRoey.be. The less critical data could be migrated by the users themselves, who were trained and could always rely on instructional videos and an OASE training platform. This self-assisted migration was monitored by means of Power BI tools.
2. Power Users
Because it was impossible for VanRoey.be to train all the people in the various locations around the world, Power Users were called in. 80 experienced users were intensively trained and were the first point of contact for the end users. In this way, the Power Users helped the end users on their way with the new SharePoint and tools such as OneDrive and Teams, and also monitored the entire migration process in the Power BI. This monitoring was very important to ensure that all data was migrated or legitimately deleted. To train the Power Users, bootcamps were organized in Herentals, Toronto (Canada) and Philadelphia (USA).
OASE
OASE is a Microsoft e-learning platform that has been made available to all users, on which short videos with specific instructions or complete series of lessons can be followed. It is an intuitive way to quickly acquire knowledge in the Microsoft Office 365 tools and VanRoey.be also produced numerous instruction videos specifically for Suez Water Technologies.
All this information was not just dumped on the users, but learning journeys were compiled so that the training could be tailored to the execution of the migration process and the adoption of the new tools. All users could participate in classroom sessions, Q&A sessions and webinars at times when it was relevant to them. Yammer and Teams were the tools par excellence to learn from each other as well.
The last word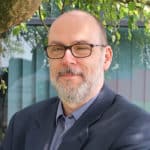 Gerard van Kempen: "The actual migration only lasted three months, from the beginning of September to the end of November 2018, and before that, we worked hard on setting up the bootcamps and preparing the training courses. In addition to the migration of the data, the governance was also taken into account, and keeping all SharePoint structures up to date and monitored is just as important as setting them up, as was the protection of Water Technologies' data and rights within Suez's larger complex, which was very much appreciated at the head office in Paris, and the people from VanRoey.be worked very well together with the others.
Suez is a global player with 80,000 employees and an annual turnover of 16 billion euros. In 2017, GE acquired Water & Process Technologies, which until then had been part of the GE Group. In order to ensure a smooth and successful transition, the 'Move IT' project was started together with VanRoey.be, with the aim of migrating all 7,000 users to Microsoft Office 365 within a tight deadline of 12 months.
By appointing Power Users and providing a Microsoft e-learning platform, our end users became familiar with tools such as OneDrive and Teams.&#8221 faster than expected;