Have you ever been there? You are at home looking for that specific cable. You have one of those junk drawers where you normally keep all the cables, but of course it's not there. Then we finally check that other drawer in the guest room, that cupboard upstairs, that one kitchen drawer, maybe there in the bathroom ... Eventually you have found your cable, but you are again 35 minutes of your life irrevocably lost.
Extrapolate this to your organization. You may remember someone asking about something, but what was it again? And most importantly: where?
You check your mailbox, your Teams, a SharePoint site, a loose Word or Excel document, OneNote, your ERP and CRM environment, your WhatsApp, your SMS, contact forms from your website, social media... Before you know it, you've lost a precious hour and your workflow is ruined.
Dynamics 365 and Teams as the central nervous system of your organization
Microsoft wants to change this. Whether you work in sales, marketing, service, finance, human resources, etc., every form of teamwork can now be centrally managed in Dynamics 365 and Teams be carried out. At the annual "Ignite" Microsoft zooms in on what they call "unified collaboration".
Teams integrated into Dynamics 365
Within Dynamics 365 Sales, you will have a chat available directly from a specific opportunity with all parties involved. You will also be shown relevant chats and channels where the customer is mentioned, automatically curated by AI. You can immediately continue the conversation without switching to Teams.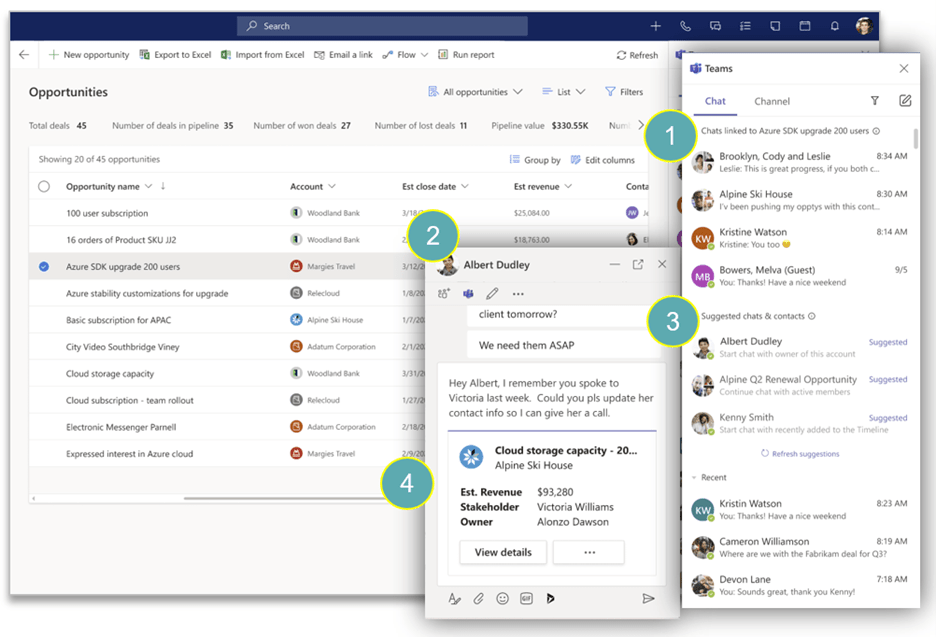 (Video) calls with your customer or colleagues from Dynamics 365
An integrated 'click to call' teams panel in your Dynamics 365 environment lowers the threshold to keep in close contact with your relations.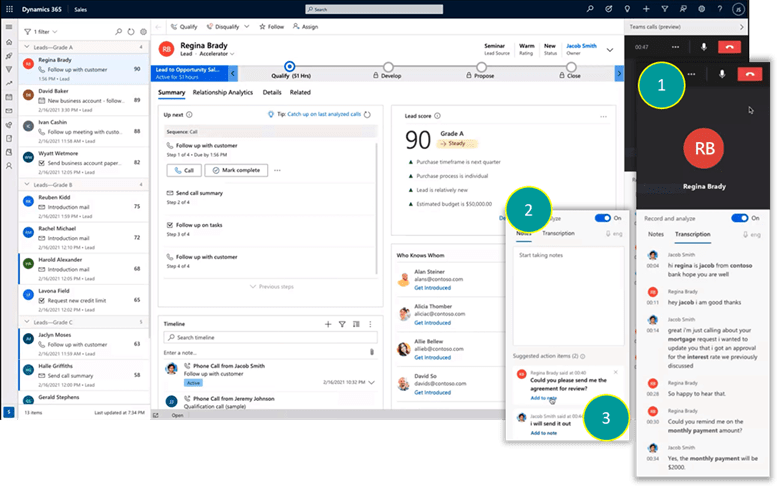 But it goes even further than that. You get the opportunity to real-time transcriptions (1) of your conversations in which important issues (4) and/or action points (3/6) are automatically highlighted. You also get a place to take extra notes (2/5) yourself. Everything is automatically linked to the customer or project file so that your colleagues can also view it.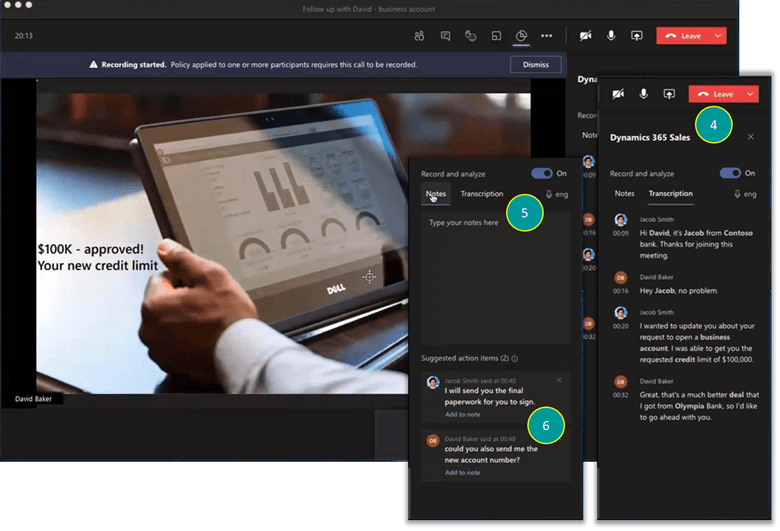 Finally, without any effort, your KPI's are filled in (7), follow-ups (8) and important mentions (9) are listed. You also get the option to replay the entire conversation with a sentiment analysis and subdivision of the discussed topics (10).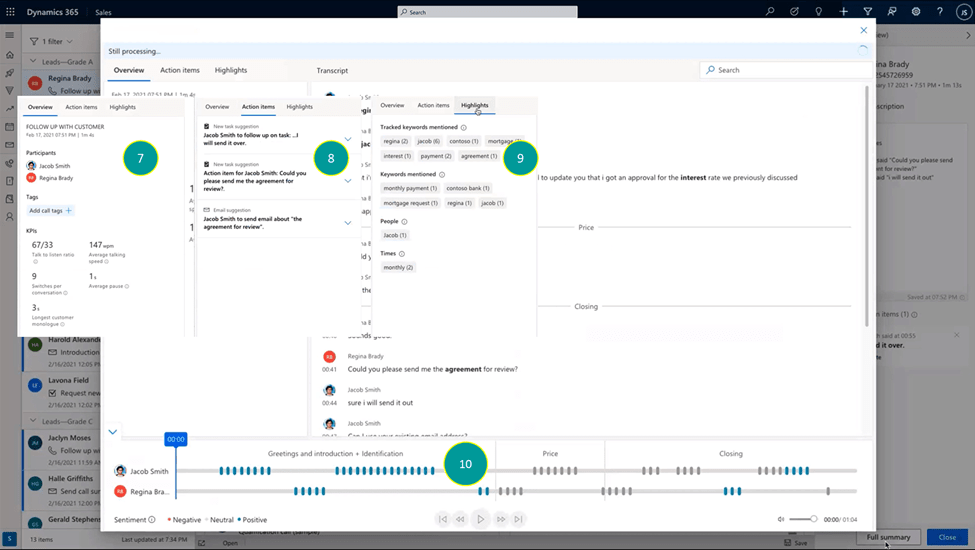 Dynamics 365 app for Teams
The app Microsoft Dynamics 365 for Teams completes the interaction between both platforms. It brings all the aforementioned features, data and insights directly to Teams so that the functionalities are not exclusive to the Dynamics 365 platform.

Getting started with Microsoft Teams?
Teams offers you endless possibilities. Give your productivity and that of your colleagues a gigantic boost! Discover the most important feature in one afternoon.
Turn 'event attendees' into loyal customers or ambassadors with Dynamics 365 Marketing
The threshold to get in touch with new people has become lower since we nowadays mainly get acquainted digitally via webinars, yet real customer loyalty has become all the more difficult.
Anyone who regularly uses (digital) events Organizing webinars or physical events can be a real hassle: Setting up colleagues' calendars, inviting the right people, creating and sending out confirmation and reminder e-mails, securing a location, arranging administrative and financial matters...
In the first place, D365 Marketing helps you with event management by being able to manage everything from one platform. But it also offers new possibilities; You can categorize customers based on their presence or actions on your website, start customer journeys with automated campaigns and callback actions or send personalized content based on their profile.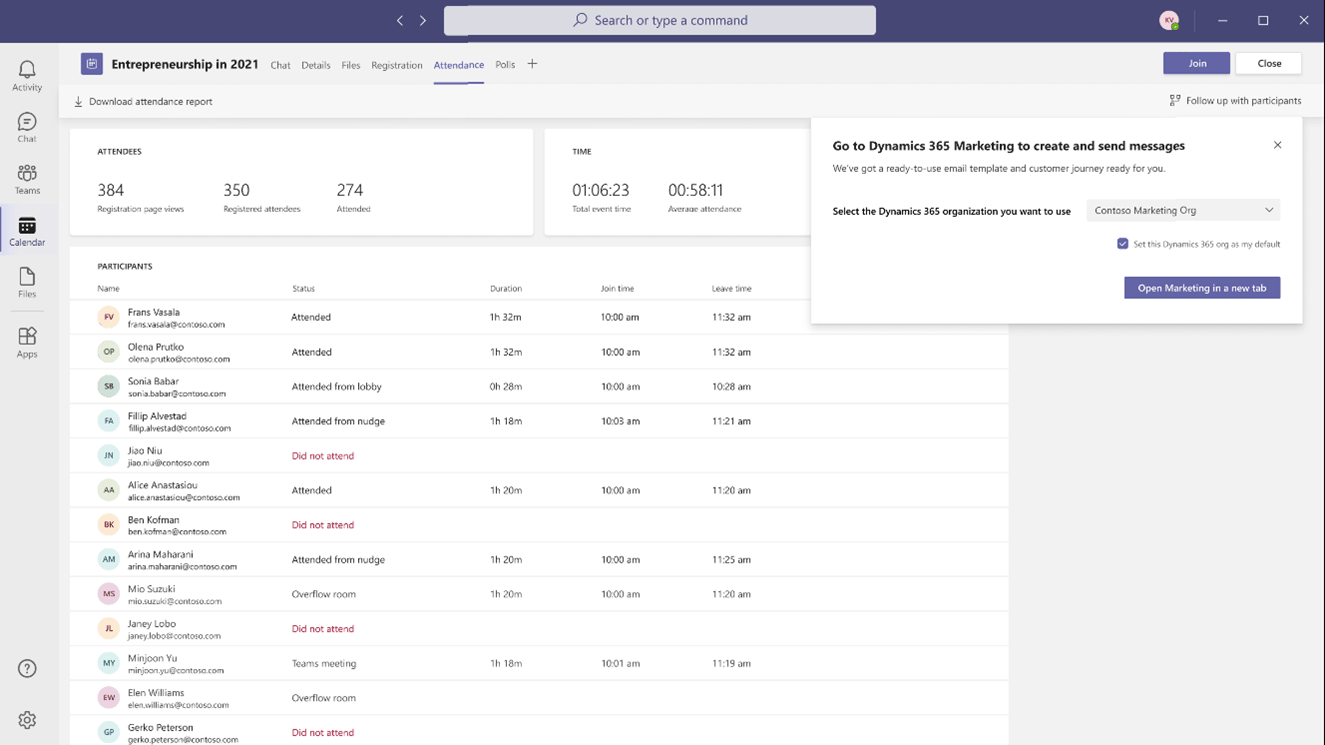 Want to give Microsoft Dynamics 365 Marketing a try yourself? Microsoft announced that every microsoft 365 E3 or E5 customer will soon be able to try out the platform for free for 6 months! Contact us Feel free to ask for more information.
Solve problems faster thanks to Dynamics 365 Customer Service.
First-line help should have it as easy as possible to solve problems effectively. Dynamics 365 therefore provides all relevant information at your fingertips and makes it very easy to contact the field experts thanks to built-in Teams chat from the Dynamics 365 Customer Service Agent.
An additional advantage is that these chats are immediately linked to the customer profile. This way, an (other) employee can always consult this history and context.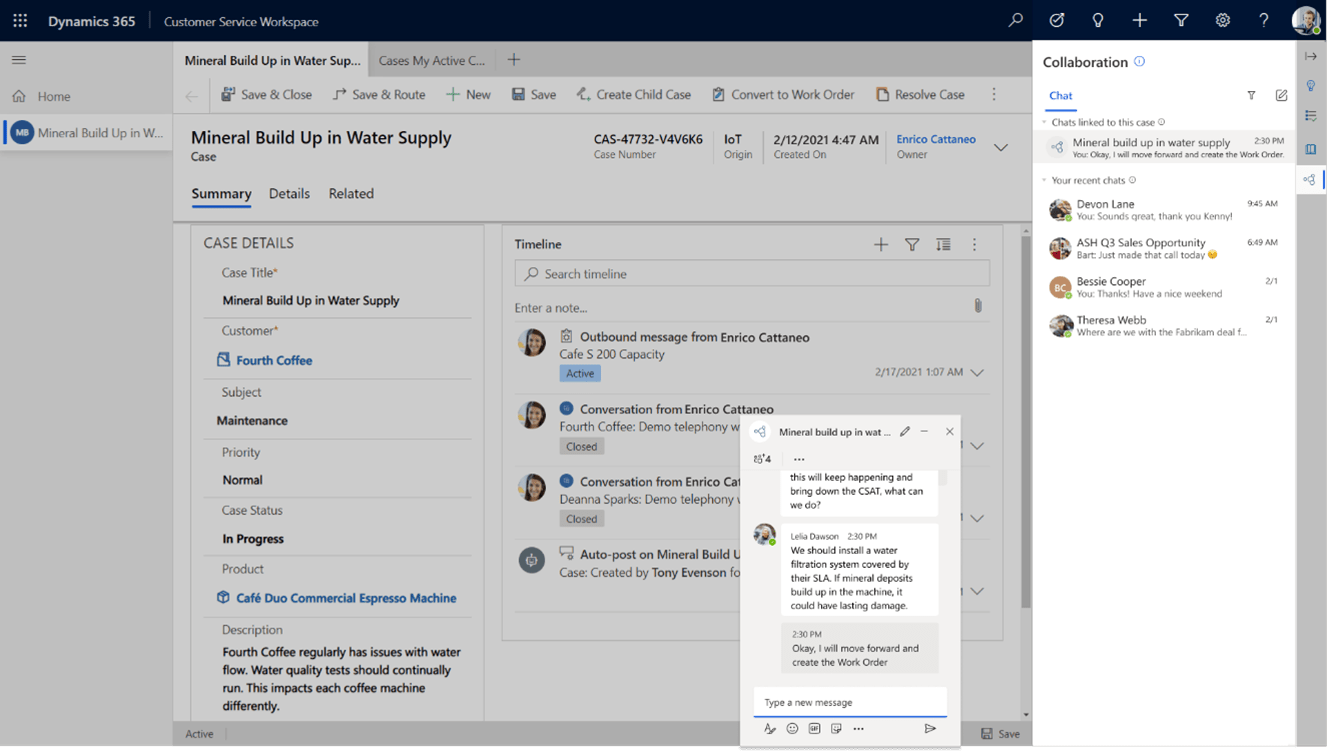 "I'll put you through" will become a thing of the past
Machine learning is used to immediately provide the right employee for specific problems or customers via 'unified routing' and 'automatic allocation'. This reduces the number of calls that need to be made and speeds up the time it takes to help the customer.
Optimize on-site collaboration with Dynamics 365 Field Service
Together with Teams and Dynamics 365 Remote Assist, you have the ideal environment to support technicians on the job. They will always have their work orders, schedules, planning, information and experts at hand. They can also rely on Virtual Agents to explain or help solve certain processes automatically.
And all that on their laptop, tablet, smartphone or even using the Microsoft Hololens. For example, technicians or surgeons can stream their field of vision hands-free to an expert in the office, who in turn can draw designations or open technical instructions in the doctor's or technician's field of vision before their eyes and guide them through delicate processes.
Be sure to visit us in our Experience Centerwhere you can experience for yourself how great it works.
Cooperation and efficiency are maximized in retail as well
Anyone who works or has worked in retail knows how stressful it can be to have to help a long queue of waiting customers quickly and efficiently. Then you do not want to lose valuable time. Thanks to streamlined mobile tools, Dynamics 365 Commerce immediately provides these employees with the correct / up-to-date information and they are always in touch with their colleagues to quickly handle questions.
Shop managers can manage their employees with dynamic task lists that are assigned based on specific criteria. They can then follow up on the tasks and assist their people via Teams.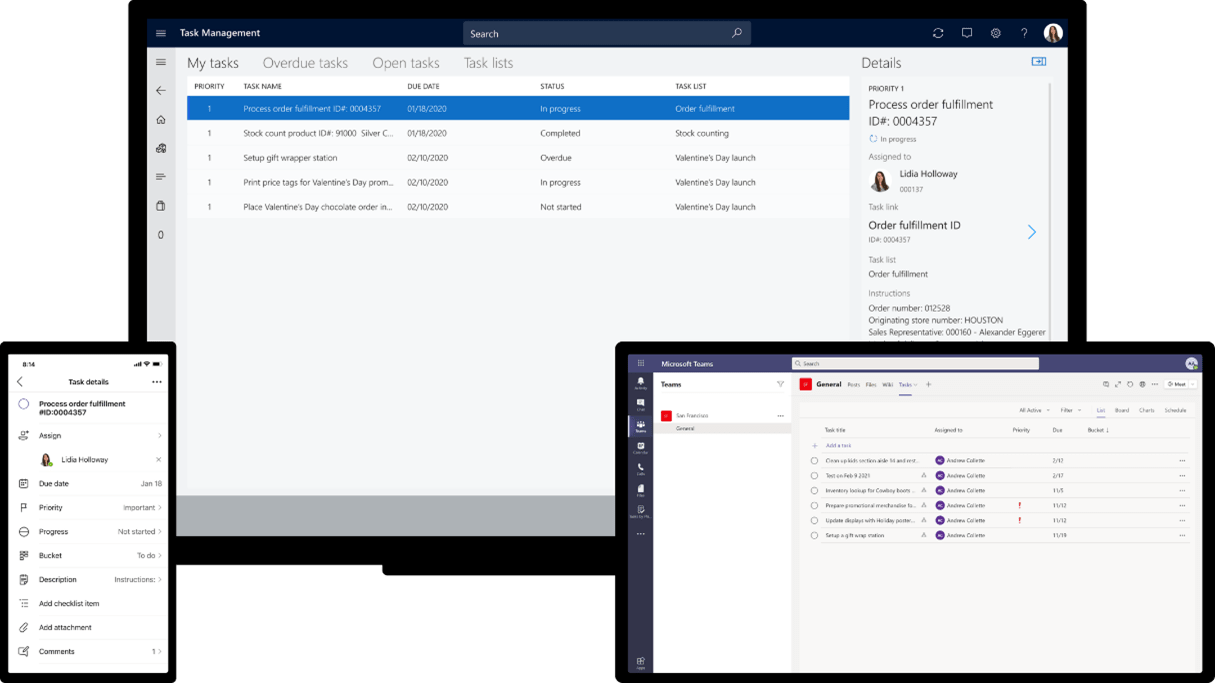 Finally; Human Resources also gets it easier thanks to Dynamics 365.
With an extensive personnel management function, your HR staff now have all information about all employees centralised in one platform. From start-up to retirement... From evaluations and productivity insights to absenteeism and remuneration...
Employees will also find it easier to manage when you turn on 'Employee & Manager Self-Service'; from now on, they will be able to arrange their leave or absence (if permitted) via Teams or the online platform. They will also be assisted by a chatbot to which they can ask specific questions. This way, the HR department is relieved and your staff will have quicker answers to frequently recurring questions.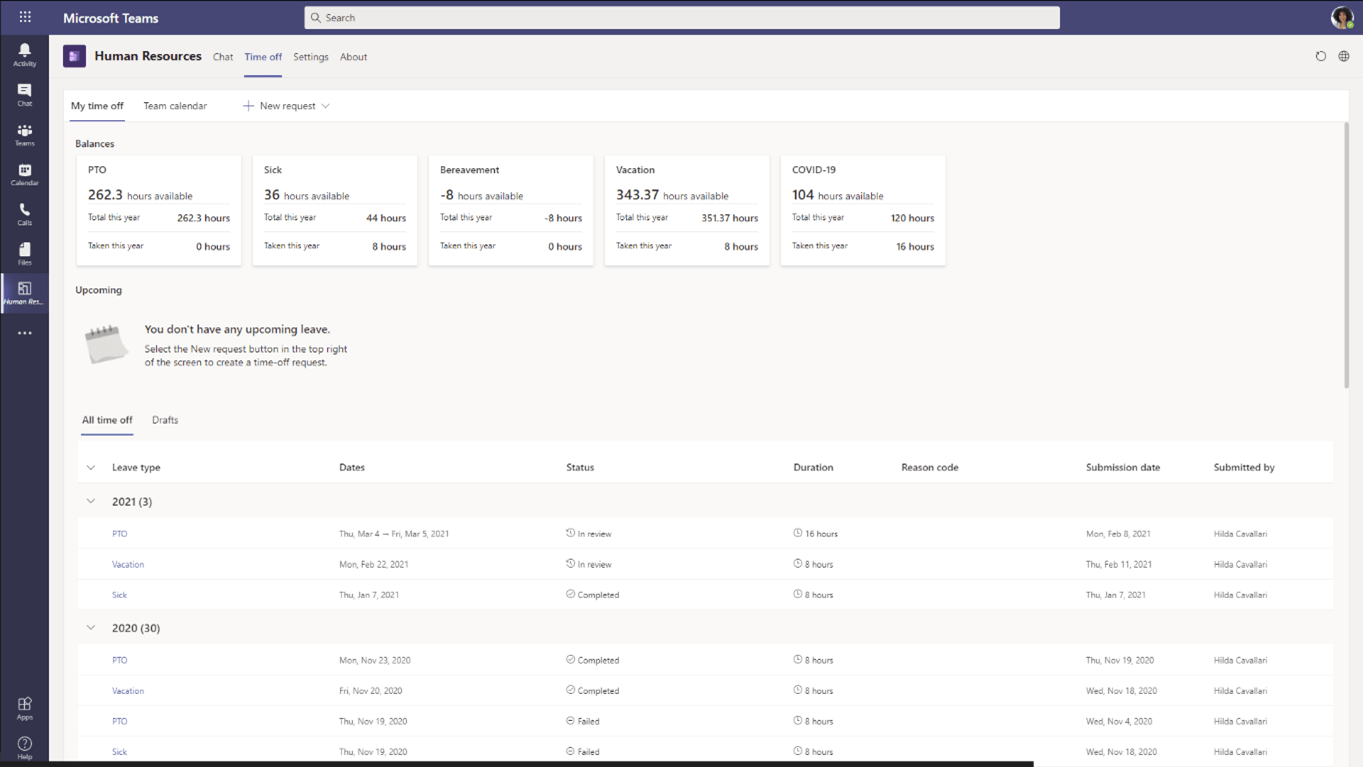 Do you want to take collaboration and customer support to a higher level in your organization and minimize the workload? Then a switch to Dynamics 365 a very good move. The platform is already rock solid and will only get better thanks to innovative innovations that Microsoft is constantly adding.
As a Microsoft Gold Partner, VanRoey.be has many customers and years of experience in converting environments to Dynamics 365 and/or Business Central. We have also developed some add-ons to e.g. construction, industry- and real estate companies tailored to their needs.
Feel free to contact us for an open discussion or for demonstrations of the possibilities.
"The threshold for connecting with new people has become lower given that today we mainly get to know each other digitally via webinars, yet true customer retention has become all the more difficult."