From WAN to SD WAN
In the distant and less distant ICT past, simple WANs were set up, for example, to allow employees from different branches to work together and share documents. These were protected, relatively secure networks, but they also knew their drawbacks: the speed and bandwidth of these WANs were usually not so high, resulting in overloading, delays and loss of data, resulting in an extra, undesirable operational cost.
Due to the increasing availability of broadband internet connections, SD-WAN has seen a strong increase. The advantages of this software-based, virtual way of setting up a WAN are immediately clear: fast, broadband and inexpensive. An appropriate response to the aforementioned disadvantages of a classic WAN. On the other side of this beautiful medal, however, there are a number of challenges with regard to security that should not be underestimated.
...to Secure SD-WAN.
With more and more Cloud and SaaS applications, SD-WAN has become the new standard technology and - out of pure necessity - has evolved into Secure SD-WAN, because the attack surface of an SD-WAN is considerably larger than that of a classic WAN. All the devices in the network are connected to the Internet in one way or another, whether or not securely. Fortinet therefore integrates its Next Generation Firewall (NGFW) in their SD-WAN solutions.
New IoT applications have ever-increasing demands in terms of bandwidth, speed and security. More and more devices are being connected and are spitting an ever-increasing stream of data on the network, motivating the developers and providers of SD-WAN technology to further improve it. Fortinet is already succeeding very well with its Next Generation Firewall with integrated Secure SD-Wan.
Security, performance & (operational) costs
From a study by Gartner It turns out that - in addition to security - performance is the main concern for decision-makers. The network must be reliable, always available and can be used from different locations, without any downtime, delay or loss of data packages. Every failure - no matter how small - has an impact on the operational cost, and it is only logical that this cost should be the third biggest concern.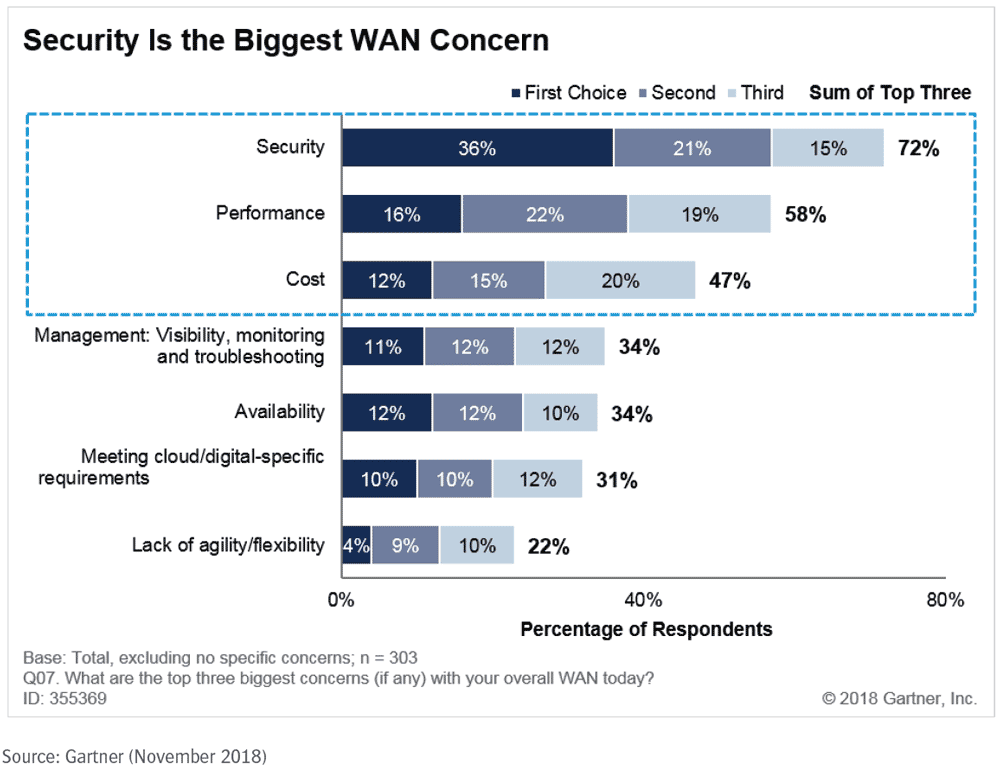 A study by Gartner shows that - besides security - performance is the main concern for decision-makers;