And let that just be the most common ticket on the desk of network engineers: "The WiFi is slow." Start searching. Is there a configuration error? Is the internet line itself limited in bandwidth? Is the DHCP server down or in overload? It's not an easy job to look for incidents in log files and draw the right conclusions and actions from them.
Ruckus Analytics is a cloud platform that offers you the necessary network intelligence. This allows you to perform troubleshooting faster and always maintain a clear insight into the status and performance of your network.
Incident detection and troubleshooting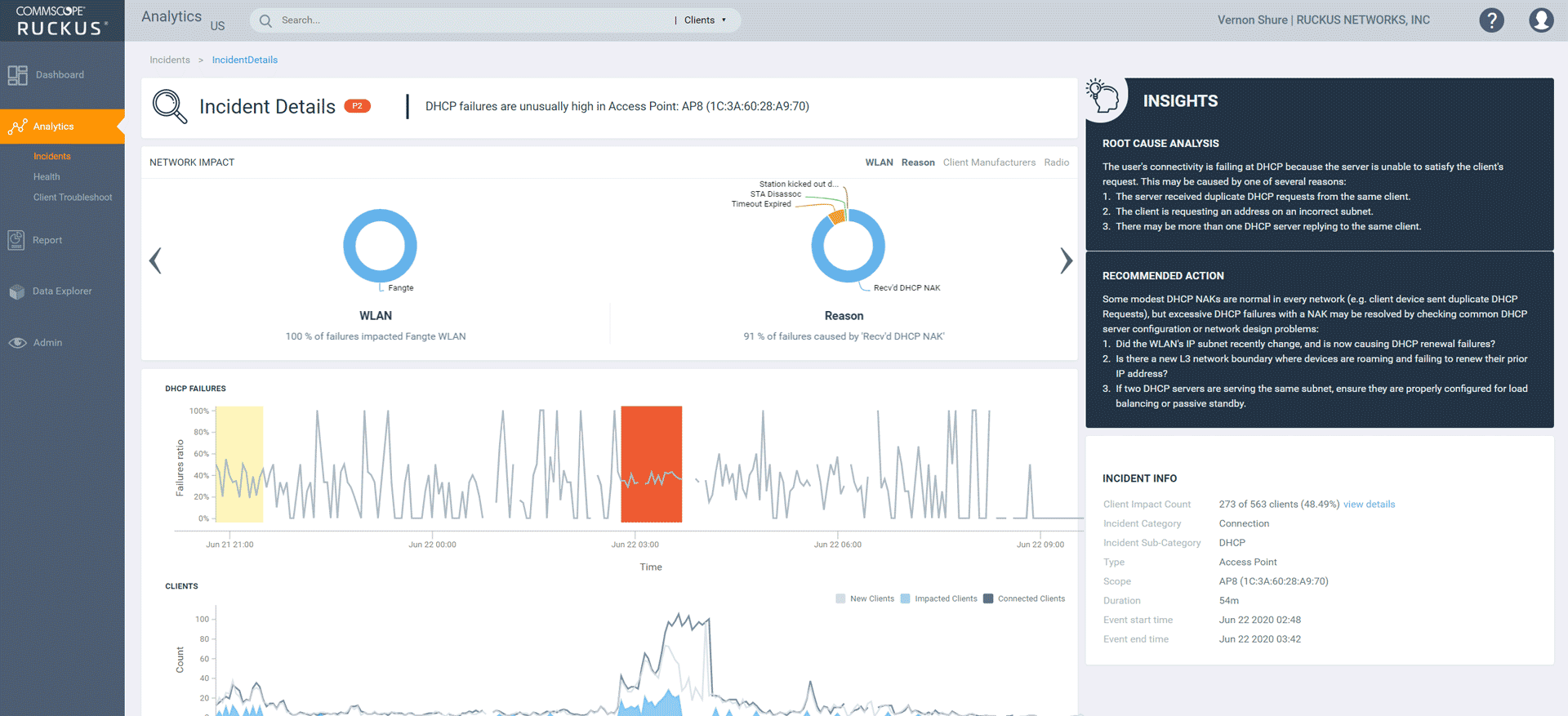 Troubleshooting with Ruckus Analytics is unparalleled. With machine learning and AI algorithms Ruckus Analytics learns the normal operation of the network. Incidents are automatically logged with a wealth of information behind them. Each incident can be studied in more detail. The possible causes of the previous incident are listed and concrete suggestions for remedial actions are given. Ruckus Analytics also prioritises the incidents according to their severity.
You can filter in the treasure of information at will. For example, you can see what happened at each access point. Or which user had access to which access points and when. You can go over in detail which actions were successful and which were not, in order to determine the single point of failure. Ruckus Analytics contains numerous smart features to detect and solve problems in a highly efficient way.
This thorough, automated way of incident detection and troubleshooting makes it much easier for IT professionals who are not so much specialized in networking to still offer a good service. After all, IT has become a very broad and complex field, with many different specialisations. Thorough expertise in all aspects is only possible with an extensive team of specialists. This is not feasible for most SMEs (and even for larger companies). Intelligent tools such as Ruckus Analytics therefore offer great added value.
Immerse yourself in the unique possibilities Ruckus has to offer for your (wireless) company network. Opt for better management, more insights & optimal performance!
Health dashboard and reporting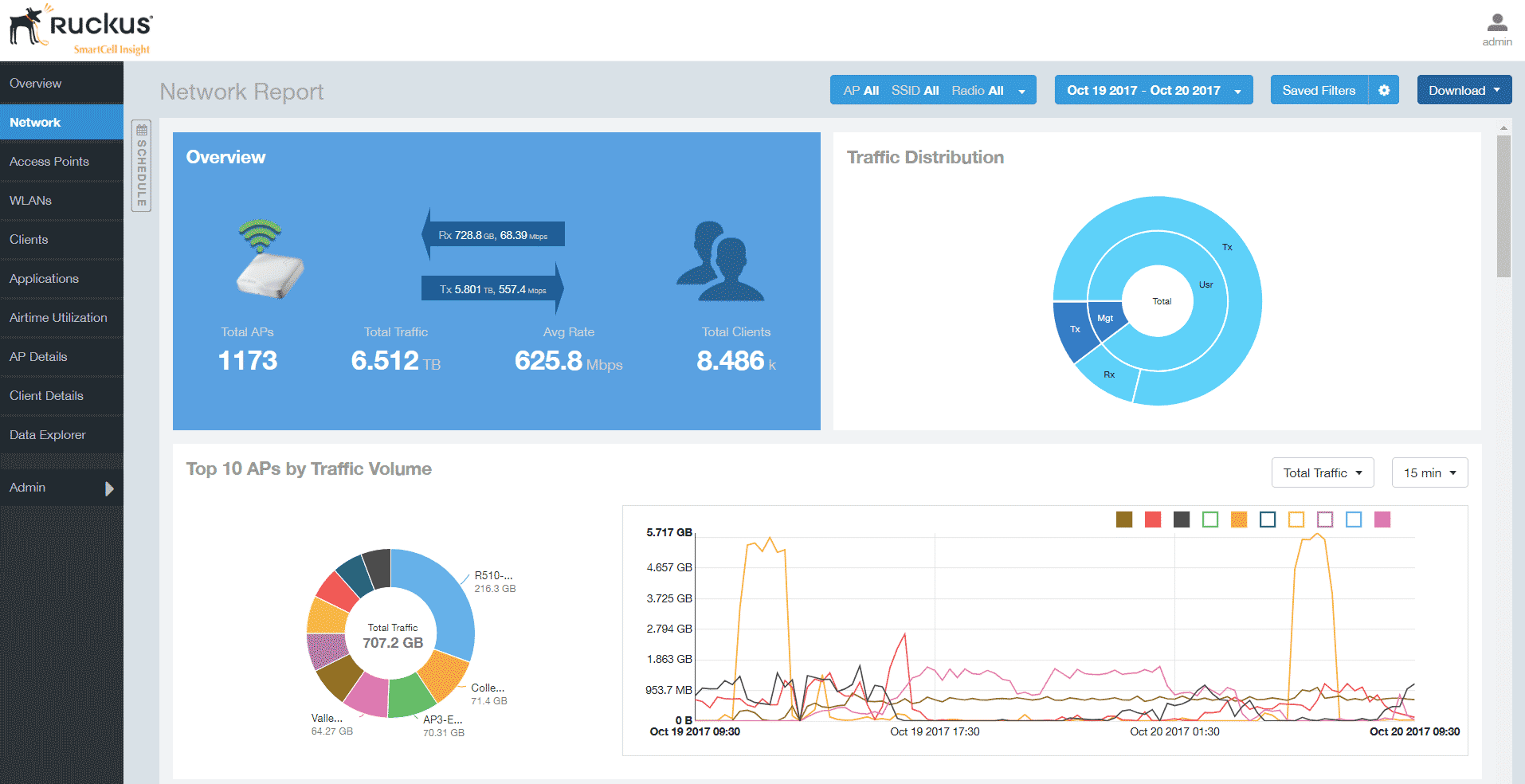 Ruckus Analytics offers a clear dashboard, giving you a helicopter view of your network at a glance. Of course you can look into the deepest details, but the health dashboard immediately gives you a complete picture of the status of your network.
The uniqueness of Ruckus Analytics is the ability to determine the KPIs of your network and use them to report the performance of your network. Set parameters such as time to connect, connection success rate, authentication success rate etc. easily. All this data forms a wealth of information that is visualized in a clear way.
No more compromised network performance!
Ruckus Analytics makes network data analysis clear again. In the pre-wireless era, it was quite straightforward to monitor a network and identify and repair possible failures. Signals on lines were read and studied to identify faults. Wireless has added enormous complexity to network analysis. As a result, more and more trial & error and guesswork was involved, which certainly did not benefit the performance of networks. The forgivingness of WiFi has often compromised the quality of wireless networks and the complexity of network analysis meant that many companies were already satisfied when "WiFi works". So Ruckus Analytics is changing that.

Machine Learning and AI are the key to success, but Ruckus has the merit of deploying these smart technologies in a useful way to support network engineers and IT managers. Hours of scrolling through log files to identify incidents are a thing of the past. The technology does the monkey work for you. You even get the right nudges to solve the problems appropriately to ensure the performance of the network on an ongoing basis.
Ruckus Analytics is the icing on the cake that can only be linked to Ruckus SmartZone and Ruckus Cloud. It makes wireless and wired network analysis an enjoyable job again.
Want to know more? Feel free to contact us
"This sophisticated, automated way of incident detection and troubleshooting makes it much easier for IT professionals who are not so much specialized in networking to still offer a good service".