Empowering Excellence, Ensuring Security
As a reliable tech partner, we unburden your organisation from a #Focus on expertise. Together, we optimise your ICT, resulting in a secure and future-proof working environment.
Imagine for a moment the crucial processes in your organisation without ICT, without a digital and online component... How do you find new employees today? How is communication and cooperation within your company? How do customers find their way to you? How can you offer them better service? How do you protect your organisation's most important (digital) assets? ... ICT is crucial and so it is best to have it in order.
The IT paradox

ICT feels easier than ever and employees can get started even without any knowledge with versatile tools that increase their efficiency. But underlying the environment and its management is becoming increasingly complex.
How do you keep your systems continuously up and running, without downtime? An outage today guarantees technical unemployment and a loss that quickly adds up to tens of thousands of euros. How do you let your employees work (together) efficiently, wherever they are? How do you optimise your online presence? How do you decide on investments? Hacking is Big Business. How do you protect your data and privacy?
The preferred partner of companies, healthcare institutions, schools and governments for almost 30 years.
We offer well thought-out solutions in the areas of hybrid/cloud infrastructure, Security, Storage, Networking & Internet, Clients & Printing... and applications to work more efficiently such as Dynamics 365 & Office 365. You can also count on an extensive package of Managed Services allowing you to hand over the management and maintenance of your IT environment to us worry-free.
Have you taken the right steps towards digitisation?
Do you want to set up and monitor your complex environment yourself?
Can (and do you want) that much expertise on your payroll?
Are you okay with your own IT department wasting time putting out fires and performing emergency procedures, or do you dare to give them a strategic role? Together with an external partner?
Our solutions and services enable you to concentrate on core tasks and let your company and customers shine. You can entrust the set-up and management of the ICT environment to VanRoey | EuroSys: with nail-biting quality guarantees and response times. We ensure that you remain a reliable and successful business partner: agile, fast, secure and mobile.
2023
2022
2021
2020
2019
2018
2017
2016
2015
2014
Older...
2023
VanRoey | EuroSys is "The Kempenaar" 2023
- Read

here

the article
Ruckus EMEA Partner of the Year
16 June '23
HPE: Best MM-SMB Partner of the year
– Read the article (15 Feb 2023)
Best Joint Marketing Action
–

Read the article

(March 2023 - Telenet Business Partner Awards)
Trends Gazelles
Grand Gazelles #30 Province of Antwerp
Finalist Voka Sustainable Business Award
Our efforts around sustainable entrepreneurship did not go unnoticed! Voka Mechelen-Kempen nominated only 3 companies. Unfortunately, we not won, but it was still quite an honour...
2022
2021
2020
2019
2018
2017
2016
2015
2014
Older...
VanRoey | EuroSys
'Van Roey Automation' was founded 25 years ago by Pat Van Roey and a lot has changed in the meantime.
Today, Pat is still General Manager of VanRoey | EuroSys. Pat quit his job as an engineer at Philips in Turnhout to sell computers from his garage. First part-time on his own, this activity soon grew into a full-time job and he had a whole team at his disposal...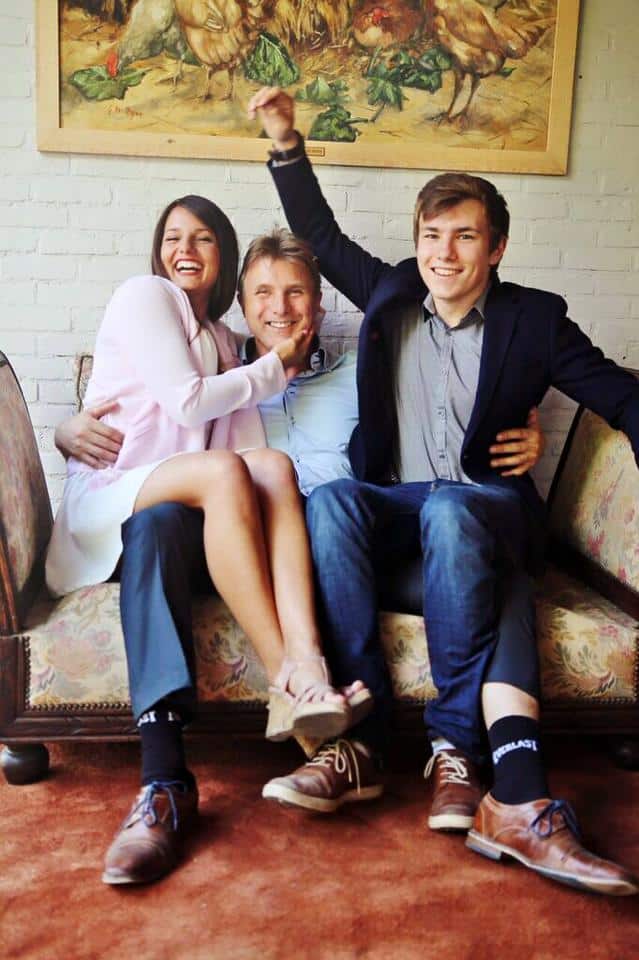 Merger with EuroSys
13 Jan: Joining the forces of EuroSys and VanRoey.be will give the Belgian market a key player in the ICT services sector for SMEs... Read here all about the cooperation.
Fortino Capital takes stake in Van Roey ICT Group
30 June: Fortino Capital steps into VanRoey.be to further grow the Kempense ICT company and strengthen its market position. Read here all about the cooperation.
Completion of "Kempus
21 June: With this smart office building, steeped in ecology & technology, we aim to offer the most attractive workplace in Belgium. Visit here the site.
New CEO and vision for EuroSys
Mark Aerts takes over the torch from Mark Lens. The organisation remains fiercely committed to sustainability and sustainable mobility and "happy workplaces". 
Start of new construction
2020 was an eventful year, but the solid growth figures - both in terms of clients and staff - revealed the need for a new building. The works started in November 2020, the 100% energy-neutral building will be put into operation in mid-2022.
Opening Experience Center
The Digital Experience Center In Geel allows visitors to immerse themselves in the latest technologies, devices, Internet Of Things… Events and training courses are also organised and organisations can use the facilities to organize events and meetings too. More info here.
EuroSys divests Retail
EuroSys will continue with the B2B segment only; for companies, governments and schools as EuroSys Business. The shops continued under the name Auva.
Acquisition LB Computer Systems
This acquisition, which followed previous acquisitions such as the Forcom chain in Antwerp and the stake in Megastore in Tongeren, suddenly made EuroSys one of the larger ICT companies in Flanders. 
Van Roey ICT Group
In 2011, Van Roey Automation merged into the Van Roey ICT Group. Today, the Van Roey ICT Group consists of several companies.
Strategic shifting
The company grew year after year, and Pat and his team succeeded in recognising trends on time and in adapting services accordingly. The company was commemorated several times: innovation and agility are of paramount importance to us, and this is unavoidable in our sector.
Continuously in motion
What started as services for both private and professional users evolved into a focus on business customers. First mainly clients (such as PCs, laptops, tablets and printers ...) but then soon followed infrastructure, security, cloud, mobile, applications and services.
Establishment of Van Roey Automation
Van Roey Automation was started from the Wieltjeshoeve on Steenweg in Merksplas. Huge growth legitimised a move to the current head office at Kempenlaan 2 in Turnhout. Later, branches were added in Geel and in Mechelen under the name VanRoey.be.
Establishment of EuroSys
In 1990, Mark Lens started selling computers from his garage and in no time, EuroSys consisted of several shops. Ten years after EuroSys was founded, a B2B segment was also launched
How we work together starts from "FOCUS"
We look to the future together. Growing with new smart technology. Focus on state-of-the-art solutions.
Ready to grow? With an open mind and respect. With us, inclusion and equal opportunities are important. With clear, quick and transparent communication.
Sustainably caring for each other. For the organisation and the environment. We genuinely care for others. Connectedness. Close to the customer.
Growing together and achieving results. Working together as one company to create a great place to work. With a shared drive, team spirit and responsibility. For us, teamwork takes precedence over the individual.
Sharpening expertise is in our DNA. Both technically and in people skills. You keep up and stay ahead. Clear advice and continuous optimisation.
Sustainable & engaged: ESG
We believe it is important to be thoughtfully part of the society in which we operate and by engaging. We therefore take numerous initiatives to support people, the environment and society where we can. 
There are far too many initiatives to list here, which is why we have built a dedicated ESG page.